Children's Hour, an adult play
by Steve Cohen
The Cultural Critic
The Children's Hour by Lillian Hellman. EgoPo Classic Theater, 2015.

Mention the name Lillian Hellman and people will remember the political controversies of the 1950s. Some may also recall her extra-marital linkage with the mystery writer Dashiell Hammett.
The dramas which Hellman wrote for the stage, and which made her famous, are largely forgotten. When they are brought to mind you'll hear: "The Childrens Hour? Isn't that the play about lesbians?" But it's really not.
Lillian Hellman's 1934 play is actually about how rumor can be taken as fact, and how an accusation can ruin people's lives. In this script an allegation was made that the two female owners of a girls' boarding school slept together. The playwright's point primarily was that innuendo (whether true or false) can be destructive, similar to what Arthur Miller wrote in The Crucible 19 years later.
Hellman not only anticipated Miller; she was prescient about her own fate. She would be denied work because she was reputed to be communist.
In 1947 Hellman denounced movie executives who blacklisted leftists, writing: "Naturally, men scared to make pictures about the American Negro, men who only in the last year have allowed the word Jew to be spoken in a picture, men who took more than ten years to make an anti-Fascist picture, those are frightened men and you pick frightened men to frighten first."
Her partisan autobiographies, Pentimento and Scoundrel Time, turned her into a figure of sympathy. To almost everyone attending college in the 1950s, Hellman was a hero because she would not name the names of people with whom she had been associated. Then her erstwhile friend and fellow-leftist Mary McCarthy accused her of hypocrisy and of lying about her involvement with Stalinism.
Hellman wrote that she never joined the Communist party but merely shared that group's advocacy of equal rights for Negroes. McCarthy claimed that Hellman was a party-liner who supported Stalin's purge of fellow Soviets in the mid 1930s, whereas McCarthy repudiated Stalin. Hellman had signed a letter saying the Soviet Union "should be left to protect itself against treasonable plots as it saw fit."
The Children's Hour contains nothing about communism nor anything political. This is an intimate story with scant connection to the outside world. Seeing it on stage reminds us of Hellman's talent. She was a damn fine writer. And we finally can see what probably drew Hammett to her. She had a homely face and her appeal, apparently, was her intellect and talent.
Hellman confessed that she "smoked wildly," drank heavily, and slept with numerous men. When she and Hammett met in 1930 both were married to others, but they didn't care. He was a notorious drunk and whorer, but she didn't mind. He punched her in the face, and she didn't complain. She processed all this and turned it into a crusade on behalf of the downtrodden.
Hellman also hated the caste system of Hollywood, where moguls treated writers as expendable commodities. (Lester Cole, whom Robert Taylor said was "reputedly a communist," wrote that writers were "the niggers of the studio system.") Therefore it was logical that she turned communist. And it was equally logical that her first play centered on women suspected of being outside the norm.
You might argue that comments about her looks or her sex life are out of bounds, but I believe they influenced her playwriting and therefore are legitimate to discuss.
Karen (Jenna Horton) and Martha (Emilie Krause), headmistresses of a girls' boarding school, are accused of having a lesbian relationship by one of their 12-year-old charges, Mary, who has been disciplined by them. Maggie Johnson looks perfect with her alabaster skin and blonde hair, but plays Mary as a manipulative bully who tells obvious lies. The characterization could have been more subtle; she should seem innocent enough so you wonder whether her story about her teachers may be factual.
A key role is that of Martha's aunt, Mrs. Mortar (Mary Lee Bednarek), an over-the-hill actress who worked in England with Henry Irving but now is teaching a class on elocution. She is a sad character, tenderly drawn, and played here too archly.
Mary's indulgent grandmother (Cheryl Williams) is the richest woman in town and so highly respected that, when she vouches for Mary, the town believes the story.
Joe (Keith Conallen) is the fiancé of Karen who becomes disconcerted by the swirl of events and his lover's confused response. His alternations of tenderness and anger seem fully motivated and believable.
Hellman's script is purposely ambiguous about the truth of the claims made by this child. Horton and Krause appeared anguished by the turns of events, and devastated. They seemed like real people, and were more convincing than the glamorous actresses like Merle Oberon or Audrey Hepburn who starred in two different film treatments of The Children's Hour. Aside from the immediate drama of the lesbian accusations, we feel sad that their (and Joe's) dreams of a better world were missplaced. This is a theme that would be reiterated in Hellman's 1940 play about the rise of Naziism, Watch On the Rhine.
The cast of Children's Hour is almost entirely female and EgoPo brought in Adrienne Mackey, one of the Philadelphia region's most inventive young theater artists, as guest director. She divided the seats on either side of a long and narrow playing area, thus bringing the action close to audience members.
On the right: Hellman in the 1930s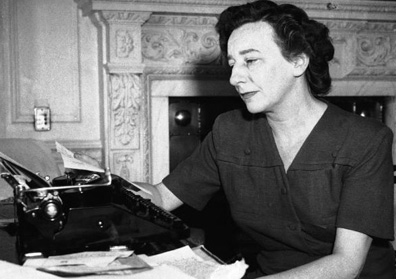 Read more reviews on The Cultural Critic