Asian Temple treasures
by Steve Cohen
The Cultural Critic
South Asian Galleries at the Philadelphia Museum of Art, re-opened in 2017

For nearly a century, one of the world's greatest collections of South Asian art has been hidden in a dimly-lit area of the Philadelphia Museum of Art. Now it's expanded, and re-lit, and has turned into an enthralling destination.
The centerpiece is a Hindu temple from the Indian city of Madurai, which was acquired in 1919 and put on display at the Museum's first home in Memorial Hall in Fairmount Park. Sixty carved granite pieces, dating from around 1560, came from a temple complex which had fallen down and the pieces piled up as rubble.
When the Art Musem moved to its present home in 1928 the collection was put in a darkened area on the top floor which came to be called the "Oriental Wing."
The Temple Hall installation has been rethought and re-designed. Darielle Mason, the Museum's curator of Indian and Himalayan Art as well as a historian of temple architecture, traveled to Madurai and realized that this had been a free-standing outdoor celebration hall devoted to worship of the god Vishnu. Therefore it is now shown as the airy, light-filled space it once was.
The Temple Hall of 1975 square feet is remarkable for its massive columns as well as its intricately carved capitals. Beyond the hall, a greatly-enlarged collection occupies a total of 7600 square feet. This is the only place outside India where visitors can experience the monumental synthesis of structure, sculpture and symbolism of Hindu worship.
Tapestries, wood panels, sculptures of stone and of metal, from Thailand, Persia, Tibet and other regions of south Asia are all part of the collection. The Buddhist and Hindu religions are comprehensively represented. Some sculptures appear to be erotic, but it's more accurate to view them as celebrations of fertility. Sexual coupling was exalted as the means for procreating and preserving the future of the people.
Below, warrior and fertility statues: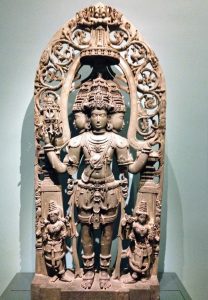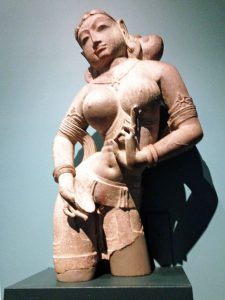 As with any exhibition, individuals will have different favorites. I was especially impressed by a massive altar which occupied a wall inside a Tibetan home. Approximately seven feet tall and ten feet wide, painted in an orangy-red vermillion with gold gilding, it held sculptures of Buddhist deities which were the focus of daily family worship. A bottom row of niches and a shelf held offerings such as food and beverages.
Stylized lotus flowers decorate the lower panels, surrounded by curling tendrils. The lotus is one of the most significant motifs in Buddhist art. Growing in water, it rises from the mud to produce a pristine flower.
New art has been commissioned for the re-opening: a contemporary video animation by Pakistan-born Shahzia Sikander with a sound-scape by Shanghai-born Du Yun. Sikander's animation is inspired by the museum's illustrated 1743 manuscript, "Rose Garden of Love." It is projected in a niche framed by a 300-year-old coffered ceiling and vaulted archway from Isfahan in Iran.
Below, the Tibetan home altar: