Bach at Leipzig: an imaginative fugue
by Steve Cohen
The Cultural Critic
Bach at Leipzig by Itamar Moses. Peoples Light & Theater, 2014.
*
Johann Sebastian Bach achieved his fame during the 27 years he spent as organist and music director at Leipzig's Thomaskirch (St. Thomas church) and cantor of the adjoining Thomasschule. So his presence dominates Itamar Moses's witty Bach at Leipzig. Actually, Bach never appears in this farce about a job opening for an organist that ultimately was awarded to Bach himself.
The previous organist at St. Thomas having died in 1722, Bach at Leipzig dramatizes the efforts of six competing musicians — as ambitious and ruthless as they are entertaining — to succeed him. There really was an audition to select a replacement. The play's characters really were some of them. But Bach at Leipzig is largely a work of fiction.
Three of the men are named Georg: Georg Balthasar Schott (the dour Kevin Bergen); Georg Friedrich Kaufmann (the comically clueless Stephen Novelli); and Georg Lenck (the mischievous Jabari Brisport), so poor he can't afford a middle name. There are three Johanns as well: the innovative Johann Friedrich Fasch (the appealingly reasonable Greg Wood); the smug Johann Christoph Graupner (David Ingram); and the womanizing Johann Martin Steindorff (Danny Gardner).
The wit is consistently en pointe and so are the swords in a comic duel scene. Giving form to all this is the structure of the fugue, which we observe from the opening and which is spelled out by Fasch at the top of Act II:
"To begin, compose a melody played by a single voice. It must be beautiful enough to stand on its own and well-crafted enough to contain the potential for more. It is joined by a second voice which begins its journey with its own statement of the subject in a new octave, but reiterating, unmistakably, the theme. Both are joined by a third…And all the while no voice is subordinate to the others."
While Fasch continues this fascinating description, the other actors mime the plot, and we hear Bach's Fugue in A minor from sound designer Jorge Cousineau.
The creative tension inherent in the fugal structure also has the actors debate innovation versus tradition, improvisation versus structure, Calvinism versus Lutheranism, predestination versus free will, all themes that take wing in multiple voices, much like a Bach fugue.
Moses here reminds us of Tom Stoppard in his best works, using history as a jumping-off point for an intellectual argument.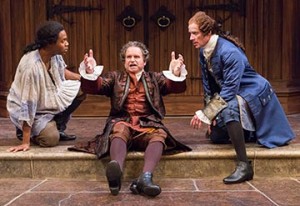 Read other stories on The Cultural Critic