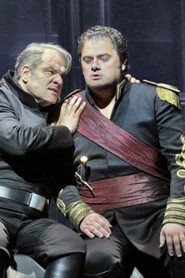 Otello at the Metropolitan Opera, October 2015.
Live movie-theater telecast by Fathom Events.
This is politically incorrect to say, but the portrayal of Otello as a white man in the new Met production is absurd. The whole point of Shakespeare' (and Verdi's and Boito's) drama is the man's Otherness. The story revolves around his insecurity because of racial prejudice.
…