Exit Strategy for a condemned school
by Steve Cohen
The Cultural Critic
Exit Strategy. By Ike Holter; Kip Fagan directed. Philadelphia Theatre Company production in association with Primary Stages of New York, 2016
*
Exit Strategy tackles a difficult problem with bite and with humor. It's a major theatrical event that humanizes the desperate final year of a condemned school.
The play grabs you with a tempestuous opening scene between Pam, a sarcastic, veteran English teacher, and Ricky, the hapless vice principal who tries to smooth over the pain of closing his Chicago inner city school, physically crumbling and with low test scores.
Pam has taught in this place for 23 years and proclaims, "I'm a Chicago fucking teacher, nothing shocks me you stupid prick, nothingshocksme."
Over an intermissionless hour and forty minutes we see the varied reactions of frustrated teachers, a befuddled administrator and one student as they decide whether to cower, fight, or collaborate. A union leader urges subservience; other teachers exhibit fear, anger, and mourning, while the vice principal says he'd like to "just lay on the couch in a fetal position eating a big sandwich and watch TV."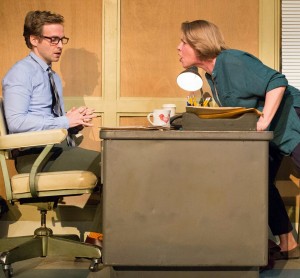 The language is provocative, and the plot twists are almost surreal. Eventually, principal, teachers and students join forces to fight the school closing by enlisting media support, yet they cannot stop the inevitable.
On the right: Ryan Spahn & Deirdre Madigan; Photo by Mark Garvin
This production does have some flaws.
We see conflict between the black and the latina teachers, which is refreshingly realistic. But those two characters come across as racial caricatures. The fault is the director's more than the playwright's. Holter's script defines the black as "a little too assertive," while Aimé Donna Kelly appeared on stage to be an arrogant, know-it-all bitch, even though this actress has demonstrated elsewhere that she can play a wide variety of characters.
The script specifies the Hispanic as "the youngest one in the room but has survived the toughest shit; acts like it," whereas Christine Nieves appeared as an irritating brat prancing about the stage.
The sole student (Brandon J. Pierce) was amazingly mature and self-possessed for a teenager. We root for him, but can't quite believe he's authentic when he hijacks the school website and turns it into a funding site to save the school.
The play does not confront the question of whether the students could receive better education at another school, or whether it would be the same but in more crowded rooms — and maybe worse, because it would lack neighborhood involvement.
Deirdre Madigan was superb as the bitter older teacher who tells the vice principal to fuck off—a superbly vivid character. Michael Cullen was a gruff recovering alcoholic whose cause has been lost a long time ago. Ryan Spahn excellently handled the difficult transition of the vice principal from a jerk to a man of action. Rey Lucas was amusing as a wisecracking teacher who is the vice principal's friend.
Scenic Designer Andrew Boyce recreated perfectly a teacher's lounge. Flickering florescent lights and a worn linoleum floor revealed the world of a shabby old school.
Please share your thoughts and your opinions with us. Address to editor@theculturalcritic.com
Read other reviews on The Cultural Critic