FDR's private getaway at Hyde Park
Home of Franklin D. Roosevelt National Historic Site. Route 9 in Hyde Park, New York
by Steve Cohen
The most interesting building in the presidential preserve at Hyde Park is the least visited.
While many critics debated the accuracy of the film Hyde Park on Hudson, starring Bill Murray as FDR, I wanted to discover more about the centerpiece of the film, a place called Top Cottage. So I decided to re-visit the Home of Franklin D. Roosevelt National Historic Site and this time seek out the location of the film's action.
I'd been to the main home and library before, and to Eleanor Roosevelt's nearby retreat. That stucco-covered Val-Kill Cottage was where she entertained whomever she wanted, and was alone when she chose.
But I knew little about the more secluded hideaway that her husband designed and built. One hundred and thirty thousand people visit the presidential mansion at Hyde Park each year. Only 55,000 visit the Eleanor Roosevelt cottage and less than 4,000 take the time to visit Top Cottage.
While cars can park adjacent to FDR's big mansion and also to Eleanor's retreat, Top Cottage is reached only by a National Park Service shuttle. It navigates a seven-mile twisting road before coming upon the small structure on the edge of the woods.
I was surprised to find a resemblance between FDR's hideaway and my own childhood home.
Roosevelt's place (sometimes called the Hill-Top Cottage) was the indulgence of a rich and powerful historic figure; mine was the creation of a couple of middle-class Philadelphia men. But both were built in the same year and they share architectural elements that were unusual at that time.
The cottage at Hyde Park was designed to accommodate the President's need for wheelchair accessibility. The film would have us believe that it also was a place where Roosevelt could share intimacies with his cousin, Daisy Suckley. It is built of fieldstone which Roosevelt's workers retrieved from old walls in his fields. Its interior surfaces are bare plaster.
Roosevelt's cottage was the place of the famous June 1939 picnic where Roosevelt served hot dogs and Virginia ham to Britain's King George VI and Queen Elizabeth on the first state visit to the United States by a British sovereign. I sat on the slate-floored porch where FDR greeted the royal couple and discussed, with our guide, the destroyers-for-bases swap that came to be known as Lend-Lease. Three years later, on that same porch, FDR made war plans with Winston Churchill.
My father (born in 1900) simply liked progressive, modern design. Dad's contemporary, Maury Rose, shared that interest and was a forward-thinking builder with an interesting idea for making money in the midst of the Great Depression.
Rose acquired two blocks of empty lots on a tiny, not-fully-paved street in the neighborhood called Oak Lane in 1938. He proceeded to design and build homes along that two-block stretch of Lawnton Avenue. He built a home for himself which included some art deco touches. His customers mainly were youthful Jewish couples moving from old neighborhoods like West Philadelphia and Strawberry Mansion. My parents were in their mid-thirties and my mother was pregnant. They wished to raise children in a suburban setting yet still reside within Philadelphia's borders. Rose's project had no two homes alike, and most of them were more traditional in appearance than Rose's and ours.
I don't know how Mr. Rose got the money to invest, nor what his background was. A Google search reveals nothing about him. I'd welcome input from any reader.
What I do see is a similarity in features. Both FDR's cottage and ours had simple lines and they had flat floors, without the raised sills that customarily divided rooms in older homes. Roosevelt made that decision so as to allow his wheelchair to roll easily, without bumps, from room to room.
Both his cottage and our home used glass brick to allow light while blocking the view of anyone trying to peer in.
FDR added a unique touch: all windows were set low so he could see through them from a seated position. All light switches were placed down far enough for the President to reach. So were bookshelves and kitchen appliances.
(There were, to be sure, some differences. The FDR cottage was one story with a peaked roof. Ours was two stories and had a flat roof. Looking towards the future, my father said this would make it possible for our helicopter to land on the roof when those vehicles became the common carrier for families, replacing automobiles.)
FDR's sketch for his dream cottage: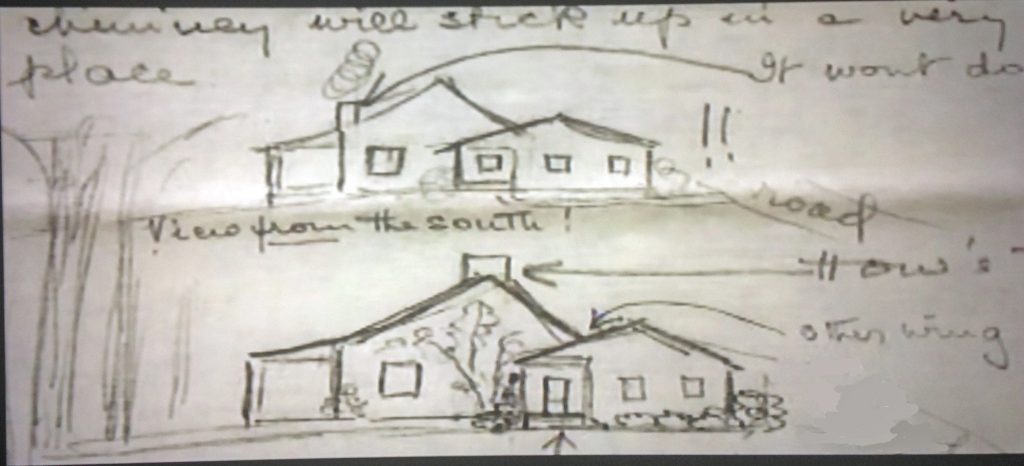 Roosevelt loved the idea of a home on a hilltop with a view of the Catskills, whereas my parents loved the 1937 Jerome Kern- Oscar Hammerstein song The Folks Who Live On the Hill whose lyric said: "We'll build a home on a hilltop high, you and I."
FDR displayed no particular interest in modern art or architecture. His concern was his physical needs. The hilltop cottage was one of the earliest handicapped-accessible buildings in the country. It is the first home designed by a U.S. President other than Thomas Jefferson, and the only one designed by a president while in office. Consequently, Top Cottage is the most poignant and personal reminder of Roosevelt's private life.
He envisioned the cottage as a place where he could escape the scrutiny of his overbearing mother, his wife and his retinue. It contained no telephone as per his directive. It was, he wrote, "a small place to go to escape the mob."
There was no coordination between the plans for FDR's home and ours; they were constructed simultaneously with no knowledge of each other's existence.
Below:   Churchill, FDR & Mrs. Averell Harriman at Top Cottage, July 1942