Fully Committed, in two towns
by Corey Cohen, for The Cultural Critic
Fully Committed, by Becky Mode. Lyceum Theatre in New York City; Theatre Horizon in Norristown PA.
Michael Doherty is no Jesse Tyler Ferguson; he's even better.
It's no secret that Fully Committed is on Broadway at the same time it's at Theatre Horizon in Norristown; in fact, that seems to be part of Horizon's marketing strategy. Doherty at Horizon is playing the same part as Ferguson on Broadway, just as he did a few years ago in The 25th Annual Putnam County Spelling Bee. At that time, due to his mannerisms and comedic star power, I felt that Doherty was a Philadelphia-area version of Ferguson.
Today, in this comedy, Michael Doherty may have surpassed Ferguson.
Fully Committed is a one-man play in which the actor portrays approximately 40 characters in under 90 minutes. Sam is a harassed reservations clerk at a trendy Manhattan restaurant whose tables are booked ("fully committed") months in advance. As he sits at his desk, he imitates the voices and gestures of each caller.
The show is only as good as its leading man. I was fortunate enough to see both the Theater Horizon and Broadway productions less than a week apart and while I certainly enjoyed the show in New York I can honestly say that I enjoyed the Barrymore Award-winning theater company's production even more.
This is no criticism of Ferguson, who is one of my favorite performers. Jesse demonstrated amazing acting in Fully Committed along with Spelling Bee, as he does in the Emmy-winning TV comedy Modern Family. He's a special talent, but Doherty achieves even more.
In this hilarious production, Doherty displays some eclectic characters using body language and sensational accents ranging from an egotistical central European chef to an effeminate celebrity assistant to an obnoxious Brooklyn socialite.
There are some notable differences between New York's production and Theatre Horizon's. Along with the contrasts in some accents, Broadway's production is in a more modern setting with the main character using a computer to book reservations and an iPhone to call his father. The show at the Lyceum has chairs floating in an abstract set, whereas the Horizon setting is intentionally cluttered and mundane.
I appreciate the modern touches, but ultimately it comes down to how incredible the actor can be, and Doherty managed to outshine Ferguson.
Seeing both productions furthered my belief that you could swap the talents of Doherty and Ferguson in almost any role and barely notice a difference. Michael Doherty's performance in Fully Committed proved to me that you don't need to travel to Broadway to see a superstar.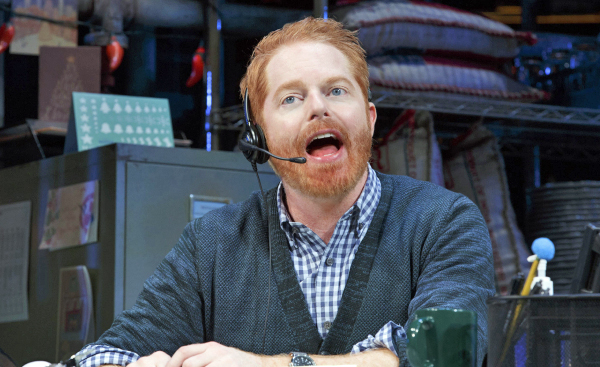 To the right, Ferguson in the play:
Please share your thoughts with us. Address to editor@theculturalcritic.com
Read other reviews on The Cultural Critic