Hamlet, an effective "new" opera
by Steve Cohen
The Cultural Critic
Amleto (Hamlet). OperaDelaware, May 2016
A resurrection of a long-lost adaptation of Shakespeare's Hamlet by Franco Faccio and Arrigo Boito is causing excitement 150 years after its composition. See here.
After the drama of restoring a missing opera, what can we say about the music-drama itself? Could the production be as interesting as the story of its resurrection? What does this opera actually sound like?
Amleto relies less on catchy vocal melodies than do typical 19th-century Italian operas, and more on a meshing of voices with orchestra. This is a "newness of form," as Boito and Faccio touted their collaboration.
Yet it's not so "new" that it's intimidating. There are hummable arias and duets, with lovely orchestral passages emphasizing woodwinds and lower strings. Scenes are sometimes introduced by solo instruments like clarinet or cello.
The vocal writing is not frilly and trilly; gone is the pattern of Rossini, Bellini, Donizetti and early Verdi of having slow arias followed by fast cabaletti  with extraneous embellishments. The vocals are more parlando, as extensions of speech. Hamlet's soliloquies sound like what Giordano wrote for Andrea Chenier, and a "To be or not to be" aria resembles Federico's lament from Cilea's L'Arlesiana. Keep in mind that Amleto was written decades earlier.
The rhythm of a drinking toast reminds me of the Veil Song Verdi wrote two years later for Don Carlo, and Ophelia's death scene has the quiet pathos we'd later hear with Desdemona in Otello.
As with the Shakespeare play, everything revolves around the title character, so we can see why the malfunction of their tenor doomed the production at La Scala in 1871. A slender Joshua Kohl was appealing as Hamlet and sang with a youthful voice enriched by the bright edge of squillo. The role was written with nothing higher than B-flat, so Hamlet has to make his points with nuance and vocal color rather than trying to dazzle audiences with high notes.
The role requires a voice that might sing Don Alvaro in Verdi's La forza del destino. That is, a vibrant tenor with some metal. Among past tenors, Franco Corelli would have been ideal in the role. Among today's singers, I'd like to hear Jonas Kaufmann or Michael Fabiano in it.
Boito's libretto sticks to Shakespeare's plot instead of reshaping it to fit into the conventions of the time as Ambroise Thomas did with his Hamlet. Thomas omitted many characters, and Ophelia ludicrously stabbed herself to death rather than drowning.
Boito did make a few changes. The opening scene was the festive wedding reception for Gertrude and Claudius, with Hamlet brooding on the sidelines, before we heard his friends tell him that they've seen the ghost of his late father. The confrontation of Hamlet with his father's specter followed immediately after. (Shakespeare's play opened with Hamlet's friends discussing the appearance of the ghost.)
Boito and Faccio gave us a "To be or not to be" aria, and "Alas, poor Yorick", and other faithful (although abridged) versions of Hamlet's soliloquies. Hamlet's showdown with his mother in her bedroom made a terrific duet. The first half ended with the famous "mousetrap" scene in which Hamlet has a troupe of traveling players perform a drama of a queen and her lover poisoning her husband the king, just as Queen Gertrude and her paramour Claudius did to Hamlet's father.
Here an on-stage string quartet accompanied the enactment. Claudius broke down and revealed his guilt as Hamlet sang "The mousetrap has worked!" to bring down the curtain for the intermission.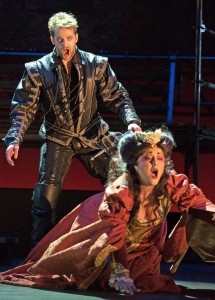 Boito and Faccio added some material which worked surprisingly well. After Hamlet confronted his mother, the two of them were joined by the ghost of his father, who was visible to him and to the audience but not to Gertrude, and they sang a dramatic trio in which the deceased king urged Hamlet to avenge his murder. Kohl added an unwritten high C to add impact to this scene.
In Shakespeare, when Laertes learns that his father, Polonius, has been killed, he confronts King Claudius angrily. Laertes here, believing that it was Claudius who killed Polonius, burst into the castle along with rebellious troops who wanted to depose the king. Boito was adding the concept that Claudius's reign was tenuous, foreshadowing that an invading army would soon be at the doors of Elsinore.
The team added an aria of regret by Gertrude, and Ophelia's death was followed by a funeral march that allowed the chorus to sing an affecting dirge. These provided gratifying vocal moments, and didn't add too much to the overall time. Written in four acts, Amleto was played with just one intermission and the total time was less than three hours.
This opera is no idle curiosity, but is a potential addition to the repertory of major houses.
Every role was filled by performers who looked their parts, and the level of singing was high. Soprano Sarah Asmar was Ophelia, baritone Timothy Mix was Claudius, mezzo-soprano Lara Tillotson was Gertrude, tenor Matthew Vickers was Laertes and bass Ben Wager was the ghost.
Ballet dancers added luster to the scenes at court, and the costuming was correctly of the medieval period. E. Loren Meeker directed a production where the fencing duel scene was particularly well-executed.
Amleto alternated with Falstaff as part of a Shakespeare Festival by OperaDelaware. You might accurately say it was a Shakespeare-Boito Festival. That final Verdi opera received a fine production. No gimmicks such as updating to the 1950s. This was staged simply by director Dean Anthony and conducted idiomatically by Giovanni Reggioli. The attractive cast was well-matched, and the Falstaff of Steven Condy was one of the most amiable and likable of any I've ever seen.
Below, crowd scene with King Claudius on table and Hamlet (upper left) looking on: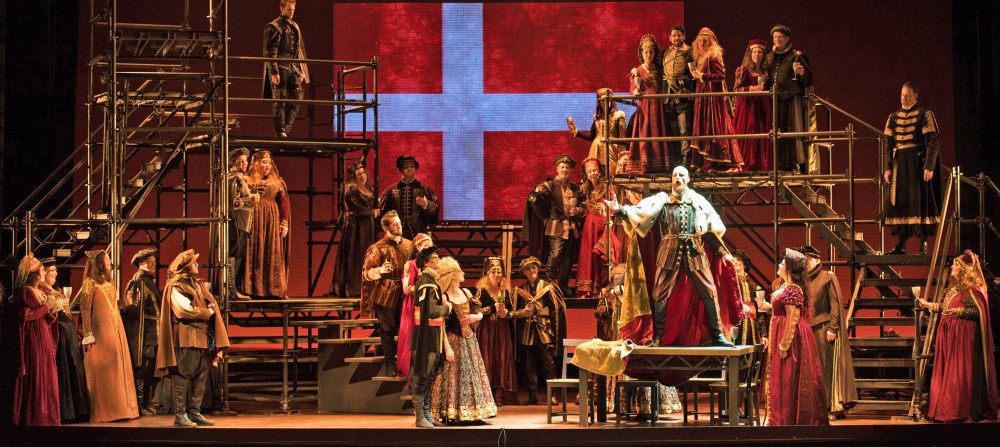 Please share your thoughts with us. Address to editor@theculturalcritic.com
Read other reviews on The Cultural Critic