Impressionists and the man who made them
by Steve Cohen
The Cultural Critic

Some patrons may feel baffled as to why a big exhibition at the Philadelphia Museum of Art, Musée du Luxembourg Paris and the National Gallery in London is centered on the work of an art dealer.
Furthermore, one could question whether commercial transactions should be the basis of a major art presentation. Should Academy Awards be given to the financial backers of films, ahead of the writers, directors and stars? Yet the concept works because the paintings are the real center of attention while their salesman serves, basically, as a hook for tying together all the canvases.
It's called Discovering the Impressionists: Paul Durand-Ruel and the New Painting. Your main reason to attend should not be about the business side of art; rather, enjoy the spectacular display of Impressionist paintings. But while you are there, you'll also be intrigued by the story of how one dealer promoted the genre. His tactics are revealed in his ledger books and his correspondence.
The Parisian gallery-owner Paul Durand-Ruel was the leading advocate of Impressionistic art at a time when the establishment derided such work. Durand-Ruel bought and sold 11,590 paintings, he mounted exhibitions of that art throughout Europe and America, and he published etchings and black-and-white photographs to spread their fame. He was a master of marketing,  'way ahead of his time.
Of the many showings that I've attended of Impressionist art, this is the most dazzling. It's also the most varied. We see some of the first works of Manet, Monet, Pissaro, Degas and Renoir laid up against their later paintings so we can track the development of their craft. We see earlier paintings by Corot and Rousseau which point the way towards Impressionism. And we see a good cross-section of work by lesser-knowns.
On display in this show are 28 oils by Monet, 13 by Renoir, 8 by Manet and 7 each by Degas and Pissarro.
Two segments of the exposition are especially powerful because similar subjects are put in close proximity. Six of Monet's Poplars are lined up in one room. In the autumn of 1891 Monet painted a row of poplar trees on the bank of the river Epte near his house at Giverny. The trees were auctioned off for timber shortly thereafter. The canvases are distinguished by the strong vertical presence of the tree trunks while the colors are subtly different from each other. His Poplars take on poetic power by being together. They were first exhibited at the Galerie Durand-Ruel in Paris in February 1892. Then they scattered to museums in Paris, London, Tokyo and Philadelphia, all of which contributed to this exhibit.
Then there's a trio of Renoirs from 1883 on the subject of social dancing. Three impressive six-feet tall paintings show couples dancing in differing settings: Dance in the Country, Dance in the City and Dance at Bougival  (see above). The ambiance is romantic, the colors vivid, not as soft-toned as what's thought-of as typical Renoir.
Two other works are interesting for their local connections. Monet's Under the Pines, Evening was sold by Durand-Ruel to Philadelphian Otto Haas, the co-founder of the Rohm & Haas chemical company. His granddaughter, Carole Haas Gravigno, donated the painting to the Art Museum. Sunlight is reflected from the ground and bounces up into the lower branches of trees, illuminating them in gold and orange while the upper parts of the pines are in shades of green.
Monet's Green Park, London shows restful grasses under a darkening sky in 1870 or 1871. It is a rare experience to see Monet's work when he was away from his native France. This canvas was admired by Mary Cassatt, herself an Impressionist painter, and she recommended it to her brother Alexander who was vice president of the Pennsylvania Railroad. He purchased it for his home in Philadelphia.
An even earlier Monet is his La Pointe de la Heve from 1864 when he was only age 24. This painting of a beach has daring perspective. Pebbles and seaweed are in the foreground, while a small row-boat bobs on the water and a distant horizon is crowned with opalescent clouds.
Renoir's A Cup of Chocolate is a transitional work from 1878 when the artist was 36. It is a conventional seated portrait of a woman in Navy blue, but a bouquet of flowers and the wallpaper in the background have splashes of bright color and bold brushwork, very modern for its time. Durand-Ruel sold it to Edsel Ford of Detroit, and the Ford heirs sold it at auction to a private buyer in 1990 for $18.2 million.
One of the Degas paintings raises an interesting question. His The Ballet Scene from Meyerbeer's Opera Robert le Diablé is an oil-on-canvas from a close perspective. Degas seems to be near the stage, just behind the musicians in the orchestra pit. We have to wonder if management came over and stopped him, saying  "No picture-taking during a performance!" In our time, they'd probably eject him, and maybe even confiscate his canvas.
Manet, early in his career, painted naval battles, still lifes and portraits. They are displayed here so we can chart the man's progress towards Impressionism. He didn't identify himself as part of the movement but his alla prima ("at once") technique and his use of tache, or bright spots, influenced Impressionism.
It's boggling to read how the dealer influenced the work of his protegees. Durand-Ruel wrote critically to Camille Pissarro in 1894: "This is not what I expected of you….and the harmonies do not seem as accurate as usual." He also suggested subjects for new paintings, thus shaping the direction of the Impressionists' work.
Monet's paintings are so ethereally misty that it's a shock to read his bluntly practical comments about money in his letters to Durand-Ruel, who commissioned Monet to create decorative panels for his nine-bedroom family home.
We should keep in mind that these works were painted at a time when critics and academicians were writing (the art critic of the Figaro):  "Five or six lunatics, of whom one is a woman [Cassatt], have chosen to exhibit their works. People burst into laughter in front of these objects. Personally, I am saddened by them." They couldn't see beauty in the transitory moods of nature suggested with flecked brushstrokes.
Concurrently there's a cinema screening by Fathom Events of The Impressionists in high definition. The 90-minute documentary, produced by Seventh Art Productions, includes footage with curator Jennifer Thompson shot at the Museum of Art. The close-ups of brush strokes are amazing. The video is available from Seventh Art. But, of course, there's nothing like seeing the original art itself.
Below— the youthful La Pointe de la Heve by Monet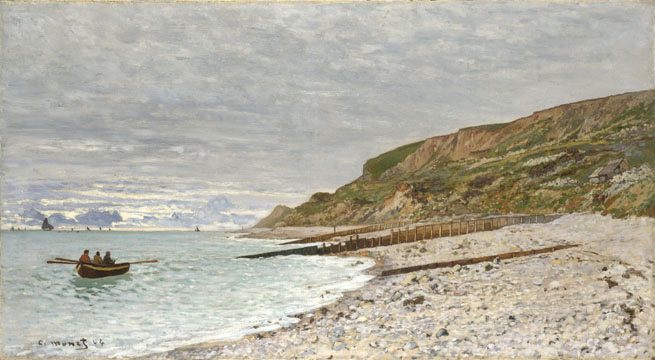 Read other reviews on The Cultural Critic