Jamaica, re-imagined
by Steve Cohen
The Cultural Critic
Jamaica. Book by Yip Harburg & Fred Saidy, lyrics by Harburg, music by Harold Arlen. Rajendra Ramoon Maharaj directed. New Freedom Theatre, Philadelphia
*
Small local companies sometimes can make great contributions to the American musical theater. Case in point: New Freedom Theatre's production of Jamaica.
The most interesting aspect of the production is how it radically altered the central character.
Actually, the show's focus was being changed for the second time. Although its 18-month Broadway engagement from 1957 to 1959 was a vehicle for Lena Horne, that's not what was intended by its authors.
The show's original plan was to star Harry Belafonte and ride the crest of the then-current wave of interest in Jamaican music. Belafonte had a hit record of "Jamaican Farewell." ("I'm sad to say I'm on my way / Won't be back for many a day") and a huge-selling calypso album in 1956. He was to be the show's central character, and Harold Arlen composed songs in Belafonte's style.
Producer David Merrick also signed Lena Horne, and  Belafonte left the show.  Publicity at the time said, variously, that Belafonte had an eye operation, that he had vocal problems, and that he had other commitments.
Merrick had Joseph Stein (Plain and Fancy, and later Fiddler on the Roof) re-write the script of Yip Harburg and Fred Saidy, whom Merrick barred from rehearsals. Harburg and Saidy had written about the serenity of a Caribbean island in contrast  to modern America's commercialization, and made critical comments about America's problems. A young Jamaican woman wants to move to New York for its materialistic life while a rich American comes to Jamaica to build profitable tourist attractions.
The altered show became a revue of songs, mostly sung by Horne, with a flimsy plot. A reduced version of Belafonte's role was taken by young Ricardo Montalbán.
At New Freedom, director Rajenda Ramoon Maharaj picked Aneesa Neibauer, in her early 20s, to play Horne's role of Savannah, who is planning to marry an easy-going fisherman. Director Maharaj emphasized flashy dancing, colorful costumes, and the tunestack of 18 songs. The singing and dancing were pleasurable reminders of Freedom productions from its glory days, such as Black Nativity and Lazarus Unstoned, and it's good to see this honored institution back in business.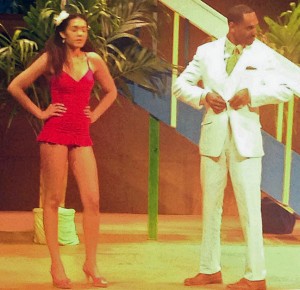 The adorable Neibauer played the Jamaican woman who succumbs to the advertised lures of Manhattan. She's youthful and slender, and her dance moves surpass anything of which the 40-year-old Horne was capable. Horne was a movie and nightclub star, whereas Neibauer is a youngster on the ascent.
She appears to be an adolescent with her life ahead of her. She's engaged to a fisherman and looks ahead to having a baby. Also, this younger concept makes sense because the character has a brother on stage who's a child, and a grandmother who isn't very elderly. This characterization seems much more plausible than when a 40-year-old played it.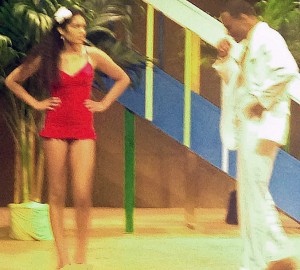 To the left & right, a believably adolescent Neibauer, with Deshields.
Arlen's music is mainly calypso, plus a blues ballad, and a lovely song with beguine rhythm, "Take It Slow, Joe." Pay attention to Harburg's lyrics and you'll hear arguments against nuclear proliferation, as in the song "Leave the Atom Alone." His witty rhymes include "incompatibility" with "jack-and-jillitty."
Shabazz Green was her boyfriend, Koli, who's content with the tranquil life on their island. Walter Deshields arrived from New York City with schemes to develop Jamaica for his enrichment. He also made a play for Savannah and she, for awhile, responded.
What's left of the book is a flimsy romantic triangle, with secondary characters engaged in low comedy. One of these, LaTasha S. Morris, has a powerful singing voice but her mugging is outrageously broad and off-putting. Reji Woods, as her boyfriend, has the large body of a basso profundo but the surprisingly bright high notes of a soprano. Twelve-year-old Courtney Mitchell is a delightful scene-stealer as Savannah's kid brother.
Young dancers provide many of the production's high spots. Their athleticism is impressive, especially in a hurricane sequence choreographed by Maharaj full of twists, turns and tumbles as if the storm is blowing everyone around.
While enjoying the sparkle, I kept yearning to see attention paid to the vision of Harburg and Saidy as in their original script, before the alterations that were imposed by the money men.
A revival of Jamaica is quite timely, given election-year controversy about immigration, and the success of Broadway's Hamilton, about a certain immigrant from the Caribbean. Jamaica's original premise is even more relevant now than it was when the musical was created.
Alexander Hamilton moved from St. Croix in the West Indies to New York City and some parallel can be seen between him and the heroine of this show. Their motivations, after all, were not so different from each other. He sang about "the greatest city in the world" in a lyric by Lin-Manuel Miranda, while Jamaica's leading lady extolled "that little island on the Hudson."
Without a singular star like Horne, Jamaica has never been considered for a Broadway revival. Small-scale productions like New Freedom Theater's are pleasant diversions.
For the troubled background of this show, click here.
Please share your thoughts with us. Address to editor@theculturalcritic.com
Read other reviews on The Cultural Critic