Jamaica returns after a troubled past
by Steve Cohen
The Cultural Critic
The 1957 musical Jamaica is being revived at Freedom Theater in Philadelphia in June of 2016.
It's pleasant nostalgia to think of Jamaica as an example of golden-age Broadway. But that show's problems were among the most convoluted and bitter in theater history.
This report is based on my conversations with three of the people who were involved.
First of all, the show was supposed to star Harry Belafonte and the score was written in the style of music which he had made popular. Belafonte was born in Jamaica, he had a hit single called "Jamaican Farewell" and a top-selling LP of calypso music. But producer David Merrick changed the leading character from male to female (Lena Horne) and Ricardo Montalban was brought in to play the subsidiary role of Horne's boyfriend. (Conflicting press announcements claimed that Belafonte withdrew because of eye surgery, or other commitments, or he needed vocal surgery.)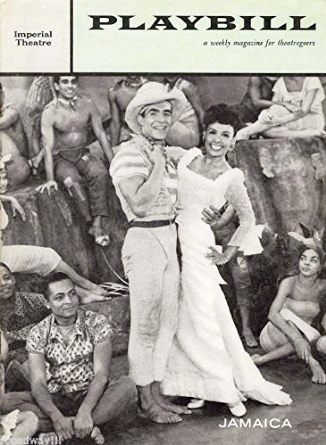 Merrick hated the book by Yip Harburg and Fred Saidy, even though they were the authors of the successful Finian's Rainbow, because they wrote critically about materialism and imperialism and nuclear proliferation. One song was titled "Leave the Atom Alone." Their script contained sharp attacks against commercialization,  and the exploitation of the non-white islanders.
Harburg and Saidy refused to let anyone doctor with their words until Merrick threatened to close the show and insisted that Joseph Stein re-write their script. Stein had written the book for Plain and Fancy and, later, would do so for Fiddler on the Roof. The revised script was basically a showcase for Horne's songs.

An additional problem arose when Merrick chose the esteemed Lehman Engel to conduct the musical. Arlen threw a monkey wrench into the project by insisting that his brother Jerry conduct. Jerry Arlen had conducted brother Harold's House of Flowers on Broadway in 1954 but his reputation was otherwise insignificant.
Horne refused to work with Jerry Arlen. Three weeks before rehearsal started, Harold Arlen was forced to take the job away from his brother but, apparently for spite, Harold wouldn't allow Engel to take over, and everyone settled temporarily on veteran conductor Jay Blackton who led the rehearsals and the Philadelphia tryout.
Conductor Sherman Frank told me: "Lena's flexibility with tempo was on a collision course with Jay's discipline." Blackton was in a no-win situation because Horne insisted on being in charge and the producer acceded to her wishes. So Blackton was fired and Engel rushed in for the Boston tryout and the Broadway opening of Jamaica.
Because Merrick had changed his script, Harburg refused to attend its opening night.
"Lehman was an easy guy to get along with, but she gave him problems too," according to Sherman Frank. Composer Arlen continued to resent the presence of Engel, who wanted to do another show anyway, Goldilocks, starring Elaine Stritch and Don Ameche with a score by Leroy Anderson, and then Horne proposed that Frank take over the conducting of her musical.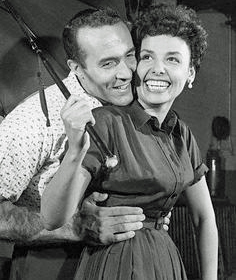 "Lena was a dynamic personality," according to Frank. "But she came from nightclubs and was used to a lot of freedom. I led a 25-piece orchestra which included four of Lena's personal musicians. She told them they should follow her. Her, instead of me. We had clashes over that. Sometimes I was summoned to her dressing room, where she and her husband, Lenny Hayton, told me what I should do differently. But I adapted, and I stayed with the show for a year." 
On the right, the title page of the original Playbill:
A supporting role was played by Adelaide Hall, whose Broadway career started in 1913 and who had been in the original 1921 cast of Shuffle Along. Ossie Davis played the comic part of Cicero. Choreography was by Jack Cole, and 26-year-old Alvin Ailey was his principal dancer. Ailey formed his own group, Alvin Ailey American Dance Theater, in 1958. The 2016 Philadelphia production is directed by Rajendra Ramoon Maharaj.
Ossie Davis, the supporting comic in Jamaica: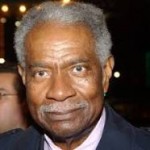 Please share your thoughts with us. Address to editor@theculturalcritic.com
Read other reviews on The Cultural Critic