Jerry Herman, still smiling
by Steve Cohen
The Cultural Critic
I first met and talked with Jerry Herman when his most personal musical, La Cage Aux Folles, was revived. We did a question-and-answer feature for City Paper then, and I continued talking with him, developing this longer piece.
Herman was born July 10, 1931, in New York City. He wrote words and music for some of America's most popular stage musicals, including Milk and Honey (1961), Hello, Dolly! (1964), Mame (1966), Dear World (1969), Mack and Mabel (1974), The Grand Tour (1979), and La Cage Aux Folles (1984). Then his Broadway debuts stopped, partly because producers were unwilling to risk their money when the creator of the show is HIV-positive. Herman disclosed that he had the illness in 1992.
Steve Cohen: La Cage Aux Folles centers on gay, cross-dressing characters. Does it have special significance for you?
Jerry Herman: Yes. It's hard to talk about it without getting emotional. I didn't write it as a propaganda piece. It was just a delightful, funny story, but, as it turned out, it taught a lot of people tolerance. A lot of people come to it unsure, but they fall in love with the two characters. Because it's an entertainment, it did more to affect people than serious, preachy plays.
SC: But it's not performed nearly as often as Hello, Dolly!
JH: No, but let me tell you, I saw an amazing production of La Cage in Maui, Hawaii. I was there on vacation and opened the paper to see what movies were playing, and there was an ad for an amateur theater production of La Cage. Not the movie; the play. So, naturally, I went. It was thrilling. There was only a 4-piece band and bad costumes and almost no set, but it worked. Every line and every song worked, on all levels. I was so proud. Now I know that my work will live on, long after I'm gone.
SC: How are you doing in your battle against AIDS?
JH: I have to say thank you to the people who created the protease inhibitors. Those pills are my life preservers. My doctors say there's no immediate problem for me with AIDS.
SC: You've written strong female characters like Dolly and Mame. Why not any equally strong male figures?
JH: I disagree with you. Mack Sennett (in Mack and Mabel) is a very strong male part, and one of the favorite parts I've written. Robert Preston had nine songs in that show, to only four for the Mabel, Bernadette Peters. And Robert Weede was the strong leading character in Milk and Honey. But I know people say that. My being gay has nothing to do with me loving women. I've just always preferred seeing a woman in a sparkly outfit to seeing any guy in a brown suit.
SC: What projects are you working on?
JH: Fixing up my latest house, and entertaining my friends. As for theater projects, we revived Mack and Mabel in Los Angeles, starring Douglas Sills, Jane Krakowski and Donna McKechnie. Also, we worked on a new, more intimate version of Dear World at the Goodspeed Opera House in Connecticut. It's my most mature and interesting work, especially lyrically. It also contains my favorite song among all my offspring. I hate to be unfair to all my other songs, but I have to say that "I Don't Want to Know" is my choice.
Dear World  was not a hit. I won't criticize my collaborators, but people thought the book was too overblown for Giraudoux's delicate fantasy about what he imagined life would be like after World War II. Angela Lansbury was wonderful in it.  When I heard Maureen McGovern sing my music it was thrilling. Nothing against Angela, but when Maureen wraps her voice around these melodies it's a whole other reality. I've changed some of the songs with her voice in mind. I'm always ready to write a new song when necessary. In the Detroit tryout of Hello Dolly! The first act finale wasn't working, and dear Carole [Channing] was waiting for a new number, and the orchestrator [Phil Lang] was waiting, so I locked myself in a hotel room with chocolate bars and wrote "Before the Parade Passes By."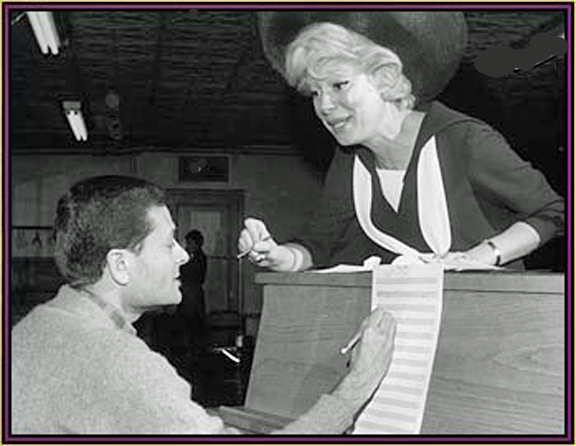 I never liked Dolly's opening song: "When a man with a timid tongue / Meets a girl with a diffident air." That's not Dolly Levi from the Lower East Side. That's me relying on my revue material style that I was comfortable with. When they made the movie of Dolly, I had a chance to finally get it right and I wrote "Just Leave Everything to Me." Another example: When we were working on Mame in Philadelphia, before Broadway, we decided to cut one of Angela's [Lansbury] ballads and go right from "I Need a Little Christmas" into the title song, "Mame." The change made the show take off like a train. Boy, did it play then!
I wanted to become an architect and enrolled in the Parsons School of Design. I utilized that interest when I wrote Dolly. I visualize every song that I write, and I could see all the waiters in green. I told Gower Champion (Dolly's director) that it contrasted with Dolly's red gown.
There are no new shows at the moment, although there's a possibility that Miss Spectacular could be produced in Las Vegas. But the most interesting thing about being in the theater is that your work goes on without you. Once you've written good shows, you know your work will be performed for the next hundred years, whether you're around to see it or not.
SC: Let's go back to your childhood.
JH: I was born in New York City, a block away from the theater district, but grew up in Jersey City. Both of my parents were teachers, and in the summers they ran a Jewish children's camp in upstate New York. When I was a teenager, I became the dramatics counselor there. We had a nice home and a garden in Jersey City, which was a nice city with a large Jewish population at that time. My mother taught Jewish music at our community center in Jersey City. She also had a radio show called "Ruth Sachs Sings" on WEVD, an ethnic station in New York, singing and playing the piano. My music comes from being brought up in a very happy Jewish home where there was music all the time. My sense of melody is all wrapped up in my roots. That's why it's kind of warm and schmaltzy.
I went to Hebrew school at Temple Beth El until after I was Bar Mitzvahed. I started playing piano at age six and my parents started me on piano lessons when I was eight years old. Mrs. Pessin didn't know what to do with me. She told my parents that she didn't know what to teach me because I was so fast. She sent me to Juilliard. They listened to me and recommended: "Let him develop on his own."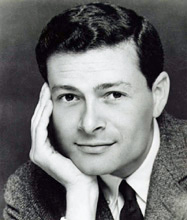 After dinner my mother used to play the accordion, my father the saxophone and I played the piano. We played everything from show tunes to Gilbert and Sullivan. My parents adored musical theater, and we went into New York City almost every weekend to see shows. My first show on Broadway was Annie Get Your Gun when it was new, in 1946, and I was 15. My parents had no idea what an influence it was on me. Irving Berlin was my kind of songwriter. I heard the show once and I retained four of the songs immediately. It was such a thrill seeing Ethel Merman, this larger-than-life lady on the stage. She had a thrilling instrument, like a trumpet. And she was very moving when she sang softly, as in "I Got Lost in His Arms." As we drove back through the Holland Tunnel I was singing away, the songs I'd just heard.
I wrote my first show, Step Right Up, at 16 and it was performed at the Jersey City Jewish Community Center, starring my friend and neighbor, Phyllis Newman. Then I wrote a musical called "An Apple For Venus" when I was a drama major at the University of Miami. My mother supported my decision to compose musicals but never lived to see my first Broadway opening. She died when I was 21. She was so "Mame." I came home from school one day to find the kitchen full of hors d'oeuvres. It was a Tuesday and I asked her why she was busy cooking on a Tuesday, and she responded, "Because it's today." And that's where the song came from — the opening song in Mame:
"Tune the grand up /
Dance your shoes off /
Strike the band up /
It's today."
People put me down for writing upbeat songs, as if the feelings I put into them were not genuine. It has taken me the better part of my lifetime to make people understand that I write the way I feel, and that these sentiments are honest. Bouncy, buoyant, and optimistic. That's me. And I am what I am!
SC: Tell us about your first commercial shows.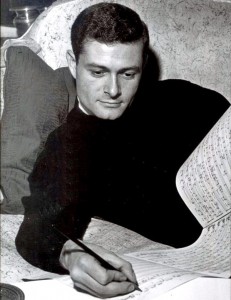 JH: When you're young and starting out, no one will give you a chance to do a book show, so I wrote revues. A revue I wrote at college called I Feel Wonderful was produced Off-Broadway in 1954. Then Nightcap, that played at Jim Paul Eyler's Showplace, and we expanded it for Dody Goodman and called it Parade.
Gerald Oestreicher, a real estate man, saw Parade and liked my work and he entrusted me with his first musical as a producer. That was Milk and Honey in 1961. I was thrilled to be given the script. And I jumped at the chance to go to Israel at Oestreicher's expense and soak up the atmosphere.
The show came out of a place in me that was very real. It was the first musical about Israel, which was only 13 years old at the time. It was a new world for theatergoers, and a new sound. I used Rodgers in The King and I as my guide. I wanted to write an American score that had just enough exotic flavor, to incorporate Israel's sounds into a core that was accessible.
SC: I didn't realize your debt to Rodgers & Hammerstein. Now I understand what's behind your lyric in Milk and Honey, when one of the ladies says "climb ev'ry mountain to find your Mister Snow."
JH: I had to invent a sound that the public would accept as being Israeli. So I used some Russian and czardas sounds that I heard in my home growing up. And a waltz ("Shalom, Shalom") that reflected the music of European Jews who came to Israel. And minor songs, and dance songs that were similar to "Hava Negilah."  Milk and Honey tried out at the Shubert Theatre in New Haven, so it was there that I heard a pit orchestra playing my music for the first time. It was heady stuff.
There's also a lot of Jewish expression in The Grand Tour, which is about a refugee running away from the Nazis. I was comfortable with the idiom. But I have to tell you that I also was comfortable with Dolly Gallagher, who was Irish, and with Horace Vandergelder and all of those Protestants. And Mame, who is as WASP as you'll get.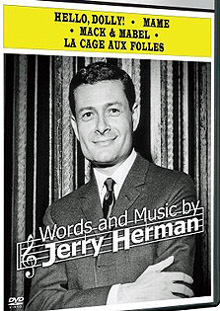 SC: After your huge successes, many years went by without a new Jerry Herman show…
JH: It wasn't so much that producers didn't want to take a chance with my health. It was my own choice. That was a period of sadness for me. I lost a lot of friends to AIDS, including my closest, dearest friend. It was a very tough period, and I didn't feel like working.
SC: And then in 1996 you wrote a television musical, Mrs. Santa Claus.
JH: The music and the character development was similar to a Broadway show, but it was so much simpler to get it produced for TV. I'm glad you liked it. It, too, has a Jewish flavor.
SC: Of course, in the song "Avenue A," with the lyric "you hear como esta and bless my soul, and oy vay…pickled herring and lasagna and chow mein all share the same tray."
JH: It's very satisfying to me that more people saw Mrs. Santa Claus in one night than have seen all of my plays on Broadway. I had a wonderful time doing it. I was anxious to prove to myself that I could still write good songs and to prove to the world that I hadn't lost my touch. That's true with Miss Spectacular as well.
SC: Miss Spectacular was commissioned in the 1990s by Las Vegas hotel-owner Steve Wynn as a casino extravaganza, then was abandoned when Wynn's Mirage was bought by MGM Grand.
JH: I own the show, and maybe someday it will be presented on stage. Meanwhile I want the world to hear my stuff because it's been too long. I recorded a wonderful album of Miss Spectacular in Los Angeles in 1999, and DRG released it. It's about a girl who travels from Kansas to Las Vegas to compete in a casino show-girl pageant. She's had this condition all her life, where whenever she hears clanging — whether it's an alarm clock or money coming out of a slot machine — she goes off into a fantasy, and the fantasies are what she would like her life to be. In Las Vegas all you have to do is walk through one of those hotels and you're sure to have a daydream like that yourself.
SC: Any plans to produce it on stage?
JH: I've gotten my first interest already from a producer, but I think it should be done as it was intended to be, as a spectacular in a club. For this recording we used a big, almost symphonic-size orchestra, and I got some wonderful performers who are just right for each particular song, although they aren't assigned to particular roles. One song I wrote is about things you'll find in La Vegas: "…you'll see Steve and Eydie" and then I got Steve Lawrence to sing the lyric!
I just want the world to know that I'm still here and functioning. I want everyone to hear my new work. If Miss Spectacular just stays as a disc, it's OK with me. I like it so much. It makes me happy to listen to it. I just want to go one step at a time, and the first step is just to get it out there and have people hear it.
*
Recommended Herman recordings:
An Evening With Jerry Herman (DRG, 1974) Jerry Herman playing, singing and talking, with Lisa Kirk, Joe Masiell, Carol Dorian. An essential CD.
Michael Feinstein Sings the Jerry Herman Songbook (Elektra Nonesuch, 1993) Jerry is at the piano and sings two of his songs with Michael. Rarities include a number cut from Hello Dolly!, a song added to the film version of Mame, and songs that Herman contributed to Ben Franklin in Paris and A Day in Hollywood/ A Night in the Ukraine.
Milk and Honey (RCA, 1961) Robert Weede, Mimi Benzell, Molly Picon
Hello Dolly! (RCA, 1964) Carol Channing, David Burns, Eileen Brennan, Charles Nelson Reilly
Mame (Sony, 1966) Angela Lansbury, Beatrice Arthur, plus Herman's own demo records of five songs
Dear World (Sony, 1969) Angela Lansbury, Milo O'Shea
Mack and Mabel (MCA, 1974) Robert Preston, Bernadette Peters, Lisa Kirk
Mack and Mabel (Broadway Angel, 1995) Howard McGillin, Caroline O'Connor, London cast. This is the first complete recording, and Herman feels that McGillin reveals musical values that Robert Preston lacked. This version includes, in Herman's words, "a little fix here and a little change there."
The Grand Tour (Fynsworth Alley, 1979) available online only, at fynsworthalley.com) Joel Grey, Ron Holgate, Florence Lacey
La Cage au Folles (RCA, 1984) George Hearn, Gene Barry
Jerry's Girls (Jay, 1984) Carol Channing, Leslie Uggams, Andrea McArdle
Mrs. Santa Claus  (RCA, 1996) Angela Lansbury, Michael Jeter, Terrence Mann
Miss Spectacular (DRG, 1999) Christine Baranski, Michael Feinstein, Steve Lawrence, Faith Prince.


For stories about other Broadway songwriters, click here.