Kiss Me Kate on an intimate stage
by Steve Cohen
The Cultural Critic
Kiss Me Kate by Cole Porter with Bella and Sam Spewack. Act II Playhouse, 2016.
Strictly speaking, a theater this small would not be ideal for a blockbuster from Broadway's golden age.
In its day, Kiss Me Kate played in a theater that seated 1700. This playhouse has only nine rows with 130 seats. Musicals had orchestras numbering in the mid-twenties; this production relied on one pianist plus a cast member adding some licks on clarinet, sax and flute.
But hold on a second. Kiss Me Kate does have intimate characteristics. There's no ballet, and no chorus. No ball scene like My Fair Lady; no wedding reception like Fiddler on the Roof. No seabees, nor farmers and cowmen.
Most of Kate's scenes are "in two"—that is, with only two people on stage at a time. Think of the lead soprano and baritone in "Wunderbar" or the ingenue couple in "Why Can't You Behave?" or the two gangsters in "Brush Up Your Shakespeare." These duets came across very well at the Act II Playhouse.
The opening song, "Another Op'nin' Another Show," welcomed us to a seedy theater in Baltimore where a touring production of Shakespeare's The Taming of the Shrew is to open. Each of the main cast members' on-stage performance is complicated by what's happening in his off-stage life. Fred (Sean Thompson) is the director and plays the male lead in the play-within-the-play. His ex-wife Lilli (Jennie Eisenhower) has become a movie star with a reputation for being difficult to work with, and now returns to the theater to play the shrewish Katharine. Fred's current love interest, Lois (Mindy Dougherty), takes on the role of Katherine's sister Bianca, and the other man in Lois' life, Bill (Zachary Chiero), plays one of Kate's suitors, Lucentio.
Porter's genius came forth when he had the quarreling actors Fred and Lilli reveal their continuing affection for one another only in the safe space provided by "Wunderbar," as they remember a waltz from a Viennese operetta they had performed long ago. Porter had them sing about looking "down from our secret chalet" to see the Jungfrau. The Jungfrau, of course, is the highest peak in the Swiss Alps. Porter assumed that his audiences were sophisticated enough to get the joke.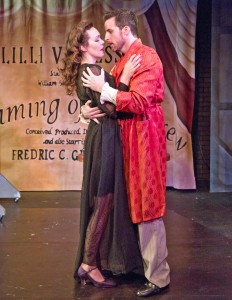 Jennie Eisenhower was perfectly cast as Lilli/Kate. She has a fine soprano voice and comically expressed her character's imperious haughtiness; and she brought a unique extra quality. Her character, in the 1999 revised script, is engaged to a general from World War II who's a friend of America's president. (There's even one scene where the president has a phone conversation with Lilli.) Jennie happens to be the great granddaughter of Dwight D. Eisenhower and the granddaughter of Richard Nixon.
Sean Thompson as Fred/Petruchio brought a warm baritone voice to the Cole Porter ballads and was superb at physical comedy. His high notes rang out thrillingly. The lowest part of his voice, however, lacked the projection that Alfred Drake and Brian Stokes Mitchell brought to the opening lines of "So In Love" ("Strange dear but true dear") and "Were Thine That Special Face."
It was a special treat to see and hear these stars up close, without any need for electrical amplification.
Sonny Leo and Peter Bisgaier were terrific as the gangsters who became experts on Shakespeare in the prison library when they were incarcerated. And there was a surprise in Jordan Dobson, a Temple University sophomore who was the best dancer on stage in a small role. His charisma kept all eyes focused on him [see photo], and he played those wind instruments too.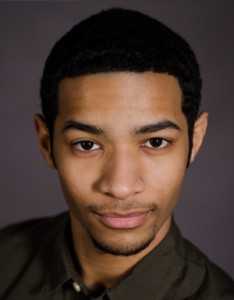 Kiss Me Kate is jammed with comedy and great tunes and has a longer running time than today's audiences are used to (though not long by the standards of its era). That's because Porter, during the rehearsal period, insisted on adding "Brush Up Your Shakespeare" with its multiple reprises, such as: "If you can't be a ham and do Hamlet/They will not give a damn or a damlet/Just recite an occasional sonnet/And your lap'll have honey upon it." But who would want to eliminate anything from its great entertainment?
Peter Reynolds directed resourcefully and choreographer Maggie Anderson excelled particularly in "Too Darn Hot." Musical Director Michael Pacifico did what he could at the piano, but how I missed the string section of the original!
To see a video, click here.
Please share your thoughts with us. Address to editor@theculturalcritic.com
Read other reviews on The Cultural Critic