Parade, the tragedy by Jason Robert Brown
by Steve Cohen
The Cultural Critic
Parade by Jason Robert Brown & Alfred Uhry, Arden Theatre, 2013
*
The lynching of the Jewish factory manager Leo Frank in Georgia in 1913 was the most notorious incident of anti-Semitic violence in American history. When a local 13-year-old girl was found murdered in a warehouse, Frank was falsely accused and convicted of raping and killing her. A mob that was hostile because Frank was a Northerner and a Jew dragged him from his cell and lynched him.
In 1998 that tragedy was dramatically retold in Parade, a musical scripted by Alfred Uhry, whose uncle owned the Atlanta pencil factory that employed Leo Frank, a young New Yorker who had married into the family. Parade was widely considered a flawed work when it opened at Lincoln Center. Uhry's script portrays Frank as unemotional and detached, even toward his devoted wife, when more likely he was a fish out of water: an alien in the strange land of Georgia, confused by (and stubbornly resistant to) the different customs and attitudes he encountered there.
Both Uhry and his cousin Jane (an acquaintance of mine) have recalled to me how repelled they were, growing up in the South, by Northerners, and especially by Jewish Northerners. Atlanta's assimilated Jews were embarrassed by the old-fashioned customs and emotionalism of the Eastern European immigrant Jews from up North. They rejected Sabbath candles, bar mitzvahs, Hebrew, Yiddish and yarmulkes, not to mention lox and bagels.
"My parents told us don't speak loudly and don't be pushy," Uhry told me. "We tried to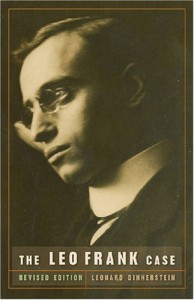 appear as non-Jewish as possible." In Parade this attitude is cleverly described in the song, "How Can I Call This Home?"
Yet Uhry's Leo displays none of the emotionalism that characterized New York Jews. It's hard to sympathize with this cold, rude character, and equally difficult to accept his transformation into a loving husband in the second act.
Jason Robert Brown's score for Parade also was problematic. Its opening and closing number, "The Old Red Hills of Home" stirringly etched the resentment of Southerners over their subjugation by northern invaders, but in between, Brown's music is poundingly repetitious, serious and somber. Only "Pretty Music" (sung by Scott Greer as the governor), "The Factory Girls" and "Come Up to My Office" come across as fetching tunes.
Nowhere else did Brown reach the catchy level of his songs in The Last Five Years. He certainly failed to achieve the satiric contrast that, say, Kander and Ebb wrote for their musical The Scottsboro Boys, or the soaring passion of Ahrens and Flaherty's score for that other tragedy about ethnic prejudice, Ragtime.
So, can a flawed but potentially worthwhile product like Parade be salvaged? Enter Terrence J. Nolen of the Arden Theater.
Over the past two decades Nolen has built a reputation for presenting memorable stagings of American musicals. At least once each season he has directed important works, usually by Stephen Sondheim but also by Leonard Bernstein, William Finn, Jeanine Tesori and other composers.
Now Nolen is outshining himself. In collaboration with designer Jorge Cousineau, he has revived Parade, re-imagined it and added a radically new dimension.
It emerges in the flickering light of a movie screen. Nolen and Cousineau chose to stage this true story in documentary style, using the device of motion pictures from that time period in tandem with the dramatic action of actors on stage.
In spotty black-and-white silent films, we see Southern hills, Atlanta streets and antebellum mansions, sometimes with the Arden Theatre's actors appearing within those scenes. At other moments we see actors moving behind the screen and casting their shadows on it. Sometimes they seem to step through the screen and into real life, like the characters in Woody Allen's 1985 film, The Purple Rose of Cairo.
What emerges from this imaginative manipulation of film footage, still photos and live cast is virtually a new play, one that brings the Leo Frank story to life as never before.
Interacting with the images on screen is a superb group of singing actors. Ben Dibble is a perfect Leo Frank, reticent and bewildered, and Jennie Eisenhower sings beautifully and appealingly as his wife Lucille. Anthony Lawton is malignantly powerful as the district attorney who prosecutes Leo.
Scott Greer contributes three vivid vignettes and some nimble dance steps and Jeffrey Coon and Michael Philip O'Brien bring their strong voices to supporting roles. The large cast and the orchestra present a plethora of riches in what may be the Arden's most transformative musical production.
Read more reviews on The Cultural Critic