Rachmaninoff wrote an opera?
by Steve Cohen
The Cultural Critic
Aleko by Rachmaninoff. Russian Opera Workshop, Philadelphia, 2012
Rachmaninoff's music for piano is ubiquitous, but his operas are not. His piano concertos are full of familiar tunes, and some were spun off into popular songs, but the composer's operatic arias have been ignored.
No major American company in this country has ever produced Rachmaninoff's unfortunately neglected Aleko, a one-act opera — an adaptation of Pushkin's poem, The Gypsies — that Rachmaninoff wrote in 1892 as a graduation work at the Moscow Conservatory.
The 19-year-old Rachmaninoff was groping for a personal style here, and he borrowed some good ideas from various predecessors. Aleko contains plot elements of Leoncavallo's Pagliacci (an unfaithful wife and a double murder), some gypsy influences that recall the Hungarian composer Emmerich Kalman, and a soulful Russian flavor reminiscent of Mussorgsky.
Rachmaninoff tried to express his personal longing for an existence unfettered by stifling social mores; he identified with Pushkin's protagonist, who leaves his home and attempts to assimilate himself into gypsy life. But the unbridgeable dichotomy between two worlds leads Aleko to murder his wife and her lover.
Tchaikovsky attended Aleko's premiere and liked it. He himself had received inspiration from other poems by Pushkin, for his Eugene Onegin and The Queen of Spades. Tchaikovsky saw great hope in Rachmaninoff and helped him get a publisher. He even suggested Aleko would make a good double bill with his opera Iolanta, which premiered six months earlier. Occasional productions have paired Aleko with Iolanta. Valery Gergiev mounted them together in 2009 at Baden-Baden with American bass-baritone John Relyea as Aleko.
But Aleko received precious little U.S. exposure until last month, when Ghenady Meirson, vocal coach at both Curtis and the Academy of Vocal Arts, led a concert performance as part of his continuing Russian Opera Workshop at AVA. Meirson, himself a Russian immigrant, is working with artists whom he selected by an audition process from across the U.S., Canada, Mexico and Russia to study opera roles and the Russian language.
Guest artist Ben Wager, a 2009 graduate of AVA, returned for one night as Aleko. He defined the drama when he sang "All the gypsy camp is sleeping" and ruminated on his wife's infidelity. With his warm and ringing bass, Wager showed the anguish of jealousy in his show-stopping aria.
Kirsten Kunkle used fiery dark tones to play the dramatic gypsy woman, Zemfira, married to an outsider. Steven Williamson was her lover, singing sweetly and passionately with a nice high tenor voice. The rich bass of Nicholas Masters gave dignity to his part as Zemfira's father.
Rachmaninoff's choral scenes portray the gypsies as a proudly libertarian people. This production's small chorus of just six men and six women showed good musicianship and coaching but comprised too pale a component to make the intended impression.
Rachmaninoff wrote two other operas but devoted most of his attention to a career as a piano soloist and a composer of pieces for piano and orchestra. To judge from Aleko, that's a loss to lovers of vocal music.

The young composer Rachmaninoff: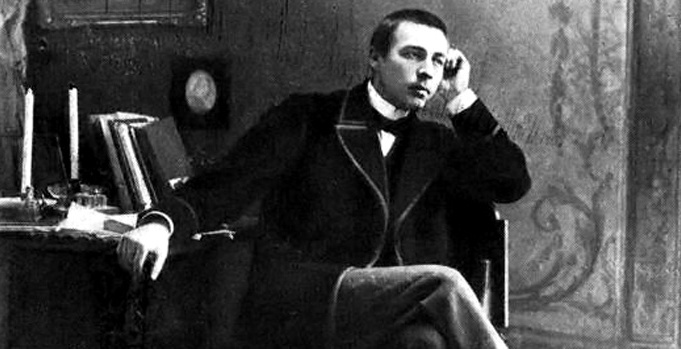 Read other reviews on The Cultural Critic