(R)evolution of Steve Jobs in its world premiere
by Steve Cohen
The Cultural Critic
The (R)evolution of Steve Jobs by Mason Bates & Mark Campbell. Santa Fe Opera, August 2017

Steve Jobs was a revolutionary genius in communicating. He showed the world how to get everything anyone needed on a single small gadget. Yet he was a spectacular failure in communicating with his friends and family on a personal level. As composer Mason Bates says, "The man who miniaturized our communications into sleek little devices had so many issues with the complications of human life."
That's the essence of Steve Jobs, and it involves conflict, which is the stuff of drama. Yet Jobs has been an elusive subject, as proven by the failure of two motion picture attempts. Aaron Sorkin's film, starring Michael Fassbender, was abstract, overly wordy and failed to connect emotionally. Another, starring Ashton Kutcher, concentrated on Jobs' early years and seemed small-scaled.
So the choice of Jobs' life for an opera was no slam dunk. Yet this new opera has become a huge hit with enthusiastic audiences made up of Santa Fe locals and international travelers.
Almost everywhere I go in this city, when strangers see that I'm from out of town they say, "Are you here for the Steve Jobs opera?" or "You must see the Steve Jobs opera." Mind you, these comments come from non-musicians, which is an exceptional occurrence. My 19-year-old nephew lives in Albuquerque and has no interest in opera yet told me that he and his friends wanted to buy tickets, but none were available. The opera company added an extra performance which also sold out, and reports that it's the most popular attraction in years.
Composer Mason Bates was drawn to the subject because of his own interest in technology. He is a Juilliard graduate who has worked as a club disc-jockey, mixing and cross-fading varied input, and has created electronic soundscapes. Then he turned to electro-acoustic symphonic works that utilize keyboard samplings of sounds and other electronica. He is married to a molecular biologist and has two young children. On right, composer Bates: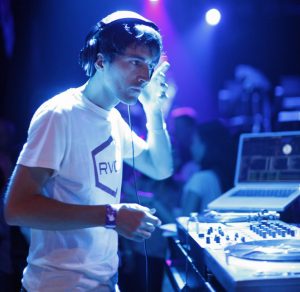 To date, his biggest success has been Alternative Energy, commissioned and premiered by Riccardo Muti and the Chicago Symphony and performed during 2016-17 by Yannick Nézet-Séguin and the Philadelphia Orchestra. It presents a sound of a the crank which Henry Ford used to start his automobiles and proceeds to the sounds of nuclear reactors, and of icebergs melting and breaking apart because of global warming. All of this is within the instrumental palette of a symphony orchestra.
The 40-year-old composer says, "I've always fixated with special passion on opera, the only artform to unify so much theatrical media simultaneously. And as the narrative nature of my symphonic work indicates, I've always been interested in telling new, wild stories with music."
Bates sits in the orchestra with his own computer and other electronic devices during performances of Alternative Energy and of this new opera.
Knowing that a drama about Jobs presented problems, Bates sought out Mark Campbell, the librettist of more than a dozen music theater shows and operas and winner of a Pulitzer Prize for the opera Silent Night, to be his creative partner. Campbell is a University of Colorado graduate who excels in distilling stories down to the characters' passions and ambitions, making them bigger than life. Campbell chose to present a seemingly-random group of episodic anecdotes to build a personal narrative. Below, librettist Campbell: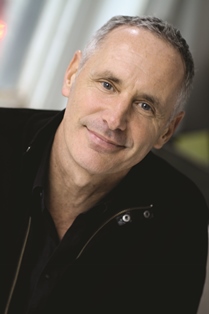 Bates says that he and Campbell fell in love with the complex, duel protagonist-and-antagonist role of Steve Jobs, and then with the soulful figure of Laurene Jobs and the mystical character of Kobun, the Buddhist spiritual advisor to Jobs: "Mark's libretto is a master of new storytelling, with a non-linear form."
The opera definitely does not whitewash Jobs' faults; we see him being self-centered, obsessive, demanding, and cruel. We also witness his early years when he and his partner Steve Wozniak horsed around and found a way to break into AT&T's phone system. They joyously sing about bringing that "money-sucking, monolithic, monopolistic, autocratic Ma Bell behemoth…to its knees."
Their pleasure in being outsiders presents a contrast with the older, self-centered Jobs who snaps orders and insults his co-workers, and even forces Woz to leave the company. Woz has a big aria in which he sings, "The guy I thought I knew / Has no time / No Space / No life… / You're losing it."
We see Jobs spurn his girlfriend and coldly deny fathering their child, and then marry the lovingly devoted Laurene Powell, who eventually convinces Jobs to slow down, look inward and seek medical help. (As Pixar's Edwin Catmull said elsewhere, "Steve learned some major lessons, and he changed. He became an empathetic person.") He died in 2011 at age 56 of pancreatic cancer.
Bates assigns specific sounds to his various characters. Jobs is identified by computer blips and by acoustic guitar; jazz saxophones are associated with Woz; soft strings accompany the loving Laurene; and Jobs' spiritual adviser, Kobun, is represented by flutes, Tibetan temple bowls and Chinese gongs.
Compared to his earlier compositions, Bates's music has fewer direct sound effects and a more subtle integration of electronica with the full orchestra. It includes lovely soft moments as well as building to full-throated climaxes. The score includes soaring arias and a catchy duet between Jobs and Woz.
Jobs is sung by the excellent baritone Edward Parks, who appears tall, balding, and wears the familiar black turtleneck and jeans. Tenor Garrett Sorenson is exciting as Woz, mezzo Sasha Cook is radiant as Laurene, and bass We Wu is sonorous as the guru who dispenses valuable advice to Jobs in the spirit of Sarastro from The Magic Flute. Jobs' earlier girlfriend is sympathetically played by coloratura soprano Jessica E. Jones.
I cannot imagine any better cast when this production moves on to the San Francisco Opera, Seattle Opera, and the Indiana University Jacobs School of Music. America's East Coast opera houses missed out on grabbing this accomplishment.
Victoria "Vita" Tzykun provides a scenic design that shifts efficiently from private spaces to meeting rooms to lecture halls. The excellent sound design is by Rick Jacobsohn and Brian Loach, crucial lighting is by Japhy Weideman and costuming by Paul Carey.
Director Kevin Newbury magnificently dovetails the 18 scenes. Robert Tweeten conducted the final performance of the season, which I attended. Ryan Haskins was the original music director.
The music drama lasts just 95 minutes and keeps us involved throughout. One of the assets of The (R)evolution of Steve Jobs is its self-awareness. At Jobs' funeral, Laurene sings, "The very second this is over / For better or worse / Everyone will reach in their pockets or purses / And guess what? / Look at their phones / Their 'one device.'"
But she adds that version 2.0 of Steve would say, instead: "Look at the stars / Look at the sky / Glance at the smile of the person right there next to you." Jobs is generally perceived as being cold and calculating, so this conclusion is both surprising and emotionally satisfying.
This is an expansion of my review that appeared in DC Metro Theater Arts.

Sorenson & Parks as Woz & Jobs, photo by Ken Howard: