Rodin's many kisses
by Steve Cohen
The Cultural Critic
The Kiss. The Rodin Museum, Philadelphia, 2017

2017 is a big year for admirers of Auguste Rodin. It is one hundred years since the death of the remarkable sculptor.
Cities around the world are commemorating the centenary. And no place is focusing on Rodin's essence as graphically as Philadelphia, which houses the only museum outside of France dedicated entirely to Rodin's work.
The Rodin Museum on the Benjamin Franklin Parkway has mounted a new installation of his depictions of passionate embrace.
He was denounced for being pornographic, and even today some observers think of him that way. Actually, Rodin was an unconventional pioneer in displaying the details of anatomy, with realistic muscularity, sinew and tendon, and he complained in 1912, "People have often accused me of having made erotic sculptures. I have never made a sculpture for the sake of the erotic element."
Nevertheless, he clearly was fascinated by couples embracing, kissing, tumbling, and even wrestling. Rodin (1840-1917) broke from convention with his portrayal of nude bodies and frank sexuality. A favorite subject was a woman leaping up to a man's chest while wrapping her legs around his waist. The perceived obsession with sex adds frisson to this installation.
In this grouping, his most famous pair of lovers, known as The Kiss, is surrounded by the couplings of other men and women, plus some women with children, and one lesbian couple. It's interesting to see the progress as Rodin proceeded from clay to plaster to bronze and marble, making changes at each step. He worked predominantly in clay, which dries out easily. The artist had plaster casts made from his clay models, which allowed him to save his work and explore different ideas.
This Philadelphia institution has joined with worldwide art museums in a program of major Rodin projects, unified under the title #Rodin100. Each institution chose its own approach. The Barnes Foundation, in collaboration with the Musée Rodin in Paris, will present Kiefer Rodin in November. It echoes Albert Barnes's belief that artistic expression is a conversation between works of different times and places, as this exhibition gathers new works by Anselm Kiefer (born in 1945) which he created in response to drawings and sculptures by Rodin.
The Rodin Museum was established by motion picture theater owner Jules Mastbaum. Mastbaum had his own personal collection of Rodin originals in his home on Rittenhouse Square. In 1925 he commissioned Rodin's estate to make bronze castings of additional masterpieces and planned this building and its grounds as his gift to the city of Philadelphia. He died unexpectedly from appendicitis at the age of 54, and the museum opened in 1929. It is operated by the Philadelphia Museum of Art.
The centerpiece of this exhibition is a copy of Rodin's Kiss, commissioned by Mastbaum in 1926 and carved in marble by Henri Gréber, who had designed the Parkway in 1917 (another centennial celebration is in order) and who designed this building and its garden.
Rodin originally titled his piece Francesca da Rimini, as in Dante's Inferno story about an adulterous affair which also was portrayed in paintings by Ingres and Rossetti and in operas by Zandoni and Rachmaninoff. The names of those lovers were well known in Rodin's time, but are less familiar today. A journalist persuaded Rodin to rename it The Kiss.
Also worth special attention is I Am Beautiful, made in clay in 1885 and cast in bronze in 1925-26. This was another look at the same doomed couple, and Rodin called it Paolo and Francesca. The American sculptor Truman Bartlett wrote in 1887 that "it seems as though the soul of the woman, in haste to meet her lover, had shot through the air like a thought, to find rest in his arms."
Eternal Springtime is shown in two versions. It was made in clay in 1884, then cast in bronze sometime between 1898 and 1918. Here Rodin depicted lovers in a floating embrace, with graceful outstretched limbs. When he made the bronze casting, Rodin had to lower the long upward extension of one arm because it would be too fragile.
Curator Jennifer Thompson pointed out a similarity between The Kiss and the famed The Cathedral (also in this exhibit) which is two raised right hands whose fingertips are about to touch. The anticipation of this intimacy creates a charged space somewhat like the moment when a couple's lips meet.
Damned Women, made in clay in 1885 and later cast in plaster, shows female lovers arch-backed, head over heels. Rodin's models were dancers from the Paris Opera recommended to him by his friend Edgar Degas. It's not known whether the models were, in fact, lesbians.
Not everything in the exhibit is of lovers. We see the famous The Thinker, rendered in clay in 1880 and subsequently cast in bronze in three different sizes. This exhibit includes the original medium-sized figure.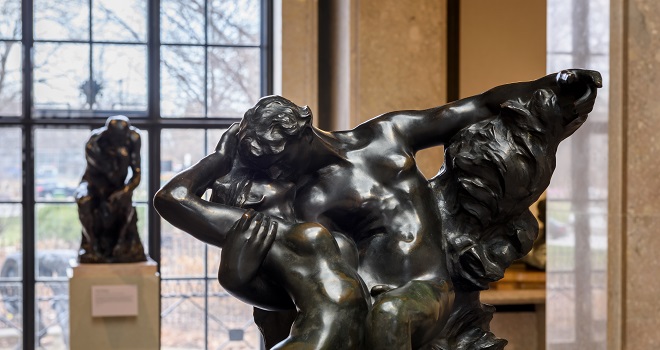 An earlier, shorter version of this report appeared in Broad Street Review