Russian opera in authentic Russian style
by Steve Cohen
The Cultural Critic
Mazepa by Tchaikovsky. Russian Opera Workshop, Ghenady Meirson, conductor and pianist, Philadelphia
A wealth of Russian vocal music has been unexplored in western Europe and America. One Philadelphia organization is making an effort to right that wrong.
Ghenady Meirson was born in Odessa, emigrated to the United States and graduated from the Curtis Institute of Music as a piano major. In 1982 he wrote a singer's handbook entitled Do Sing in Russian and began to specialize in Russian vocal repertoire. In 2011, he founded Russian Opera Workshop, an independent summer training program for aspiring and professional opera singers. It uses the stage of the Academy of Vocal Arts where Meirson is on the faculty. (He also is on the faculty of the Curtis Institute.)
This summer he taught 21 artists ranging in age from 20 to 34. Meirson coaches them in Russian language (they learn to read the Cyrillic alphabet), voice placement and musical style. He also teaches the source material, which is crucial because most Russian composers used literature from their homeland, and for centuries Russian life existed separately from Western culture.
The Russian language presents special problems because Russian voices are focused differently from Italian, French or German. Russian singing has a distinctive timbre which resonates not through the facial mask, but from the sternum. When used properly, it sounds like it's coming from the center of the earth.
This was apparent at a concert when baritone Nathan Haltiwanger introduced us to music by Georgy Sviridov, based on the poetry of Alexander Pushkin. Leah Golub sang "The Nightingale" by Alexander Alyabyev (1787–1851), one of the fathers of the Russian art song and virtually unknown in the West. He wrote seven operas, twenty musical comedies, a symphony, and more than 200 songs. Other singers performed arias by composers as wildly disparate as Glinka, Rachmaninoff, Gretchaninoff, Rimsky-Korsakoff, Prokofiev and Shostakovich.
The summer program included recitals, master classes and a concert staging of Tchaikovsky's little-known opera Mazeppa (or Mazepa, as in the original Ukranian and Russian languages which Meirson prefers), based on Pushkin and on history.
The title character is an elderly Ukranian chieftain who in the 18th century briefly secured his country's independence from Russia until Mazepa allied himself with Sweden and Russia's czar Peter the Great destroyed him. (Parallels with today's international politics are interesting.)
The opera turned Mazepa into a tragic figure who is loved by the daughter of his Cossack ally, even though Mazepa is old enough to be her grandfather. Maria loves his maturity and his deep voice. She longs, like Senta in Wagner's The Flying Dutchman, for a man she idolizes in fantasy. There's a reminder of Tchaikovsky's far-more popular opera, Eugene Onegin, which expressed the affection of an older man, Prince Gremin, for a much younger woman.
Midway in Act 1 is a baritone aria that musically recalls the pathos of Onegin. Elsewhere are deep arias for low-voiced singers and a pathetic aria by the soprano Maria who is driven mad when her lover executes her father. We sometimes wonder if Mazepa truly loves Maria or if he's using her, and their duet music displays that ambiguity.
This was only a glimpse at Mazepa's riches, because the opera abounds in dances, big choruses and swashbuckling orchestral lushness that were omitted. The accompaniment was Meirson at the piano. But I'm satisfied that this was a training program and, if performed with a big orchestra, the artists might try to scream to get over the heavy orchestral sound.
The main roles in Mazepa were shared by Nathan Haltiwanger, John Rogers, Suzannah Waddington, Ashten Smith, Sally Drutman, Johnny Brown, Eric Delagrange and Brenton Mattox.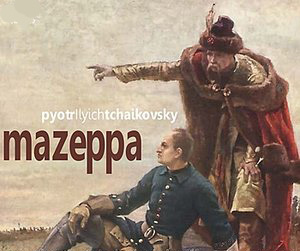 Selected by an audition process, participating young artists came from around the United States, Canada and Mexico. Russian Opera Workshop is an independent and private tuition-based program. There is no endowment or major sponsors.


Please share your thoughts with us. Address to editor@theculturalcritic.com
Read other reviews on The Cultural Critic