School of Rock: a new Broadway hit
School of Rock. Music by Andrew Lloiyd Webber. Winter Garden Theatre, New York City.
School of Rock was a celebrated 2003 film directed by Richard Linklater, written by Mike White and starring Jack Black. After being kicked out of a rock trio, the flaky Dewey Finn becomes a substitute teacher at a private school and turns his pre-adolescent students into a rock band.
It was a delightful clone of The Music Man, with its con man teaching kids how to play instruments and liberate their lives.
The film was popular because of its warm message of Dewey teaching the students to be self-confident, and also because of the exuberant performance by Black. The kids in the film played excerpts of songs by Led Zeppelin, Stevie Nicks, The Clash, The Doors, The Who, Cream and other groups, plus two songs written by Black.
Andrew Lloyd Webber bought the rights to the story and has turned it into a full-scale musical with new tunes by him, while retaining several of the film's songs. The transfer from the mostly-spoken film is natural because the subject matter is music. Webber has nicely expanded the old material and added new dimensions.
In the program bio that he submitted to Playbill, the composer wrote with self-deprecation that his "spectacular Broadway flops include his production of Bombay Dreams, By Jeeves and The Woman in White." My hunch is that School of Rock will have a long run on Broadway and on tour.
At age 67, Webber has written a dozen catchy new melodies for the fledgling rockers and a couple of inspirational ballads. He wrote the orchestrations himself, which is rarity among Broadway composers.
Webber has a reputation for imitating Puccini and writing saccharine love ballads and I overheard a man say he was surprised that School of Rock didn't sound like Phantom of the Opera. People with longer memories, of course, recall that the composer started his career with the kids show Joseph and the Amazing Technicolor Dreamcoat and his rock'n'roll-inflected Jesus Christ Superstar. The composer can not be pigeon-holed; he writes in a wide number of styles.
The schoolkid actors range in age from 10 to 13. They play their own instruments live, and their performances have a driving beat that's irresistible. The amplification is not blaring, so oldsters will enjoy the score as much as younger attendees.
This whole enterprise needed an acceptable substitute for Jack Black. Fortunately, Alex Brightman is more than that. He has put on weight since we saw him in Big Fish last season, and looks like a slob, which is just what this character should be. His presence, constantly in motion, epitomizes his Pied Piper persona.
Sierra Boggess is engaging as the repressed school principal who tries to keep Dewey under control. You may recall her as the soprano lead in Webber's Phantom of the Opera and Love Never Dies, and this role is vastly different, requiring a belting delivery. Webber gives her one comic moment to show off her soprano chops and sing Mozart's Queen of the Night from The Magic Flute. Opera lovers probably never noticed how that Mozart number has a rocking beat.
The show is even more successful than the movie in showing the pressures put on these children by their uptight parents. The sensitive song "If Only You Would Listen" beautifully illustrates that, while "Stick It to the Man" is the most-hummable of the up-tempo songs. Among the young stars, guitarist Brandon Niederauer, drummer Dante Melucci, bassist Evie Dolan and keyboardist Jared Parker are names to remember.
Glenn Slater deserves credit for the catchy lyrics and Julian Fellowes, writer of Downtown Abbey, neatly fashioned the book while sticking closely to the original plot.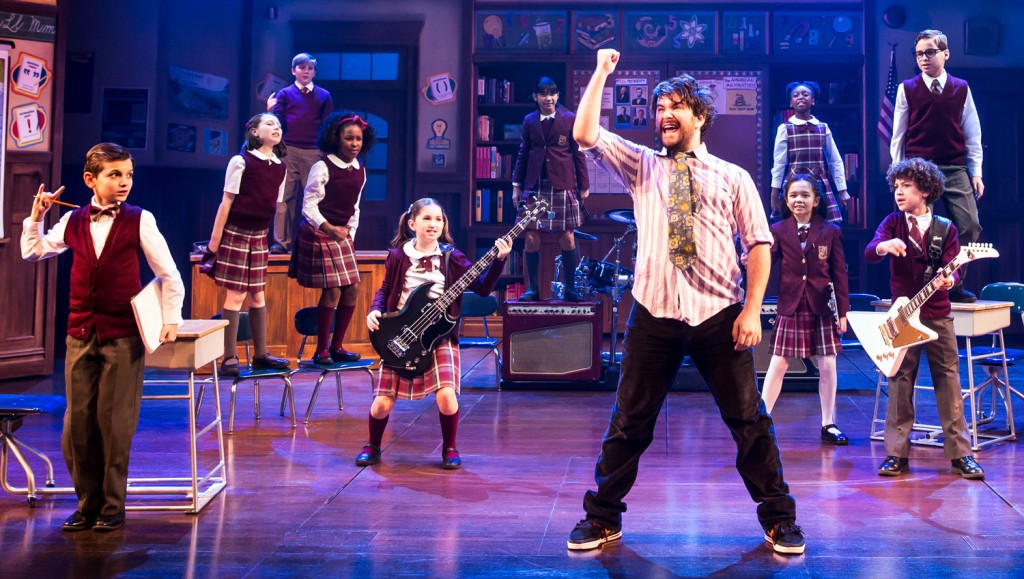 Below, video clip from the show:

Read other reviews on The Cultural Critic