She Loves Me in HD
by Steve Cohen
The Cultural Critic
She Loves Me. Music by Jerry Bock, lyrics by Sheldon Harnick, book by Joe Masteroff, based on a play by Miklos Laszlo. 2016 Broadway production, presented in HD in movie theaters by Fathom Events. Cast album by Sh-K-Boom Records.
In June of 2016, the musical She Loves Me became the first Broadway show to be live-streamed to cinemas during its New York run. Then Fathom Events partnered with BroadwayHD to present that performance in U.S. cinemas December 1.
The partnership will expand to bring a lineup of Broadway, Off-Broadway and London West End theater performances to U.S. cinemas each year.
She Loves Me is a gem that deserves this new exposure. It is a singular musical, set in Budapest in the 1930s and relying on wistful continental charm. With its airy music by Jerry Bock and intelligent lyrics by Sheldon Harnich, She Loves Me is a delightful confection and is most appealing when presented with diffidence and gentleness.
Because I love the Ernest Lubitsch film, The Little Shop Around the Corner (which is the same story) and because I savored the original Broadway production of She Loves Me which Harold Prince directed in 1963, my enthusiasm for this new version is somewhat muted.
The story follows Amalia and Georg, two feuding clerks in a European parfumerie who have on-going romance with pen pals, not knowing the identity of their correspondents. Amalia reverses her negative feelings about the man, from loathing to loving, when he brings her vanilla ice cream when she's upset because she was stood up for a big date at a cafe.
In the Lubitsch film, Jimmy Stewart as leading man, and Frank Morgan as the shop-owner Mr. Maraczek used no European accents but they were charming — graceful, refined, reflective, soft-spoken.
The same plot was used in the 1998 film You've Got Mail, co-written and directed by Nora Ephron. That film showcased Tom Hanks and Meg Ryan as two business rivals with whom, unaware, they are corresponding online. Although that version was set in Manhattan, it retained the shy grace of the earlier film.
The two women in the latest cast, Laura Benanti and Jane Krakowski were sensational, but the men were less affecting. The story was said to be in Budapest; the names were Hungarian, and the price of objects was stated in European currency. But the presentations were utterly American instead of old-world continental. Director Scott Ellis did not coax grace from his actors but, rather, put an emphasis on gimmicky movement and fast pace.
Laura Benanti sang with lyric loveliness and sparkling high notes, as good as Barbara Cook whom I remember fondly from the 1963 production. Benanti was a spunkier Amalia, showing more humor. This was a memorable performance. Jane Krakowski as the older salesgirl combined humor with sexiness and displayed her ability to do impressive splits. She maintained a perfect balance between poignance and frivolity.
Zachary Levi, known as an action hero in the TV series Chuck, was insipid as Georg, even though he sang better than you would expect from a man who had not appeared in Broadway musicals. The talented Gavin Creel was miscast and/or misdirected as the womanizing Kodaly. He seemed silly, rather than being a virile and dangerous adulterer. (Jack Cassidy excelled in that role in 1963.)
Byron Jennings impersonated the elderly Mr. Maraczek and sang his sweet ballad about "Days Gone By" but seemed much less authentic than Ludwig Donath in the 1963 cast, or Frank Morgan in the Lubitsch film.
She Loves Me is a romance that does not have any big love songs. Because the two leads don't realize their feelings, they cannot sing about it. The show does have two impressive act-two numbers: "Ice Cream," in which Amalia's stream of consciousness carries her out of an imaginary love affair and into a real one, and "She Loves Me" in which Georg exults in his new experience. These are terrific high spots.
The Broadway cast recording is available on the Sh-K-Boom label.
Below, Benanti & Krakowski: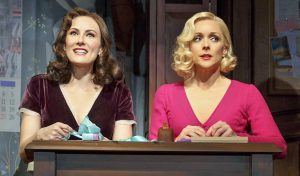 Please share your thoughts with us. Address to editor@theculturalcritic.com