Spring training in Florida
by Steve Cohen
The Cultural Critic
Baseball is the ideal sport, the late comedian/philosopher George Carlin once observed: It's a game, played on fields and in parks rather than a contest waged in stadiums, like football.
He might have added: Of all the venues for baseball, the most relaxing and tranquil is spring training month in Florida— a far different experience than what sports fans get at Citizens Bank Park in Philadelphia or in any other big league ballpark.
I've been to spring training in the past, when the atmosphere was even more bucolic. I returned this March with my family to the Phillies spring base. The experience is still much more intimate than anything you'll see up North during the regular season.
At the Phillies' camp in Clearwater, Florida, you see prospects trying to impress the manager along with old players getting in shape and hoping they'll be hired for one more year. You sit close enough to see the players' faces and hear their voices.
The gates open at 10:30 a.m., and many of us come early to soak up the sun and the atmosphere. If you come early enough, you can talk with some of them and get autographs. Regular attendees kibitz among each other, catching up on what their friends' children and grandchildren are doing. Some fans take off shirts and stretch out on the top of seats to sunbathe.
Bright House Field seats about 9,000. People in the stands are subdued, with little yelling and cheering. They relax in the warm sun as they look over the new players and peer curiously at the old-timers to see how they're holding up.
Dozens of players who get opportunities here won't be retained. As they go through the audition process, they're paid minor-league salaries for the month and are given lodging. Some of them stayed at the same motel where I booked my room, and we talked as we sat around the motel's pool.
Simultaneously, spring training is nostalgia and a look to the future. "High Hopes" — Frank Sinatra's hit that became Jack Kennedy's campaign song in 1960 — was played repeatedly on the public address system. At the same time, there's a strong feeling of reminiscence: Most of the Florida fans are retirees reliving their youth and reconnecting with some of their long-time friends from up North. They reject the "snowbirds" label because they spend the coldest part of winter up North, but when springtime beckons they celebrate that awakening with the Phillies.
Many of these folks come to Clearwater every spring for three or four weeks, something that younger wage earners can't afford to do. Most of them travel by car: I saw license plates from New Hampshire and New Mexico, among many other states. They come to the ballpark every day there's a home game, and they drive to see the Phillies' away games in nearby Tampa Bay-area communities like St. Petersburg, Bradenton and Sarasota.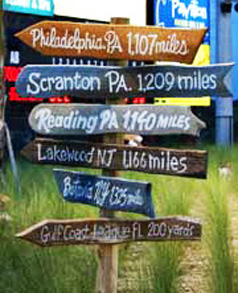 When people can't get to a game, there are beautiful beaches about 20 minutes away on the Gulf of Mexico. Players who started their careers in the 1970s tell me that, in those days, Clearwater Beach was relatively undeveloped, with mom-and-pop hotels. Now it's a congested area filled with high-rise condos and marinas.
In the heart of Clearwater, in those earlier days, some players hung out in coffee shops, hoping to pick up girls. Nowadays, the ballplayers are celebrities who feel the need to retreat into condos and/or expensive cars with tinted opaque windows.
Yet spring training remains the most human and charming vestige of what has become a multi-billion-dollar industry. In Clearwater, souvenir programs cost $4, compared to $10 at Citizens Bank Park. Vendors in the stands call out "It's a beautiful day for a cold beer" and "I have lemonade like your grandmother made." The scoreboard keeps fans informed about the weather back home, which was 40 degrees and raining while we sat in the sun.
The Phillies' manager remarked the other day that he was impatient to finish spring training end and get back to Philly. Not I.