Tom Lehrer joyfully revisited
by Steve Cohen
The Cultural Critic
Tomfoolery. Tony Braithwaite directed at Act II Playhouse, March-April 2017

To young people of a certain generation, Tom Lehrer was the pied piper. In the conformist 1950s he wrote songs that poked fun at sacred institutions such as motherhood, religious tolerance, small towns, and American militarism. His wicked lyrics were paired with catchy melodies, some of them similar to TV commercial jingles and some to nursery songs, and he accompanied himself on piano.
His self-published ten-inch LP, Songs by Tom Lehrer, became omnipresent in college dorm rooms and its contents were the marching songs for that generation. As the nation moved into the 1960s, Lehrer became the resident songwriter for the television series That Was the Week That Was.
Meanwhile, he taught math at colleges in the Boston area. In the early 1970s he retired from public performances and songwriting to devote his time to teaching.
Tony Braithwaite and his ensemble of four at the Act II Playhouse in Ambler have exhumed these satirical songs for a new generation. Even baby-boomers born in the 1960s are too young to have known this music before, yet the reaction of audiences is enthusiastic, and deservedly so. Lehrer mocked the establishment with literate insults, and his tunes are easy to love.
The cast presented the songs with affection. Highlights included Lehrer's rebuke to the amorality of the United States hiring former Nazi Wernher von Braun because he was skilled in rocket science: "Once the rockets are up, who cares where they come down? 'That's not my department' says Wernher von Braun."
A fine example of Lehrer was: "For paradise, the Southland is my nominee / Jes give me a hamhock and a grit of hominee / I want to talk with southern gentlemen / And put that white sheet on again / I ain't seen one good lynching in years."
Other great numbers were "New Math", "My Home Town", "I Wanna Go Back to Dixie", "I Hold Your Hand in Mine", "The Old Dope Peddler" and "We Will All Go Together When We Go" where the audience genially joined in.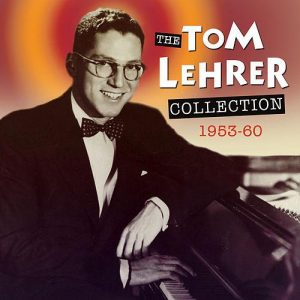 Thankfully, Braithwaite's direction didn't distract from the songs with gimmickry. All of the songs were presented simply so attention was focused on the lyrics. One number was exceptionally staged: a funny presentation of "The Vatican Rag" where Tony played a pope and his companions were glittery nuns. Lehrer's vocabulary in spoofing Roman Catholicism in that song once caused me to assume (erroneously) that he was Catholic: "Get in line in that processional / Step into that small confessional / There, the guy who's got religion'll / Tell you if your sin's original…First you get down on your knees / Fiddle with your rosaries / Bow your head with great respect / And genuflect, genuflect, genuflect."
Braithwaite's excellent compatriots were Tracie Higgins, Patrick Romano, and Jamison Foreman, who also was the piano accompanist. Parris Bradley's simple set included off-kilter piano keys and huge red letters that spelled out the show's title.
Just before the final number, Braithwaite informed the audience that Lehrer is age 88 and living in retirement. He mused that it's a shame Lehrer is not available to satirize our current politics. Indeed!
But in his retirement, Lehrer dismissed the idea that his songs could do any good. He quoted Peter Cook who talked about the satirical Berlin kabarets of the 1930s "which did so much to stop the rise of Hitler and prevent the Second World War."