Tommy McDonald, football star, and his childhood fan turned sportswriter
by Steve Cohen
The Cultural Critic
Tommy and Me, by Ray Didinger. World premiere by Theatre Exile, Philadelphia, 2016
I remember when I first met Ray Didinger. It was when we both attended a Bruce Graham play at Theatre Exile's South Philadelphia home, and it's in my memory because, as a kid, I dreamed of being a sportswriter. In fact, I was a sports reporter for the Philadelphia Evening Bulletin when I was in high school, before focusing my attention on music and theater.
Conversely, Didinger always has remembered meeting his hero, receiver Tommy McDonald, at the Eagles training camp in Hershey when he was only 8 and McDonald was in his first season as a pro.
Didinger became a distinguished football reporter, first for the Bulletin and later for NFL Films, Comcast SportsNet and WIP. He won six Emmy Awards as a producer and writer. Now he has written his first play, and it's the story of his relationship with his hero, McDonald.
First of all, the play celebrates the thrill of a child's awe as he discovers an idol. Then Tommy and Me tells how a youngster's attachment turns around, years later, when the sportswriter is in a position to help his childhood hero gain election into the Pro Football Hall of Fame. Didinger felt gratitude to McDonald for his exploits on the field, and for his kindness to the kid at Hershey; and now he's able to repay the debt. The aging McDonald, long retired, now feels gratitude towards Ray.
This is a supremely touching tale of multi-generational friendship. The script teaches lessons about obligation, and paying-it-forward, in an entertaining way without even a hint of preaching. The story is told with time shifts, backwards and forwards, and the young Didinger often speaks with the older one.
Tommy and Me also touches the heart with anecdotes about football history: complaints about the wooden benches at Franklin Field, profane epithets about the Dallas Cowboys, and fond memories of local stars from yesteryear like Norm Van Brocklin, Chuck Bednarik, Bucko Kilroy and Alex Wojciechowicz.
If you don't know who any of those men are, the play gently informs you. And if you're old enough to know them all, Tommy and Me provides palpable nostalgia.
Led by McDonald, the 1960 Eagles won the championship with a 10 and 2 won-loss record, beating the Green Bay Packers in the playoff game (predecessor to the Super Bowl which started six seasons later). McDonald was the team's leading pass-catcher and scorer. The Eagles have not won a championship since then.
A secondary theme is the effort by the mature Didinger to repress his old partisanship and maintain professional detachment. The young Ray keeps telling the older Ray to be the fan he once was, but the sportswriter resists. Some of this difference is because of age, while some is due to his respect for the conventions of his job.
Those of us who are theater critics understand his dilemma, at least partially. We sit in audiences alongside paying customers while sportswriters are elevated in press boxes where it is absolutely poor taste to cheer, but we share the same conflict. Many of my theater colleagues choose to similarly restrain themselves, withholding their applause until final curtain calls.
In an emotional closing scene, the playwright Didinger seems to be telling his on-stage persona — and, indirectly, folks like me — to lighten up, loosen up, and express our feelings.
The veteran actor Tom Teti steals the show with his colorful portrayal of the elderly McDonald. His own determination to keep his emotions under wraps are touchingly portrayed. McDonald, by the way, was the shortest player to be elected to the Hall of Fame and he made up for his lack of height with bounce-back-up bravado.
Ned Pryce plays the younger McDonald, handsome in his Eagles uniform. Matt Pfeiffer is the self-effacing older Didinger while Simon Canuso Kiley is his 8-year-old self.
Joe Canuso directed with flowing stage movements and the same fine ear for Philly culture that he displayed when he directed Bruce Grahams's The Philly Fan. Graham served as Didinger's consultant on this play. Michael Long's videos recapture the excitement of attending Eagles games.
Below: Simon Canuso Kiley, Matt Pfeiffer, Tom Teti. Photo by Paola Nogueras.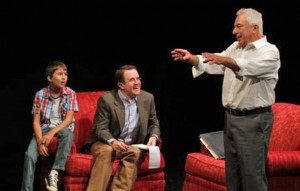 Please share your thoughts with us. Address to editor@theculturalcritic.com
Read other reviews on The Cultural Critic