Wonderland by Frank Wildhorn comes to Broadway
by Steve Cohen
The Cultural Critic
Wonderland,  musical by Frank Wildhorn & Jack Murphy, 2011
*
Like the theatrical hit about Dorothy in Oz, Wonderland is a Broadway musical based on a classic children's story, so comparisons are inevitable. Wicked opened to mixed reviews and became a mega-hit, so could Wonderland have as bright a future?
Wonderland is Wicked with a wink. Both are quest adventures involving a young woman surrounded by strange creatures and befriended by a handful of men. Unlike the serious and impressive Wicked, the new Frank Wildhorn-Jack Murphy musical is light-hearted. Full of jokes and parodies, it winks at the genre. Alice's adventures are used to display a series of spectacular musical numbers and plenty of laughs.
Wicked proved to have strong appeal for adolescent girls, but Wonderland is more accessible to children while it amuses adults with cultural references and double entendres. Compared to Wicked, Wonderland is less intricate, less serious, more fun.
Lewis Carroll's "Alice in Wonderland," despite its intellectual status, starts with a simple and arbitrary gimmick — Alice falling down a rabbit hole — and proceeds to encounters with colorful creatures who present their acts, much like vaudeville or Ed Sullivan's TV variety show. Thus it is no violation of its source when Wonderland uses an apartment-house elevator to transport its heroine to a fantasy world. Similarly, it is no transgression when the show propels Alice from one production number to the next, introducing new co-stars in each scene.
E. Clayton Cornelious (recently seen in The Scottsboro Boys) is a slinky, hip Caterpillar who sings like Luther Vandross. The Cheshire Cat is Jose Llana who becomes a Santana-like salsa star called El Gato.
Darren Ritchie is supposed to be Alice's white knight so he is a matinee idol who leads a boy band similar to Justin Timberlake and N'Sync. Kate Shindle (Legally Blonde and Jekyll and Hyde) is a stunning Mad Hatter who belts "I Will Prevail." Karen Mason (known for her cabaret performances plus the lead roles in Sunset Boulevard and Gypsy) is the Queen of Hearts who is accompanied by a dancing deck of cards in a Judy Garland-type number.
Each creature has a turn to strut their stuff, propelled by Wildhorn songs that have a wider range of musical styles than in his earlier hit shows. Wildhorn, as always, has a touch for melodious tunes with catchy hooks.
The gossamer plot shows a contemporary author of children's books, Janet Dacal (an attractive Cuban-American from In the Heights) with a troubled marriage and a sassy child (played appealingly by 11-year-old Carly Rose Sonenclar). Daughter runs away and Alice pursues her. The only scene that slows the action is an unnecessary second-act meeting between Alice and Lewis Carroll. The resolution is dramatically vague but musically potent. (Don't be overly critical of the vagueness; remember that the original book simply had Alice wake up.) Alice and her daughter sing a tender duet, "Home," then the lovely and emotional "Finding Wonderland" as Alice reconciles with her husband in their New York high-rise.
Snappy choreography is by Marguerite Derricks. Simple sets by Neil Patel are enhanced by computer-generated projections by Sven Ortel. Spectacular costumes are by Susan Hilferty, who had similar duties with Wicked.
Wonderland's appeal for adults is its wit, inside political jokes, and musical-theater parody. The bottle that's labeled "Drink me" adds "responsibly." One song, "Hail the Queen," includes references to South Pacific, The Music Man and Gypsy. The tea-party scene includes a put-down of today's Tea Partiers. And the White Rabbit, talking to Alice, says: "I'm tardy, I'm tardy." When she says: "Don't you mean 'I'm late, I'm late?," he responds that he can't say that because "Disney owns the rights."
Jack Murphy showed he could write dramatic and poignant dialogue in The Civil War and Reaching For the Moon and here we see he can be funny too. Gregory Boyd collaborated on the book and directed the production deftly.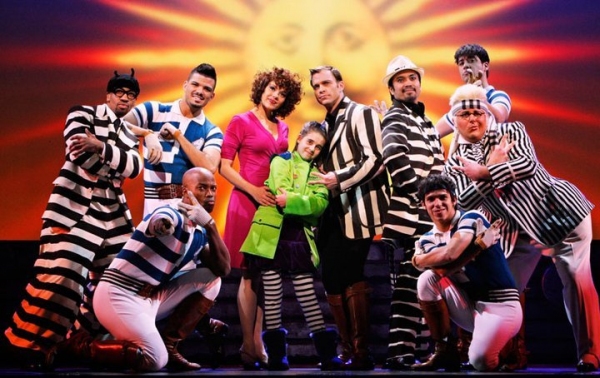 *
Read other reviews on The Cultural Critic