Yannick's busy schedule
by Steve Cohen
The Cultural Critic
While devoting increased time to the Metropolitan Opera where he will become Music Director in 2020, Yannick Nézet-Séguin maintained a busy schedule with the Philadelphia Orchestra in the winter and spring of 2017. He emphatically showed his capability for dashing back and forth between New York and Philly. It is, after all, just an hour-and-a-half journey by car.
He has extended his contract with the Philadelphia Orchestra through the 2025-26 season. He also has an orchestra and a home in his native Montreal, and has commitments in Europe.
Yannick seems to thrive on being busy, and his enthusiasm is prodigious. Singers and orchestral players speak about his personal warmth. Although the Philadelphia Orchestra has financial problems and key administrative positions remain unfilled, the music performances are of superior quality. This was evident at a half-dozen concerts which I attended.
One of the most imaginative programs was a Brahms-Bach concert in late February. The tightly-connected program included music by Bach that inspired Brahms, and the last piece Brahms ever finished, with him saying "O world, I must leave you"; then his last symphonic composition.
Many of us fell in love with Brahms's romantic melodies when we were young. As we become more knowledgeable we observe that his work is strongly grounded in Baroque counterpoint, especially the work of Bach. This combination of heart and mind, of emotion and intellect, is the essence of Brahms.
At the age of 63, in 1896, Brahms was diagnosed with terminal liver cancer. His mind was on the end of life as he wrote a series of Chorale Preludes. Despite the misleading word "chorale," they were pieces for organ. Yet they were based on Lutheran hymns, and the last notes which he composed were for a hymn with the words mentioned above, "O Welt, ich muss dich lassen" — "O world, I must leave you; I travel from here along my way to the everlasting fatherland."
In this valedictory, each musical phrase is repeated twice, getting softer each time. Harmonies keep shifting within those repeats, retreating into minor-key echoes.
Yannick presented some of the Preludes in new orchestral transcriptions by Detlev Glanert, and some as organ solos played by Peter Richard Conte. This alternation was brilliant in concept but uneven in execution because the organ, even at its softest, tended to overwhelm the sounds from the orchestra.
After the chorales, a small coterie of players performed seven selections from Bach's Cantata No. 150 with four resident artists from the Academy of Vocal Arts: soprano Vanessa Vasquez, mezzo Chrystal E. Williams, tenor Jonas Hacker, and bass-baritone Andre Courville. Bach wrote this for singers with solo instrumentalists, but Yannick added extra strings to create a better balance on the wide stage of the 2500-seat theater. The result was a lovely blend. Twenty fiddles supported the voices gently while bassoonist Daniel Matsukawa added punchy counterpoint.
The second half of the concert was devoted to Brahms's last symphony. It had a connection to the other works on the program because of its classical structure. Like the Bach and like the Chorale Preludes, this symphony has a prominent passacaglia, which is similar to a chaconne with the slight difference that the subject can appear in multiple voices. A distinctive bass line is repeated in different registers; that is, the same notes are repeated, higher or lower, while different melodies unspool above it. This encapsulates the essence of Brahms — romantic expressivity grounded on a traditional structural base (and bass). The "ground bass" here used the same progression as the final chorus of Bach's Cantata No. 150.
Nézet-Séguin led the symphony at relatively fast tempi, and he eliminated the normal pauses between the first and second movements and, again, between the third and fourth. This emphasized the structure and made additional sense because the second and the fourth begin with chords that align with the endings of the first and third. He allowed a brief breathing space between the second and the third. All of the inner strands were cleanly delineated, while Jeffrey Khaner played a gorgeous flute solo during the fourth movement.
*
The first week of March, Nézet-Séguin led Béla Bartók's operatic horror story, Bluebeard's Castle, in Philadelphia and at New York's Carnegie Hall. Mezzo Michelle DeYoung stood to Yannick's left and bass-baritone John Relyea to his right. In this composition the two sing to each other, but not together, which illustrates how they cannot reach one another. Trumpets and trombones a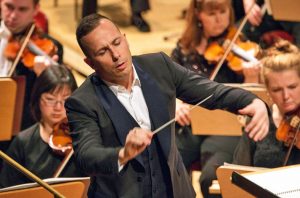 ppeared in the organ loft above the stage and added their power to the organ's at the height of the drama.
Bluebeard's latest bride, Judith, coaxes him to open the locked doors inside his home. One by one, rooms are revealed filled with instruments of torture, armaments, gold, and flowers. Each is tone-painted with exotic contrasting colors.
A climax comes when the fifth door opens to reveal a magnificent sweep of beautiful vistas and the orchestra switches from the key of F sharp (containing six sharps) to the sunny C major. As the brass appeared above him, Yannick raised a pulsating hand to signal that he wanted the maximum volume and projection. This is the one point in the drama where we feel something positive. Judith elsewhere sees beautiful jewels, then notices blood drops on them, and flowers which also are blood-stained. I always wonder what she originally saw in this man; she sings that she believes she can bring light to his world of darkness.
Judith is discovering not just Bluebeard's possessions but facets of his persona: boastful, mysterious, defensive, and occasionally passionate. They are accompanied by an orchestra that is, by turns, spooky, lyrical and dissonant. The librettist Béla Balázs said, "I wanted to depict a modern soul in the primary colors of folk song." Bartók recorded and notated hundreds of songs from villages in Hungary and Romania, which influenced this composition.
Bluebeard's Castle includes shimmering arpeggios from winds, celesta, and harp when Judith opens the sixth door to reveal a lake of tears. Bluebeard sings the word "tears" nine times in that scene, preparing Judith for what she'll see next. Then a virtual scream erupts from the orchestra just before Judith joins Bluebeard's other wives behind the final door.
Relyea revealed a voice that's grown in depth and darkness in recent years and is ideal for the role. DeYoung had a warm low quality yet also proclaimed a terrific, long-held high C when her character saw that magical kingdom.
*
In April, Nézet-Séguin conducted an intelligently thought-out program about forms of power. The central work was Alternative Energy by Mason Bates in its East Coast premiere.
Bates focused on the uses of energy in 20th and 21st century America, and his imagination of how it will develop in 22d century China and 23rd century Iceland. He used a sonic palette that included percussion, mechanistic sound effects and amplified recordings of power plants and bird songs. The composer was seated in the rear of the orchestra with two computers. When it was his turn, Bates bent forward over his pads, pushing the buttons that sent his samplings over four loudspeakers.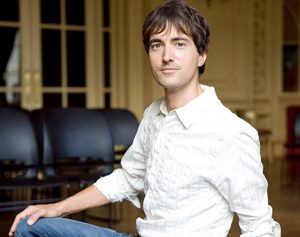 On the right,  Bates photo by Heather Talbot:
The music began with a rustic fiddle tune, played energetically by concertmaster David Kim, which conjured the youth of Henry Ford on a farm in Michigan. Ford built his first gasoline-powered horseless carriage in the shed behind his home. He later introduced the use of standardized, interchangeable parts and the world's first moving assembly line for cars. The violin solo morphed into massive orchestral sounds with accelerating rhythms, punctuated by a loud crank, recalling the way the engines of early automobiles were started.
The second movement, titled "Chicago, 2012," invoked particle accelerator machines that speed-up electrons and protons for purposes such as destroying cancers or exploding atomic bombs. Hip-hop beats of present-day Chicago interjected into the orchestra. The third movement was labeled "Xinjiang Province, 2112" and portrayed a Chinese power plant erupting in a meltdown. A solo flute sang a dirge for lives that were lost. Its melody was a distorted version of Henry Ford's fiddle tune.
In "Reykavik, 2222" Bates imagined that global warming flooded most of the world, and Iceland survived as a lonely island with a tropical rainforest. Recordings of birds illustrated a return to primitivism where humanity's last inhabitants, in Bates's words, "seek a return to a simpler way of life." Distant voices called for a return to fire as the main source of energy.
Bates used pulsating rhythms and shifting beats, chimes, tubular bells, bundles of wood sticks, car parts, Chinese cymbals and Thai gongs to create a powerful force. Melodies were subsidiary, and not memorable on first listening. The 40-year-old Bates has an alternative life as a disc-jockey in clubs. He lives with his wife (a molecular biologist) and their young children in San Francisco. The San Francisco Symphony released a recording of three of Bates's orchestral works, and his opera, The (R)evolution of Steve Jobs will have its world premiere this summer in Santa Fe. Each character in it will have not only his own leitmotif but his own instrument. Jobs' will be an acoustic guitar.
Two other pieces on the program dealt with fire, one of the earliest forces of energy. Prometheus was a mythological figure who stole fire from the gods and brought it to mankind. Beethoven's ballet Creatures of Prometheus began the program and Liszt's tone poem Prometheus came later. Beethoven composed music for the ballet in 1801. It was his first major foray beyond his piano compositions, and it remained as the only ballet score of his career. Only its overture is well-known, and I'm glad that YNS added the finale of the ballet at this concert. The theme of that finale was used later as the principal melody in the fourth movement of Beethoven's Eroica symphony.
Liszt's Prometheus is a 13-minute tone poem that sounds old-fashioned compared to the Bates composition. Filled with brass fanfares and brooding strings, its hard to recall that this was considered to be progressive music when it was new in 1855. Nézet-Séguin and the Philadelphians gave it a rousing performance, as they did with the rest of the program.
Other musicalizations of Prometheus have been composed by Gabriel Fauré, Alexander Scriabin and Hugo Wolf. I would have loved hearing any one of them to fill out this enlightening program. Instead, the Philadelphia Orchestra inserted a Mozart piano concerto at the request of its guest artist, the young Russian Daniil Trifonov.
Mozart's Piano Concerto No. 9 has long been labeled the "Jeunehomme," but that nickname came from a mispronunciation. Victoire Jenamy, the violin-playing daughter of a friend of Mozart's, commissioned and premiered the work. And that explains why you'll now see the piece labeled "Jenamy."
Many consider it Mozart's first masterpiece, written when he was 21. In the opening movement he used a theme whose melodic inversion returned years later as Cherubino's "Non so piu" in The Marriage of Figaro. The second movement is decidedly unusual in Mozart's use of a minor key (C minor) and has a slow, melancholy tone like a scene from a tragic opera. The final movement is a rapid presto.
Trifonov's first movement was unmannered and crystalline clear. In the slow middle movement his playing was dreamy, like a soprano singing in one of Mozart's operas, questioning, searching, probing. And in the fast finale, Trifonov leaned forward, unexpectedly intent on the keyboard. The orchestra for this concerto was almost all strings, the only exceptions being two oboes and two French horns. One of those horns had a short but graceful solo during the first movement. Nézet-Séguin kept those forces alert and sprightly.