36 Views, an Asian art mystery
by Steve Cohen
The Cultural Critic
36 Views, a play by Naomi Iizuka. Lantern Theater Company, Philadelphia.
We are being seduced, all of us, in the audience and on the stage. You feel it from the first meeting of two of the play's characters. So, in addition to intellectual intricacy, this play sizzles with sensuality.
Some of the seduction is sexual, some artistic, some mercenary. This play by Naomi Iizuka refers to the ancient prints of Mount Fujiyama seen from differing points of view. More specifically, it is a mystery that begins when an 11th-century Japanese "pillow book" — an illustrated bedside memoir by a woman of the court — is "rediscovered" and offered for sale by a gallery owner.
One character asks another: "What am I seeing?" and the line refers not just to the work of art in front of them, but also to the entire sequence of events. This could be interpreted as a companion piece to Michael John LaChiusa's See What I Wanna See  which is a musical that examined the same theme.
This tale unfolds in front of rice-paper screens, with a traditionally-robed Japanese woman who moves like a kabuki dancer, then removes her robe to reveal herself as a modern Asian-American professor. The clothing's layers echo the play's.
Although she talks with the dealer about art, we feel an undercurrent of sexual chemistry. Later we meet Claire, a aggressive young art restorer wearing scruffy jeans; the dealer's assistant, John, whose awkward demeanor conceals a manipulative mind; and a treacherous journalist who's interested in uncovering scandals. Scene by scene, through 35 changes of view, we learn that nothing is how it seemed.
A game is afoot, as Sherlock Holmes would have said, and — just like Holmes — we look for clues to detect the truth. But we can't be sure what the crime is. Identities and motives twist and turn.
We could poke holes in the logic of the narrative, but I was carried away by the prestidigitation in the telling. Of the many plays I've seen this year, 36 Views is the one that I'd most love to see again. Being surprised was enjoyable; looking behind the curtain, as it were, to see how we were tricked would be even more fun.
The visual effects are preeminently important here. Immense credit, therefore, goes to Jorge Cousineau's scenery, sound and projection.  Asaki Kuruma was the artistic consultant and Michael Goldberg was the kabuki movement coach. Peter DeLaurier expertly directed it all.
Joe Guzman gave a sympathetic portrayal of the dealer, Joanna Liao brought mystery to her scholarly role of Setsuko Hearn, David Pica made John likeable, and Angela Smith intentionally gave TV journalists a bad image.
Bi Jean Ngo lit up the stage as the art restorer with her effervescence, whether she was wearing scruffy overalls or a glamorous Asian dress. Stephen Novelli gave distinction to his character, an elderly scholar who comments on the action.
Below: Japanese pillow-book art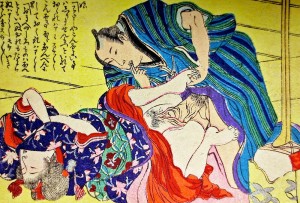 Please share your thoughts with us. Address to editor@theculturalcritic.com
Read other reviews on The Cultural Critic