Freedom Theater's long road
by Steve Cohen
The Cultural Critic
At Philadelphia's Freedom Theater in 2004, Walter Dallas directed a musical about Jesus reviving the dead, Lazarus Unstoned. It was an exciting production. But soon afterwards, the company itself died. At least, for awhile. It was resurrected, but has only had sporadic productions since then.
Dallas is one of the theater world's most respected directors and writers. He directed over 25 world premieres including August Wilson's Seven Guitars at Goodman Theater in Chicago and John Henry Redwood's The Old Settler at McCarter in Princeton, and he had been artistic director of the respected black company, Freedom Theater, since 1992.
Freedom Theater struggled financially for years, and in 2003 he was asked to become interim managing director as well as its artistic director. But he couldn't prevent the inevitable. He had to lay off the entire staff of Freedom, "including eliminating my own salary," as he struggled to save the company, but that failed to prevent the shut down.
In addition to these woes, Dallas was diagnosed with cancer in 2005. He underwent prostate surgery in May. He spoke at the memorial service in October for August Wilson, who died of liver cancer, and revealed his own illness. "Seven guys came up to me, and I've been counseling them since then," he said. "It's become a cause."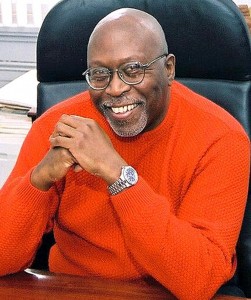 On the left, Walter Dallas.
Freedom was formed by John Allen in 1966 as a black community theater with strong neighborhood involvement. Allen was joined in 1968 by Robert Leslie, who became general manager and established a program to teach core values. Leslie envisioned educating the children in the community, and raising dignity, self-worth and pride. He came from a military background and stressed discipline. If you were late for a class, you had to do 100 jumping jacks.
If Freedom Theater was a restaurant, Allen would have been the headwaiter and Leslie the chef, because Allen was a flamboyant front man with a big grin while Leslie was the quiet, inside person.
Allen died from cancer in 1992 and Walter Dallas was named artistic director. He established Freedom Rep in 1993 as the professional performing arm of the company, and commissioned new work from writers such as Ntozake Shange and Lynn Nottage.
After Leslie retired in 1997, a new managing director, Donald Brown, launched a capital building plan to renovate the old Edwin Forrest mansion at Broad & Master streets in the heart of North Philadelphia, and open a new theater inside it. Brown also wanted to build a campus surrounding the theater. He planned to buy properties in the neighborhood so Freedom could own a dance school, dormitories, restaurants and a parking garage. But the campus never happened. Brown was accused of extravagantly over-reaching.
Construction at the Forrest mansion started in 1995. The cost went far beyond the estimates, partly because of restrictions on the certified historic site. And monies that were promised did not arrive. Governor Tom Ridge visited and told Dallas that the state would contribute $800,000. Two months later, at a party, Ridge said, "I want to make it a million." But nothing came through, and, according to Dallas, "the governor did not return our phone calls."
The company went so far in debt that the whole staff had to go on unemployment comp just before Christmas in 1998. Then the board asked for Brown's resignation. Jamie Brunson, a young woman who had worked at Freedom, was in New York at the time, getting her masters in fine arts and doing consulting in development. She was asked to come back to Philadelphia to help Freedom raise money, and then was asked to assume management.
"We were stretched too thin," she said then. "And we share the difficulty that all theaters have, to find funding for the arts. In addition we have a special problem because white theater companies are staging black plays and diverting audiences and funding from our productions. When a mainstream company does a play with black subject by a black playwright, it makes it harder for us to get support for our work."
Brunson grew up in North Philadelphia. "When I was three years old my father killed my mother, and I was raised by my maternal grandmother who moved me out of the neighborhood because she felt it was an unsafe environment. That's why I feel so strongly about Freedom Theater's mission to provide activities and inspiration for the children of the neighborhood."
The new state-of-the-art theater inside the mansion finally opened in February of 2001. Dallas had hoped to open with his acclaimed musical, New Freedom's Black Nativity for Christmas 2000, "but because we were behind schedule," he explains, "our first play, would you believe it, was by a white Irish American!" (Eugene O'Neill's Desire Under the Elms, with a black cast.)
Trying to reduce the inherited debt, Brunson slashed the staff from 52 people to 17 in 2001, when the company won Philly's most prestigious theater prize. "Being able to take this Barrymore Award back to the 17 employees remaining will be a great inspiration to us all during a tumultuous time," said Brunson when she was called onstage. Then she had to further reduce the staff to five. She described the situation to me: "People rarely sleep or go home. Sometimes I clean the bathrooms. Jean Fields, our office manager, cleans the lobby walls before shows. Ron Reese, our Director of Security, cleans the front doors. All staff members help in the box office and answer telephones."
In 2002 Freedom Theater gave the world premiere of the pageant play written by Dallas about resurrection, Lazarus Unstoned. The company was forced to present it in plain black costumes with no scenery, but it was an artistic success. In 2004 Dallas was able to direct a revival of Lazarus Unstoned with the colorful scenery and costumes that he originally imagined.
I wrote in Philadelphia's City Paper on April 15, 2004: "What was bare bones in 2002 is now flesh and blood. The musical overflows with glitzy production values that equal the best of regional theater, and costumes and choreography that surpass anything seen locally this year."
It appeared to be a money-making companion piece for the successful New Freedom's Black Nativity that Dallas wrote and directed for Freedom in the 1980s and brought back almost every Christmas season afterwards. But the show's cost far exceeded box-office income. Brunson became ill, and left. (She became managing director of the Providence Black Repertory Company in Rhode Island.) Dallas says that foundations wouldn't give him grants because Freedom's deficit exceeded 10 percent of the annual budget, and Freedom could not afford an experienced, professional development person to apply for other funds.
When Dallas stepped in as interim managing director, he laid people off, cancelled a season and directed his focus to the school. "We added courses; I taught classes; enrollment increased and money came in." Dallas also rented out the facilities for private parties as mundane as Sweet Sixteens and family reunions, partly for the income and partly to introduce the building to potential future theater-goers. Because of this, the company reported a small operating profit for 2005, but that was without putting any productions on its stage.
In 2006 Dallas staged the one-person Emergence-see!, written by and starring Daniel Beaty. After that, productions became sporadic, then ceased completely. Therefore my attention turned more towards Dallas's career, aside from that one theater company.
*
I wrote about Dallas at the time, for City Paper and TotalTheater:
"South Broad Street in Philadelphia, also known as the Avenue of the Arts, at one in the morning on October 11, 2005. Theater folks, fresh from the annual Barrymore Awards show, are partying in the Great Hall at the University of the Arts. A solitary figure leaves the party and treks up the quiet street. One block, then two, heading north past the Kimmel Center, the Wilma and the Merriam theaters. A threesome on their way from the gala talk loudly to each other but they ignore the middle-aged man who walks alone.
"Walter Dallas is used to being alone in Philadelphia. One of his friends says that Walter is unfairly unrecognized in his own city. Dallas doesn't see it that way. He says he likes being solitary for long stretches of time, so he can focus on new ideas."
Dallas was born in Atlanta in 1946 and attended Morehouse College, where Samuel L. Jackson was his classmate. Dallas studied music and theology at Harvard, went to Yale Drama School for directing and graduated in 1971. "I was raised in a very middle-class conservative Baptist church in a very middle-class Atlanta of the fifties and sixties. Musically, I grew up with the Modern Jazz Quartet, Sarah Vaughan, Dakota Staton, Miles Davis, and other artists like that. And rock 'n roll, classical music, all kinds of music. Then I took piano, viola and organ lessons. Even in kindergarten I'd always put on pageants and plays. I remember being a mouse in The Nutcracker ballet when I was in the first grade and every year after that I wanted to be a soldier. And by the fourth grade I was a soldier, and by the fifth grade I was the prince.
"When I thought about what I wanted to be when I grew up, I realized that I already was what I was going to be when I grew up — that is, I was already a fusion of directing and putting on shows with Coca-Cola bottles as characters in my plays, with an eclectic mix of music in the background. "I became choir director, played organ, both at my church and during my short stint at the Harvard Divinity School. I like to think that I am a very spiritual, rather than religious, person. There is great drama in the Bible."
As a theater major at Yale, Dallas got involved in the emerging civil rights and feminist movements as students tried to get Yale to change its old ways. "Finally the administration called off classes and scheduled workshops to address the issues," recalls Dallas. "Only Robert Brustein didn't go along with that. He [the head of Yale's theater department] went ahead with his production of a Restoration comedy, come hell or high water." Lynn Meadow and Henry Winkler were classmates of Dallas at Yale.
Then Walter attended the University of California at Berkeley where he became friends with Huey Newton and Bobby Seale. Their Black Panther Party advocated militant self-defense of black communities and proclaimed: "We want an end to the robbery by the capitalists of our black community." Dallas says that Panthers believed in "working class unity" across the spectrum of color and gender. Walter ran the Black Arts Theater, the creative arm of the Black Panthers. "The arts reflected how society was changing. Music was shifting. Marvin Gaye's `What's Going On' was popular. I wasn't an actual member of the party," says Dallas, "but the plays were very political in nature, written by Sonia Sanchez, Ed Bullins and LeRoi Jones later known as Amiri Baraka. I wore a big Afro, fringe, a leather belt and tight jeans. I taught black kids who were ignorant about their African roots, and I helped them make a connection."
Dallas says he hung out with the Panthers at The Lamp Post, their restaurant/lounge in Oakland. "I also have a copy of the Black Panther newspaper with a full page ad announcing one of my productions featuring Abbey Lincoln. All money raised went to their breakfast program." He says his political beliefs have not changed much since then: "I still have a strong commitment to working for the betterment of the African-American community, which is why I felt great when I worked at Freedom in North Philly, in one of Philly's poorest neighborhoods.
"I am an African man trying to exist in America, and that terrifying proposition affects my health. I have high blood pressure and diabetes and, being as inescapable as that reality is, racism is not just something I experience; it's a minute-to-minute fact of life that all African Americans, those who remain sane, come to terms with. These political and social issues cannot be separated from my work: My work, sometimes filtered though an artistic lens, sometimes totally reinvented, always comes from the totality of my experience."
Dallas lived in Africa in the late 1970s—in Liberia, on the Atlantic coast, and Kenya and Tanzania in the east, facing the Indian Ocean. He also studied music at the University of Ghana, along what was once known as the Gold Coast of western Africa. "In Tanzania I learned to speak Swahili fluently, but they knew from my accent that I was not Tanzanian, so once I almost got arrested as a foreign spy. I saw this beautifully-painted building and took a photograph of it, and it turned out to be a government building. They thought I was an agent for Idi Amin, the dictator of Uganda, and three huge government men with machine guns grabbed me. I finally convinced them that I was a friendly American."
He moved to Hawaii to write, then came home to start a theater company in Atlanta which he called The Proposition. "I promised something new every time; I didn't want us to be pigeon-holed as a Black theater company," he explains. Bernard Havard had just been hired to run Atlanta's prestigious Alliance Theater in 1977. He heard about the quality of Dallas' work at The Proposition and attended a performance of Chekhov's The Sea Gull there.
"I was fresh from lily-white Edmonton, Alberta," says Havard, "and I was afraid to go into that black neighborhood, but when I got there I was impressed. Walter cast the higher-class Russians with light-skinned blacks and the working people were very dark blacks. It underlined the class differences."
The august, establishment-type Havard would seem to have little in common with Dallas, but they became colleagues and friends. Havard liked Dallas' work so much that he gave The Proposition a 300-seat space in Alliance's building. Havard also hired Dallas to direct For Colored Girls in Atlanta and on tour. The state was to sponsor a performance in Columbus until a member of the legislature objected to what he called the obscene language in the script. Georgia withdrew its financial aid, but the show went on with private funding. Havard even put Dallas' cutting-edge version of Oedipus, called Asafohene, on his main stage. "Oedipus is an African army chief. He knows it's his mom but he goes ahead and sleeps with her anyway."
Havard and Dallas were uneasy collaborators, however. When Havard hired Jane Alexander to star in Antony and Cleopatra, Dallas led pickets who demanded that a black actress be hired instead because Cleopatra was a Nubian, from Africa. Havard remembers Dallas as "a firebrand who could be madly irritating. We argued about black actresses who auditioned for For Colored Girls. Many of them had sibilance or slushy L's, and I rejected them. Walter said to me: `That's the way we speak,' and I said, `Bullshit. James Earl Jones doesn't talk that way and neither do you.'"
Nevertheless, Havard recommended Dallas for an NEA Emerging Director fellowship, and Walter then worked for a year at Center Stage in Baltimore. There, in 1980, Walter directed The Amen Corner by James Baldwin. A local television personality wanted to play a part in that production, but Dallas turned her down. Her name was, and is, Oprah Winfrey. Baldwin called this a definitive production, and a Baldwin-Dallas friendship began.
Dallas wanted some prestigious theater people to see his work: "I invited Joe Papp [head of New York's Public Theater], Lynn Meadow [Manhattan Theater Club] and Douglas Turner Ward [Negro Ensemble Company] to Baltimore to see my production," says Dallas, "and Joe and Lynn came. But Ward was the one I really wanted to impress, and he didn't respond, and I was pissed."
The Negro Ensemble Company was founded in 1967 by actor/producer Robert Hooks and playwright Douglas Turner Ward. They met when both were in the road cast of Raisin in the Sun. Together they dreamed of starting a theater company run by and for black people. The company was designed to produce professional theater in which black artists, performers, writers, directors, actors and craftspeople could oversee their own creative destiny. "So," says Dallas, "I went to his office in New York. I put on my military cap and combat boots. Steam was coming out of my ears. We met, and we talked for four hours and he invited me to open his next season."
"I moved to New York and directed Sons and Fathers of Sons for Negro Ensemble, with Phylicia Rashad, and I got a good New York Times review, which was important to me at that point." During this period Dallas married a Jamaican actress. They later divorced. He has no children.
"But I have many ex-students who are my sons and daughters," he says. "A kid in Ghana calls me `Daddy.' And many of my `children' are living and working in New York and LA. One of my former students flew in from Italy to see me when I was ill. He arrived at the same time a former student flew in from LA. She was in Spielberg's War of The Worlds. My students know that if I teach them once, I am available to them for life."
Dallas traveled to England, France and Russia as a guest director, but he didn't have a steady income. Back in the USA he took a day job selling credit reports on the phone. In 1983 Bernard Havard, now running the Walnut Street Theatre in Philadelphia, recommended Dallas for a job at Philadelphia's College of the Performing Arts. The school, changing its name to the University of the Arts, hired Dallas to run its theater program, and he gave up his day job. He was director of the school for the next ten years, while also guest-directing around the world.
Barbara Silzle, who went on to head the Philadelphia Cultural Fund, was an administrator at UArts when Dallas started the theater school. She enjoyed working with him because of his "brilliance and vitality. He has, by far, the most accomplished international directing career of anyone in Philadelphia, but he never flaunted that. He's a natural-born teacher and totally dedicated to his students. He cares deeply about affecting and empowering young people."
Jennifer Childs and Peter Pryor, who later founded Philadelphia's 1812 Theater, were students of Dallas at the university. Both claim his teaching impacted them. Pryor says: "He was a great dean; very involved personally." Childs says that Dallas stressed individuality and didn't want his pupils to appear as if they came from a cookie cutter, with proficiency in only one method. Childs also observes that some students were scared to approach Dallas because of his fame. "I myself felt kind of star struck. I had to learn how to approach him but then I found him to be very warm."
During the period when he worked at UArts, Dallas visited Freedom Theater for the first time. He directed Under Pressure, a youth production, in the 1983 season, and War Heroes on the mainstage during the 1985-86 season. In 1992 he left his tenured professorship and the UArts directorship to become artistic director at Freedom.
John Allen talked with Dallas about succeeding him and taking the theater to the next level and, when Allen died, Bob Leslie's family offered the job to Walter. "I saw it as an opportunity," he says, "because I didn't want to stay in academia; I wanted to produce professional theater. And most of all, I wanted to live and work in the black community."
Public relations consultant Suzi Garber, who worked for Freedom Theater, is white and Jewish and she stresses that fact: "This company is all-inclusive. I'm totally dedicated to it." She points out that Freedom welcomes white people to its theater where "parking is easily accessible, free and safe, and the atmosphere inside is warm and inviting." Barbara Silzle agrees about Dallas' broad approach: "He identifies as a black man, but he is color-blind in his relationships. He has an expansive, inter-racial vision."
When Dallas attended Barrymore Award ceremonies in Philadelphia, it appeared that many members of other theater organizations looked right through him. The ceremony was a social event, but hardly anyone said a word to him. This seemed not to be related to race, but to the fact that he was from an older generation and not a member of the club. But Dallas says he likes being solitary for long stretches of time: "That's when I can focus on new ideas, on my writing and on the curriculum of my school."
"In New York City, I can't go very far without running into actor friends, and we get something to eat or drink. But when I'm in Philly, some people recognize me and stare, or they ask me about Freedom, but they allow me my space, so I am more solitary. That's not a bad thing. It's like Hollywood people who buy a ranch in Wyoming where they can go to be alone. Or like James Baldwin, who was a celebrity in the United States but when he was home at St. Paul de Vence he was accepted without fuss."
When Dallas talks about Baldwin he speaks as a close friend of the preacher-turned-author and black activist. Baldwin would stay at Dallas's Philadelphia apartment but Walter did not publicize that fact. "Once an acting student of mine was having problems doing a scene from a Baldwin play, so I asked the student to come to my place and run lines. Jimmy was waiting in the next room as I asked the student to walk away from me as he did his lines, then turn around. You should have seen his face when he saw Jimmy standing there.
"Baldwin and I would hang out at Apropos on South Broad Street, drinking Johnnie Walker Black, which was his drink of choice. I directed a reading of Jimmy's The Welcome Table at Lincoln Center, then staged it for Ruby Dee at the University of the Arts. Jimmy was weak and couldn't finish the script. He told me that he trusted me to complete it." Baldwin died in 1987.
In 2012 Dallas directed Tony Award winners Lillias White, Chuck Cooper and Adriane Lenox at Manhattan's John Jay College in a reading of Baldwin's The Amen Corner in memory of the playwright.
Dallas also worked closely with August Wilson. At Chicago's Goodman Theater, Walter directed the world premiere of Wilson's Seven Guitars. Of his work on this play, Newsweek reported, "Dallas leads a superb cast in an ensemble performance that raises sincerity to a force of shattering power." Vincent Canby in the New York Times said that the Broadway production, without Dallas, was inferior to his staging at the Goodman.
August Wilson attending Dallas's production of his Cooley High at Freedom: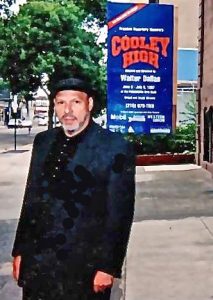 When Walter directed the pre-Broadway production of Wilson's Jitney at the Crossroads Theatre in New Brunswick, NJ, in 1997, the two men appeared together at a press conference. "This is something we have all dreamed of," said Ricardo Khan, co-founder and artistic director of Crossroads Theater. When asked what was the secret of working successfully with Wilson, Dallas answered: "I don't ask a lot of questions. I get the answers by just getting to know him better."
As Dallas directed Jitney, he made a significant addition to the script. As he tells it, "There was a point in the play where a costume change was taking more time than we anticipated. The men working at the jitney station learned of the death of their boss. The very next scene had them returning from the funeral in suits, dress shoes and ties. August didn't want to write a scene to cover. He asked if I could think of anything. I told him about the time when I was a child that our neighbor from across the street, Mrs. Jones, was seen coming toward our house in a black dress with a black veil covering her face. Most of our neighbors would enter the house via the back door, so you could see them as they passed the windows on the side of the house as they walked towards the back yard. Well, she was seen walking to the back dressed in black, but she never came into the house. After a while, my cousin went out back to see where she was. My cousin's brother was in the yard picking figs and said that he hadn't seen her. Then the phone rang. It was our neighbor across the street calling to let us know that Mrs. Jones had passed away the night before! So I created a scene where a woman in all black and a veil, comes to the window of the closed jitney station and looks in for a moment. It was an eerie moment that really worked well for us. August loved it and kept it in the show."
Dallas directed successful productions of Wilson's Two Trains Running and Joe Turner's Come and Gone at the Philadelphia Drama Guild, but he directed only one Wilson play, Jitney, for Freedom, in 1998 at the Annenberg Center's Zellerbach Theater. He could not do more Wilson for Freedom because the playwright insisted on casting his favorite actors from New York, which would add significant cost for their salaries and for housing them in Philadelphia.
*
Dallas tells a Joseph Papp anecdote: "Once Joe asked me to direct a reading of The Forbidden City at the Public Theater. Gloria Foster and Danny Glover were to read the lead roles. We were to meet at noon, rehearse for four hours and then read before an audience at 5 pm. Danny was a no-show. So Papp asked me who I would like to replace Danny. Half-facetiously I answered, `James Earl Jones.' Joe rang out, `Get James Earl Jones on the phone!' Six secretaries scrambled. Five minutes later, `He's in London.' Joe asked again, and not quite as facetiously I bleated, `Morgan Freeman.' `Get Morgan Freeman on the phone!' The sound of twelve high heel shoes scampering down the hall into six cubicles. `He's on his boat, but he can do it. He's on his way.' Morgan showed up at 4:45, fifteen minutes before curtain, in his sailing outfit. I quickly told him what the play was about, where to sit, and we opened the house. He hated the play, but he was awesome! I needed a sax player for the reading and was able to get Dexter Gordon to play the role."
This was a case where Dallas' musical background and his friendships with musicians were helpful. Walter personally writes some of the songs in his musical productions.
For his production of Having Our Say at Los Angeles' Mark Taper Forum, Dallas received a 1997 NAACP Theater Award nomination for Best Director. His off-Broadway production of Moms won an Obie Award for its star, Clarice Taylor. He also directed at Sundance, the O'Neill and the Public Theater.
The largest financial contributor to Freedom Theater in recent years has been Derek Keith Hargreaves, a classmate of Dallas' from Yale who was elected chair of Freedom's board. "He is white and British, and he was an economics major, but we became best friends in the 1970s," says Dallas. "Now he's chief economist at JP Morgan and active in the arts." This raises the issue of whether blacks donate enough money to their own theater:
"Blacks give a lot to black churches," Dallas observed. "With heightened awareness, they'll give to theater. We have to get the word out. People know of us but don't know enough about all the things we do. An example: A North Philadelphia student was found murdered. We created a play for children called Safety Street and performed it in the community, about how to navigate the streets and avoid molesters. The performers were our own school students."
Meanwhile, Dallas directed his first opera, Porgy and Bess, for the Opera Company of Philadelphia in 2007. Robert Driver, head of the opera company, saw Dallas' production of Lazarus Unstoned, was impressed and issued the invitation.
In 2006 Freedom's website, produced by Dallas, proclaimed: "We're back! Freedom Rep's 'Back With A Vengeance Season' celebrates our fierce determination to brook any challenge in order to continue the theater's rich legacy of artistic excellence. We know we are creative, spiritually strong, and a beacon in a world desperately in need of light. The curiosity and dreams of our precious children and the wisdom and memories of our revered seniors inspire us: we have so many wonderful stories to tell."
Still, it was not until 2016 that Freedom (whose official name is New Freedom Theatre) had what looked like a resurrection rather than just a temporary fix. The guest artistic director Rajendra Ramoon Maharaj helmed a production of The Trayvon Martin Play and the Harold Arlen-Yip Harburg musical Jamaica, and a fall-winter season was planned.
Dallas became a resident faculty member at the College of Arts and Humanities at the University of Maryland. He says "I'm a director, I'm a playwright, I'm a musician and recently I've become a photographer. I play a couple of instruments. I teach. Life is full, and exciting. I've lived a charmed life."
Founders Allen and Leslie, with actress Melba Moore: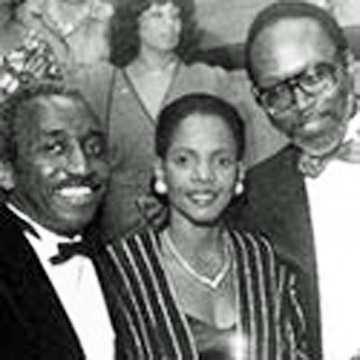 Please share your thoughts with us. Address to editor@theculturalcritic.com