Gloria Estefan's story comes to Broadway
by Rhonda Feldman
for The Cultural Critic
On Your Feet! Music by Gloria Estefan, book by Alexander Dinelaris. Marquis Theatre, New York
Gloria Estefan became the most successful cross-over act when she brought Latin music, particularly Cuban music, to mainstream listeners.
This sparkling new musical, On Your Feet!, is based on the lives and music of husband and wife Emilio Estefan and Gloria Estefan.
Gloria and her husband were pioneers in the music industry. In 1958, "La Bamba" by Ritchie Valens was a Mexican song that had a catchy tune and easy words. "Guantanamera" was a Cuban song brought to fame by The Sandpipers. Their Spanish was atrocious, but nonetheless it was one of the early times Spanish was heard in a Top 40 song.
The story of cultural change deserves the attention it's receiving in On Your Feet!  Estefan's biography, including the tale of how she met her future husband and business partner, is the heart of this dance-and-music show.
The musical displays their difficulties in trying to get their music played in the U.S. Most of the record producers and radio stations complained that their sound was not what was wanted on Top 40 radio. It was perseverance and door to door salesmanship that got Gloria Estefan and The Miami Sound Machine's records played in clubs and on the radio.
On Your Feet! humorously shows the group performing at a Bar Mitzvah to try and gain popularity with the mainstream crowd. The second act brings drama — the horrific bus crash where she was seriously injured and thought to never perform again. Of course, we know that she survived and thrived. Her perseverance and motivation was demonstrated again in her rehabilitation efforts.
The dance numbers by choreographer Serge Trujillo really stand out. We expect high energy numbers due to the nature of the music, but these go a step beyond. Think of the iconic Bottle Dance in Fiddler On The Roof as a comparison.
Ana Villafane, a Broadway newcomer, was perfectly cast as Gloria. She sounded similar to her both in singing and speaking, and had the same charm. We saw the Emilio understudy who was excellent in the role. A standout performance came from Andrea Burns as Gloria's mother. Having given up her dreams of performing, a flashback showed her in a high energy dance number. We've been impressed by Burns in Smart Blonde, In the Heights, The Nance and other shows but never previously was her dancing ability so well displayed.
On the right, Andrea Burns: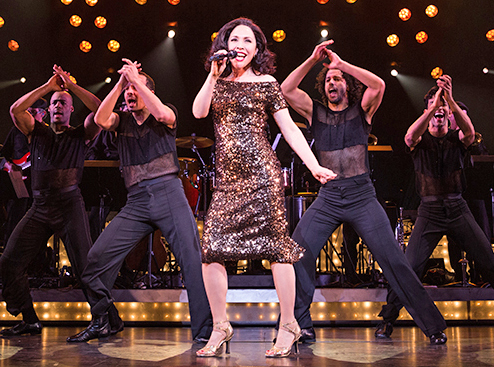 A high energy Conga number at the close of the first act brought the performers to the aisle along with audience members. The final musical number compiled a medley of the fast tempo numbers in the show. It's rare these days to leave the theater humming, which you certainly do in On Your Feet!
Please share your thoughts with us. Address to editor@theculturalcritic.com