Nancy LaMott: still here
by Steve Cohen
The Cultural Critic
When singer Nancy LaMott died at age 43 on December 13, 1995, music lovers lamented the loss of an excellent performer in her prime. A smaller circle of people realized there was an even greater tragedy, knowing that LaMott had just recently overcome a long bout with another crippling disease that made her success as a performer even more remarkable.
She was a singer of theatrical power who could project from a stage, and did so in two productions, and she was a great interpreter of the Broadway songs of Harold Arlen, Cole Porter, Richard Rodgers, Richard Whiting and many more. She also could scale down to cabaret intimacy.
LaMott suffered two decades of pain and weakness with Crohn's Disease, an inflammation of the intestines that has no known cause or cure. But after she had an ileostomy in 1993 she outed herself as a survivor of that type of abdominal surgery and said publicly that she had never felt better in her life. Her cancer, ironically, had no connection with her Crohn's Disease. It's absurd that she survived one disease and then was attacked by another.
After her surgery, Nancy was stronger, sang more consistently and began to achieve stardom. She won awards as the best cabaret singer of the year, was invited twice to sing at the White House and recorded a movie soundtrack. Through guest TV appearances, she was beginning also to be known by casual television watchers who didn't attend supper clubs.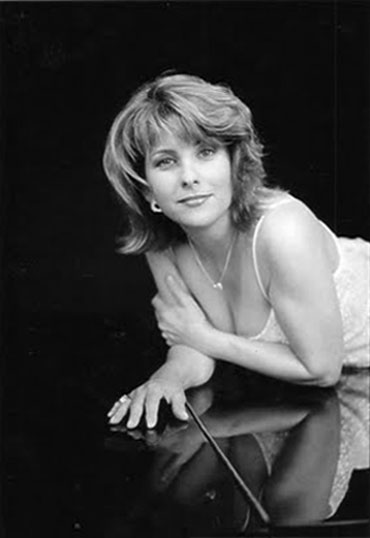 Let's try to forget, for the moment, that Nancy died in December of '95, because it wasn't the right ending for her story. Let's try to put that out of our minds. For the next page or so, let's speak in the present tense and try to pretend that she's still here and becoming more popular than ever. In a way, she is.
I first hear Nancy as a recorded voice on a New York radio station in 1993. Her voice is strong, clear and beautiful. She sings American popular standards, concentrating on the words rather than the sound of her voice, and makes you feel the emotion that's behind the lyric. Often she infuses a ballad—like Cole Porter's "So In Love"—with dark, almost psychotic intensity.
She's lucky to have Christopher Marlowe as her pianist and arranger because he, too, uses the words as his starting-point. Marlowe could astound you with his jazz-based technique but, like Nancy, he puts that at the service of telling a story.
They met in 1984, when LaMott was singing in San Francisco clubs. She had moved from her birthplace in Midland, Michigan, and was singing in piano bars at night while doing office work by day. (Her stage debut, back in Midland, had been Annie in Annie Get Your Gun.)
LaMott was doing songs by Kenny Loggins, James Taylor and other contemporaries, but was gravitating towards older songs that she had learned from her parents when her dad led a dance band in Midland. Marlowe becomes her partner as they begin to explore that repertoire.
Most cabaret singers pay their pianists a fee. When the singer has a gig that doesn't give her a fee, she digs into her own pocket to pay the player. Nancy can't afford that, and she also knows Chris is worth a lot more than any fee. So Nancy and Chris become true partners, splitting whatever she gets.
For years they play small joints and an occasional big lounge like the Forum in Atlantic City. Most times the audiences are small, but that's okay with the two of them. Cabaret is supposed to be an intimate art form, they tell each other. Nancy concentrates on the listeners in front of her, and on the songs. After each performance, while Marlowe retreats from view, Nancy talks to people and develops a loyal coterie of fans.
At the Forum, many in the audience have their minds on the slot machines and gaming tables and don't pay close attention to the music, but that just gives Nancy and Chris more time to improvise and develop the arrangements. If a new approach doesn't work out, they laugh and say, "Well, half the audience doesn't even notice." Hopefully, the other half appreciates that a unique act is developing in front of their eyes.
During all those years, LaMott is ill with Crohn's. She often has severe pain, and when she takes pain killers she's drowsy. Her cortisone medication makes her vocal cords "slippery," in her words, and unreliable. One night she will sing intensely, with beautiful voice; the next night, sometimes, she sounds tired and weak. Often she's so frail she can barely stand. Sometimes she has to cancel performances. She's not making much money, can't afford health insurance and therefore doesn't get the medical attention that she needs.
Despite her health problems, she sounds so exceptional that she attracts the attention of musicians. Lyricist David Zippel, who later was to achieve fame as the co-writer of the Tony Award-winning City of Angels, first hears her in 1982, singing in a piano bar. "A little dive on Columbus Avenue, on the Upper West Side," Zippel remembers. "I heard this great voice and I flipped. I introduced myself and said I'm a songwriter and I could see her roll her eyes. She had so many guys approach her and try to get her to sing their songs. But she and I came to adore each other and we became family. She became my muse, and did all my demos—all the recordings I use to demonstrate my songs."
Zippel remembers how she was fun to be with—"witty and smart; all the things that you hear in her music were in her personality." He sees her in severe pain from Crohn's, but she always hides it from her audiences. "Her music meant so much to her that it pulled her through the pain."
LaMott appears in an Off-Broadway review of Zippel's songs in 1983, It's Better With a Band. Among the others in that cast are Scott Bakula, and Donna Murphy as Nancy's understudy. In 1986 It's Better With a Band plays London's West End with LaMott in the cast. That same year Nancy does the demos and backers auditions for Zippel's Off-Broadway production of Just So, based on Kipling stories, and for Zippel's version of You Can't Take It With You which is called Going Hollywood.
Alan Menken becomes friendly with LaMott and Zippel around 1982, and Nancy's voice is the mutual point of interest that brings them together. "At that stage in my career, most of my writing was for cabaret," discloses Menken, "and Nancy sang two of my most popular, my cabaret 'classics,' if I can call them that."
Zippel raves about Nancy to his friend, the composer David Friedman, who eventually goes to see her sing at Eighty-Eights, one of the favorite hangouts of show-music fans in Manhattan. Friedman approaches her and says "You are going to become a star." When she asks him how that's going to happen, he says that he'll produce recordings by her. It is January 1991.
LaMott, Zippel and Friedman huddle over a restaurant table and the men agree to put up $10,000 each and form a company to publish and record Nancy's songs and promote her career. They call the company Midder Music after Nancy's pet dog. They are joined by Friedman's friend Scott Barnes, a singer and manager, and they invest in studio rental, musicians, engineers, CD pressings and photos. Barnes uses his talents to direct her live performances and he becomes her manager. Nancy and the boys start calling themselves Team LaMott. Headquarters is the small kitchen of Nancy's fifth-floor apartment on Manhattan's West 96th Street. Their business dinners usually are pizza or take-out from Taco Bell. "She was a junk-food junkie," Barnes remembers.
She credits Friedman and Barnes with turning her career around: "They believe in me, and they put their money and their energy where their mouths are." On February 19, 1991, she writes a note to David Friedman: "Thank you. I've waited so many years for this day. I must have been waiting for you."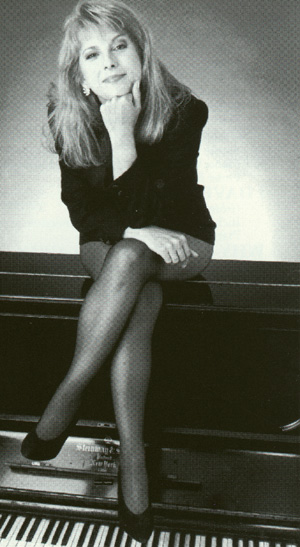 Her thoughts are similar in tone to the lyrics of Friedman's song "Listen To My Heart," and there's a reason why. Here's the story. Friedman wrote it for Laurie Beechman, but Beechman cancels an appearance where she was to perform it, and LaMott replaces her with one day's notice. Nancy sings it with a music stand in front of her, and she makes a mistake in the lyric. Instead of singing "I've waited all this time for you," she sings "I've waited all my life for you." That phrase makes a tremendous impact and Friedman realizes it is what he should have written originally. He immediately changes the published version.
Reacting to Nancy's thank-you note, Friedman says: "I just wanted that beautiful, miraculous voice preserved so it wouldn't be lost. I want to fulfill her dreams."
Nancy LaMott: Beautiful Baby is her first CD, released in 1991. On the cover, the singer sits atop a piano in a short skirt that reveals attractive legs. When I first hear her voice, I picture a tall brunette, dark and sophisticated. In fact, Nancy doesn't look like that at all. She's a cuddly-looking blonde, relatively short. (One of her boyfriends describes her as having "a big bust and great hips.") She dreams of a day when she no longer has to be careful about what she eats and when she can get rid of the puffy look that comes from taking prednisone.
The sound of her on the compact disk, though, is dark and sophisticated. Nancy and Chris hear the poignancy and melancholy in songs like "Skylark" and "It Might As Well Be Spring" and communicate those moods to the listener. The record also includes songs by Zippel and by Friedman.
"Her gift," according to Barnes, "is taking theatrical standards and re-examining them from her emotional point of view. Like many performers, she had an active dream world, a sense of make believe, and she could jump into a song as if it was real life. After hearing her 'Surrey With the Fringe On Top' or 'I Have Dreamed,' how can you ever hear those songs without thinking of Nancy's interpretation?"
Her next CD, Come Rain or Come Shine, is devoted to the music of Johnny Mercer. "That Old Black Magic" — lyrics by Mercer, music by Arlen – is one of her best vocals. When listening to the song's 1942 pop-standard melody, most listeners don't notice that the lyrics tell a story of obsession and fatality. But LaMott and Marlowe do, and Nancy interprets the story in a more haunting manner than any other singer has. On her My Foolish Heart CD in 1993 she mixes classics by Irving Berlin with contemporary material by Stephen Sondheim, Cy Coleman, Alan & Marilyn Bergman. On records and in person, she's developing a unique mix of new and old material.
"It feels so good when we make music together," says Christopher Marlowe. "When we're apart, my hands miss the feel of her voice."
After this album, Nancy's health becomes more precarious. Doctors recommend a colectomy and ileostomy—the removal of her large intestine and creation of an opening in her abdomen for the elimination of waste from her small intestine. After the surgery, she'll have to wear a plastic bag attached to her skin. It's a common procedure, but people usually feel squeamish about the subject and avoid discussing it. David Friedman puts her in touch with another singer he knows, Michie Mader, who tells Nancy about her own experience with an ileostomy. They talk on the phone for two hours. Like other women facing ostomy surgery, Nancy wonders how she'll look in a dress and whether she'll ever be able to have sex again. She and Chris Marlowe are professional partners only, and she has an active dating life. Mader relates: "She wants to know 'What can I expect?' I tell her 'What you can expect is health.' Finally she says 'Let me roll up my sleeves and do the surgery. Let's just get on with it.'"
Immediately after the operation, in her room, Nancy lifts her hospital gown and invites friends to take a look at the opening, called a stoma. "Look, this is part of me," she says; "this is my body, and we're all just going to have to live with it." Afterwards, now that the inflamed, diseased part of her body has been removed, she regains strength. She sings better than ever. She gets off prednisone. Her sex life thrives. She tells almost everyone she meets that she's had an ileostomy and it's made her a healthy, happy person. She says that such disclosure works out well, because the men who date her know what to expect if they should get to see her undressed. She says that way there aren't any unexpected surprises at the last minute.
LaMott makes her Broadway debut in the The Best Little Whorehouse Goes Public, a sequel to The Best Little Whorehouse in Texas, and it has a very short run. In June of 1994 Nancy appears in an ASCAP production on the stage of New York's 92d Street Y singing Friedman and Zippel songs and she returns the following year in a program of theater songs by Zippel, Wally Harper, Doug Katsoras and Jonathan Sheffer. She makes a strong impression with "Another Mister Right," a bluesy song that shows off Nancy's dramatic abilities.
The producer of Les Miz offers LaMott the chance to take over the role of Fantine, but Barnes advises her to turn it down and wait for a role where she'll be the first actress to play the part.
In 1994 she tells me she's hoping to marry and maybe even have children. She tells me excitedly about singing at the White House, and especially about the return engagement—this time with dinner—that's requested by the Clintons. She's packing them in at the legendary Hotel Algonquin in New York and is booked for an extended Valentine's Day show at Philadelphia's Barrymore Room in 1995. She is 42 years old and at a peak in her career when I ask where she hopes to be in five more years.
"I just want to be working and to be healthy," she says. "I've never cared about being famous."
Maybe famous isn't what she's looking for, but she's always wanted to be successful, and she's ready to change her lifestyle to some extent. The Key West Diner on 95th Street used to be her restaurant of choice. Now she wants to take me and my wife to Bouley, as trendy a spot as you'll find in Manhattan. She used to drink Gatorade, whereas now she orders Merlot.
Despite the upscale moves, she remains accessible and generous. At the close of her Philadelphia engagement she throws a party for the technical crew and a few other friends. The lighting gal and the sound guy tell me that no other performer has ever made that nice gesture. We hang out in her room at the Bellevue-Stratford Hotel til the wee hours talking about plays, politics and showbiz. She's looking forward to appearing with Sinatra at Carnegie Hall in July and asks if we've heard the rumor that Frank had a colostomy. Like a smalltown girl, Nancy breathlessly passes along stories she's heard about famous people who supposedly have ostomies like hers. It's like Jews, Italians, gays and other minorities who like to claim celebrities as being one of them. I have no knowledge of the truthfulness of that rumor.
Nancy is never nasty when speaking about other singers, but she's realistic. She gives advice to a less-than-great-looking male performer who likes to sing about romance. "Change your act," she says to him. "Sing 'All of Me — why not take all of me' and tell the audience how it feels when you're not handsome. That would be powerful." It's part of the LaMott philosophy: If there's an elephant on stage, you'd better tell the audience there's an elephant 'cause they're going to see it anyway. One thing that audiences don't see is any physical sign of her ileostomy. Nancy now wears some sexy, clingy dresses and no one can tell that she's wearing anything between her skin and the dress.
In the spring of 1995, after singing at an AIDS benefit concert in San Francisco, Nancy attends a performance of Angels in America and meets actor Peter Zapp. Soon they're talking on the phone for hours every day, contemplating how they can combine two careers with marriage. He loves her confrontive, direct way of facing problems. He feels that the scars on her abdomen are marks of character. In a journal that she writes, Nancy quotes the poet Rilke: "In the imperfection lies the beauty…Let me be beautiful and brave."
Nancy appears at Manhattan's Tavern On the Green in June. Afterwards she has a drink with Michie Mader and says: "I've been bleeding, and I got some rough news today. I have uterine cancer." Her doctor recommends a hysterectomy, but she puts it off. Why? Because she wants to have children? Because she wants to finish another album? Because she doesn't want to miss a lucrative gig coming in September at the Algonquin? Nancy is indecisive and confused.
Now it's September, 1993, and Nancy is concluding her two weeks at the Algonquin. She has to cancel the last Friday performance because of pain and bleeding. With difficulty, she manages to sing on Saturday, her closing night. Her voice is powerful and thrilling, especially on Cole Porter's "So In Love," which is one of the numbers on her newest CD, Listen To My Heart. The title song, by David Friedman, describes Nancy's feelings at this point of her life:
"Every dream I dreamed has come to pass…
After all these years I can finally sing my song.
I've waited all my life for this one moment…
There's so much to say, I don't know where to start.
All about the life that's just about to start…
Listen to my heart."
Talking with me after the show, Nancy says she's about to have the hysterectomy. Would earlier surgery have made a difference? We'll never know.
Nancy feels unusually small and frightened when we hug goodnight.
I'd rather skip the next three months altogether. At least we'll skip the details. The surgery was too late to save her life. Chemotherapy caused her to lose her hair. Her confidante, Michie Mader, is the sister of Kathie Lee Gifford, and Kathie Lee jumped in to give moral support and to take Nancy shopping for stylish wigs. Laurie Beechman, fighting cancer herself, gave Nancy advice about cosmetics that she used in her own life: "Try to make yourself attractive on the outside to take your mind off what's happening on the inside."
Singer Margaret Whiting often brought friends to see Nancy perform. She visited during her final hospitalization and thanked LaMott for recording songs written by her father, Richard Whiting. Margaret said to Nancy, "The royalties from your records will really help." Margaret was exaggerating, trying to make Nancy feel better. Actually, Whiting is comfortable without the additional income which may come to her from the sales of Nancy's CD's.
Nancy's records were not yet making a profit. Team LaMott was not yet to the point of seeing a return on its investment. It was an investment in the future.
Nancy married Pete on her deathbed. The wedding guests went to a local pub to hoist a few drinks, and when they got back to Nancy's hospital room she was gone.
But her voice and her spirit live on. Eight days before her death she appeared at an on-air party to celebrate radio station WQEW's first anniversary. She sang Rodgers & Hart's "I Didn't Know What Time It Was (Then I Met You.") When program director Stan Martin expressed gratitude that she could come, Nancy told him "I'll always be here for your birthdays."
She'll always be here at my special events, too, and even at small ones. Every time I raise a glass of Merlot, I think of Nancy.
"I'll Be Here With You" video click here
"Time After Time" video and here

For information on LaMott's recordings, click here.


Read other stories on The Cultural Critic