Prince of Broadway
by Steve Cohen
The Cultural Critic
Mindful of a new musical about Harold Prince's career, Prince of Broadway, I recall my first published story about him, for Inside magazine in 1996.

While throngs of Philadelphians headed out of town for the Memorial Day weekend in 1996, a group of celebrated creative people came into Philly for an extended weekend of work. They were led by director Harold Prince, age 68, and they were staging a new musical play about the most notorious anti-Semitic incident in American history, which, coincidentally, took place on Confederate Memorial Day in 1913.
Parade is a dramatic telling of the story of Leo Frank, who was falsely accused of murdering a teenage girl and lynched by a Georgia mob. It is scheduled to open at Lincoln Center in New York City in December 1998.
Prince rehearsed the piece in private and gave two performances before a very small number of invited guests. This is his preferred way of work. He likes to control his environment and to be in total command of every aspect of a production. Because of his stature, he's able to get the conditions he wants: He's won more Tony Awards than any other person and he's received the Kennedy Center Award for lifetime achievement.
Those who worked with him say he's a great editor of material, and he responds, "I'm not good at writing and I don't ever want to write plays. I interpret." He will stop a scene to suggest a new action or a new line. Working on Parade he followed his familiar pattern, getting to the rehearsal early, before anyone else. Personally arranging the chairs where the cast members will sit. Giving detailed directions about physical moves. Telling the actors exactly how their lines should be read.
Prince picked Philadelphia for the 1996 tryout largely because the city was the starting-point for his career. He moved from his parents' home in Manhattan to attend the University of Pennsylvania.
He told this writer, "It was when I was a student at Penn between 1944 and 1948 that I decided to make the theater my life." He remembers concentrating more on the theatrical scene than on his studies (though he did graduate in January, 1948, before his 21st birthday.) His curriculum was liberal arts, including literature, psychology and history — "still my favorite subject." His extra-curricular classrooms were the Erlanger, Shubert, Forrest, Locust Street and Walnut Street theaters, the five biggest houses in Philly. In those days almost every Broadway-bound play and musical played Philadelphia first, where the creators would rewrite each night, before moving into a New York theater.
At intermissions, the youthful Prince would eavesdrop on conversations in the lobby. He remembers listening to composer Julie Styne and lyricist Sammy Cahn talking about how to fix High Button Shoes during its 1947 tryout. And he still has the image in his mind of the producers Richard Rodgers and Oscar Hammerstein in the lobby of the Shubert talking about changes they wanted to make in Annie Get Your Gun.
On one occasion Prince passed the big glass window of the Horn & Hardart restaurant at Broad & Chestnut and saw the legendary Jessica Tandy and Hume Cronyn dining inside. So he went in and got a table next to theirs so he could hear their conversation.
He'd hang out at stage doors to see performers. When he met Jose Ferrer, the star of Cyrano said: "Walk me back to my hotel and tell me about yourself." From the Forrest to the Sylvania Hotel at 13th & Locust, Prince told Ferrer how he wanted to be a director. What did Ferrer say to him? Did he offer advice, or help? "He just said, 'Here's my hotel. See ya, kid,'" relates Prince.
He also met George Abbott, the famed director who frequently came to Philly to work on shows, and who later married a young woman from Temple University. Prince pestered Abbott into giving him a job after he graduated Penn and served two years in the peacetime U.S. Army in Germany. Prince worked as an assistant stage manager and then became a co-producer of a show that Abbott was directing, The Pajama Game.
How did Prince get his compulsion? He credits, not blames, his family and his Jewish background. He proudly speaks of how his family of German Jews came to the United States in the 1830's. "Some of my relatives were among the first Jews to settle in Texas, before it became a state. Others settled in New York, and my great great grandfather was the first cantor of Temple Emanuel in New York City.
"The Jewish tradition is to be intellectually curious, to seek knowledge, to be involved in the arts. This is my heritage and I knew no other way to live. When I was a boy, everyone I knew went to Saturday theater matinees with their parents, and by the time I was eleven or twelve I started going by myself. "My grandmother had a subscription to the old Metropolitan Opera House at 39th and Broadway, and she took me with her on alternate Tuesday nights. So I also loved opera from my youth. It wasn't anything strange or alien.
"The first opera that I saw was Rigoletto (with Lawrence Tibbett and Lily Pons) and the first play I saw was Orson Welles' production of Julius Caesar for the Mercury Theater Company. This was about 1936 or '37, just after his Voodoo Macbeth and before his War of the Worlds. Then I saw Kitty Carlisle — it was before she married Moss Hart — in White Horse Inn. And the 1937 revival of Porgy and Bess, revised by Gershwin, just two years after the premiere flopped. I loved it!"
While he was in high school, Prince began running to New York's theater district as often as possible. "I'd go to a ticket agency named LeBlang's at the corner of 42d and Broadway that specialized in the sale of reduced price tickets — sort of an early version of TKTS," he said. "There was a man standing there on an A-ladder, changing the prices on their sign. As you got closer to curtain time, the prices fell rapidly. I'd wait until the last minute and then I'd only have to pay 55 cents to get a ticket that was marked $4.40 (which was the top tab in those days.)
"I was really a dedicated theater-goer. That's something we could use more of today. You have to be dedicated to stand there for so many hours, and then have to run several blocks to get to the show, knowing that you're going to miss the first few minutes because the curtain was already going up when they reduced the ticket price. That's making a commitment."
Prince regrets the change in music in recent years. "Popular music used to be Broadway music, like 'Some Enchanted Evening.' But it ceased to be. The last hugely popular song was 'Send in the Clowns' from A Little Night Music (1973), and that's a long time ago. We tried to find different subjects to deal with, and more serious material, and that ended happy-go-lucky songs. But it also ended big songs that told a romantic story."
On the right, Prince as a  young producer: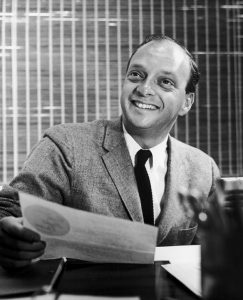 Stephen Sondheim is one of Prince's oldest friends. They've been close since both were teenagers. When Prince got married in 1962, Sondheim was his best man. Picking the groom up to take him to the ceremony, Sondheim saw that Prince was carrying a stack of papers. "He asked me what it was," says Prince, "and I told him it was a script that I thought I'd read on my honeymoon. Steve said, 'You give me that right now. I'll give it back to you after your honeymoon.'"
Prince married Judy Chaplin, the daughter of composer/arranger Saul Chaplin, who shared composition credits on "Bei Mir Bist du Schoen" and "The Anniversary Song" from The Jolson Story. They're still married and have a son Charley (a conductor) and a daughter Daisy (a singer and director.) Each of them, and their spouses, have produced grandchildren for Judy and Hal. Prince tells me that his wife's family was friendly with many people in show business. Through them, he met Betty Comden, Adolph Green and Leonard Bernstein.
His main responsibility with George Abbott was setting up backers' auditions and asking for investments, assembling the creative and performing teams and making all the business arrangements. "Being a producer is supposed to be a prestigious position," he says, "but it isn't. I was doing double duty as assistant stage manager, in the wings during every performance. I didn't get to see my show from out front until six months later."
The success of The Pajama Game led to his production of Damn Yankees with many of the same creative people. The song writers were Richard Adler and Jerry Ross. "Their background was in pop songs; they wrote 'Rags to Riches,' a Tony Bennett hit, and Frank Loesser recommended them," remembers Prince. "It turned out that they had an enormous sense of what worked in the theater. They wrote good music and lyrics, not necessarily great, but they knew how to write well for the characters. ('Hey There' and 'Whatever Lola Wants.') Ross is the one who played the piano for us. He always looked fragile. One day he told me he was going into the hospital for an operation and he said "It scares me.' He didn't come out of the hospital."
After that came West Side Story, which he produced, working with his friends Bernstein and Sondheim. This show brought him his first big financial success.
"Many people are spoken of a geniuses," says Prince, "but Bernstein really was one. He had so many great talents. Critics say that he spread himself too thin, but I disagree. When you're so good as a pianist, conductor, writer, teacher and composer of classical and show music, why shouldn't you do everything? If you can do it all, why not?"
During the original run of West Side Story, in 1959, Prince became friends with Patricia Birch, who later became a top director. She says, "I was just a member of the Jets gang — a character named Anybody — and Hal was the producer, but he came to rehearsals and talked with us and gave us personal advice. He's a mensch."
Some things were better in the 1940's, in Prince's opinion. For instance, "a hierarchal passion for theater." He remembers: "The intellectual aristocracy was involved in the theater, unlike today, and there was a social blending. To give you an example, when I worked for George Abbott he invited me to his estate on Long Island and I'd meet his other weekend guests, who might be Adlai Stevenson and Madame Chiang Kai Shek. And we'd all talk about the theater."
"We'd get 175 investors to put in $1000 or $2000 each. No one could get hurt because the investment was so modest. If worst came to worst, you lost $2000 and had a marvelous experience. But when shows cost $5 million or more, that's obscene. The terrible escalation of costs and prices has narrowed the audience. Theater audiences are no longer the people you see lining up at the Whitney and the Met, people who really care about the arts."
As producer or director, Prince has won more Tony Awards than any other person in history. As a producer, he was honored for shows such as West Side Story and Fiddler on the Roof. As director, he's won for staging Company, Follies, A Little Night Music, Cabaret, Phantom of the Opera, Kiss of the Spider Woman and Show Boat.
It's notable that Prince has been the director for the biggest hits of Stephen Sondheim and Andrew Lloyd Webber, who are perceived as rivals. The advocates of each are intolerant of the other's abilities. I asked Prince how he rates them. "It's ridiculous," he says. "In the 1930's there was Gershwin, Kern, Rodgers, Porter, Berlin and more, and they were all friends. Now, alas, people argue about these two guys. They're both talented, and what I notice most is that they share a powerful sense of theatricality."
"Sondheim will always be my friend. He's smart as hell. So inquisitive. But after the failure of Merrily We Roll Along in 1979 we felt we needed a vacation. We haven't worked together since. Maybe we never will. But we haven't closed the door."
Parade was conceived when Alfred Uhry's drama about his Southern Jewish grandmother, Driving Miss Daisy, was a hit. Prince asked Uhry to write a musical about Sammy Davis Jr. Instead, the playwright suggested the Leo Frank case as a subject. Uhry knew that story well because Leo Frank was employed by the Atlanta pencil factory owned by Uhry's great-uncle, Sig Montag.
Prince "practically jumped out of his chair," says Uhry, and agreed to do the play. :Hal believes the public needs to learn about the Frank case, and the virulent anti-Semitism of that time. He criticizes shows that attempt only to amuse. "The best kind of show makes an important statement, to be received by those who want to get a message, plus entertainment," says Prince. He was also eager to direct a show about Jewish history. "I'm proud of my Jewish heritage," says Prince.
Uhry and Prince are both morning people. Uhry often writes new dialogue at 7 a.m. and faxes it to Prince who already is up and working at that hour. Rehearsals for Parade run from 10 til 6 every day, and Prince is quick to relax after six. He frequently invites staff members to join him for a drink or for dinner.
The composer is Jason Robert Brown, 25 years old, whose 1996 revue, Songs For Our Time, was directed by Prince's daughter Daisy. Daisy introduced Brown to her dad, who was impressed by Brown's rich, emotional musical style.
Prince says that Parade is "a powerful and moving show. When people express doubts about its dark subject, I tell them, 'Look, they thought I was crazy when I made musicals about the Weimar Republic, and about a barber who slit people's throats. And they became Cabaret and Sweeney Todd.'"