Ragtime — the making of the musical
by Steve Cohen
The Cultural Critic
This story was originally written for the Jewish quarterly Inside Magazine in June, 1998, the month that The Lion King beat Ragtime for the Tony Award as Best Musical of the year. The fortunes of producer Garth Drabinsky changed dramatically in the year after this article was written, and he was charged with falsifying the books of his company. He was found guilty of fraud and sentenced to seven years in jail. This story captures him at the peak of his reputation. He was riding the crest of a stock-market and real estate boom. Note especially his complaint about his parents's lack of vision:  "I hated their caution. Life could have been so much sweeter had he [my father] seen the future and how prices would multiply endlessly."
It is interesting to see how a man who contributed so much to theater could destroy his career, and how a man could profess religiosity yet be guilty of moral and legal transgressions.
Harold Prince told me that he tries not to think about that. He still has fond memories of the thrill of being a passenger in Drabinsky's private plane, and flying with Garth's exciting, soaring vision for the future of musical theater.
* * *
Never before has a producer had so many successful shows playing simultaneously — Ragtime, Phantom of the Opera, Kiss of the Spider Woman, Show Boat, Sunset Boulevard, Joseph and the Amazing Technicolor Dreamcoat. By the end of 1998 there will be four companies of Ragtime alone, playing simultaneously  in New York, Chicago, Boston and Vancouver. And three of these four companies will be playing in theaters built and owned by that producer. This is in contrast to the normal practice of a producer renting theaters for each engagement. By the middle of 1999 this producer will own and operate six major theaters in the United States and Canada.
Garth Drabinsky is the man in question. He's been compared to Florenz Ziegfeld, who also produced lavish shows and housed them in his own theater. But there are differences: Drabinsky's six theaters compared to Ziegfeld's one; Drabinsky's much larger number of shows; and Drabinsky's Jewish identity. Ziegfeld was an assimilated Jew trying to distance himself from his roots. Drabinsky, on the other hand, is observant, attends synagogue and is active in Jewish organizations.
Drabinsky's biggest project so far is his transformation of the E.L. Doctorow novel, Ragtime, into a Broadway musical. The novel is complex and Doctorow was so wary of movie and theater adaptations that he resisted the idea of a musical version. How did Drabinsky pull it off? What does the creation of Ragtime tell us about Drabinsky? And what lies ahead?
The best way to understand what's happening in theater at the end of the 20th century is to examine how Drabinsky wooed a recalcitrant Doctorow and used unusual new methods to produce this show.
Over bowls of borscht at the Russian Tea Room, next door to Carnegie Hall, E. L. Doctorow — "call me Edgar," he said —  and Garth Drabinsky talked about Ragtime.
It was December of 1993. Doctorow was not happy with the motion picture version of his epic 1975 novel because it concentrated on one of the many stories in the book, while minimizing the others.
In the film, the story of Coalhouse Walker (as played by Howard E. Rollins) seemed to dominate the other story lines and take over the tale. "If you are not careful, the piece will begin to lean to one story over another," Doctorow said. "But one of the points of the book was how all these lives intertwined, how all these people became inextricable from one another. Allowing one person's story to take precedence undercut that point and the American allegory I placed in the work, and they didn't lean to one story line over another."
Drabinsky told Doctorow that he could do a better job. He said he'd make a Broadway musical out of Ragtime and he'd spare no expense. Drabinsky called a waiter and ordered caviar for the two of them. Doctorow said he could do without, but Garth was treating and he insisted. Making a point about how he spared no expense, perhaps? Drabinsky at that time had produced three Broadway hits: Phantom of the Opera, Kiss of the Spider Woman and Show Boat. Speaking with a gravelly voice —  he sounds like George C. Scott with Canadian accent —  saying things like PRO-gress, Drabinsky explained that Ragtime's story had personal meaning to him. He said he loved the character of Tateh, a Jewish immigrant who rises from poverty to become a motion picture director and producer.
Drabinsky, age 44 at the time of that meeting, has a life something like Tateh's. He is the son of a Jewish family that immigrated from Russia to Toronto. Garth was a victim of polio at the age of three. He found solace in listening to music and playing board games. He says he was a monopoly champ, "unbelievably aggressive." After bar mitzvah, Garth was a regular Torah reader at Toronto's Beth Sholom synagogue. He reads Hebrew fluently and proudly says that he can chant the service from memory without a prayer book.
He thought of stage acting as a career but decided that the limp from his polio could make that impossible, so he went to law school and started an entertainment law practice. Then he took over a movie exhibition firm and, according to him, "I built Odeon Cineplex from nothing into a billion-dollar company." Drabinsky produced several motion pictures, then turned to live entertainment with a new company he called Livent.
Garth married a fellow Torontoan, Pearl Kaplan, in 1971 and they have two children, born in 1975 and 1978. He has a rumpled appearance, with a thick shock of wavy hair flopping over his forehead, in contrast to the buttoned-down collegiate look of Doctorow.
At the end of that luncheon at the Russian Tea Room, Doctorow gave permission for Drabinsky to proceed, subject to his creative approval. And now, five years later, Ragtime the Musical is a sellout hit in three cities simultaneously. It even has been called "the show of the century" because it encapsulates the great social movements of the 1900s. Drabinsky built New York's newest and largest theater to house Ragtime and is building another new hall in Chicago. Drabinsky seems to be a reincarnation of Florenz Ziegfeld, the famed producer of the 1920s who also built his own theaters.
But Drabinsky bases his career, more particularly, on the less-known Samuel Rothafel. Using the pseudonym Roxy, Rothafel built a theater that he named for himself and which he decorated with objects d'arte and paintings in the 1920s. In similar style, Drabinsky decorated the theater which he built for Ragtime in New York.  "Roxy made motion-picture theatres into peoples' palaces," says Drabinsky. He describes Rothafel as "a go-for-broke dreamer…the greatest showman of all." Rothafel later operated the new Radio City Music Hall. Drabinsky says that one of his biggest regrets is that he never saw the inside of the Roxy before it was torn down in 1954. He heard that it was "a pastiche of Renaissance, Gothic and Moorish themes…uniformed ushers with white gloves, a diorama of colored lights playing over the curtain while a singer entertained the audience between shows." (It usually was the young tenor Jan Peerce, who moved on to Radio City, then the Met.) He adds that "Roxy's imagination and vision helped shape my own career."
Drabinsky lives flamboyantly, eating at fine restaurants, flying a private jet and collecting art. But sometimes he pinches pennies. He lost the services of one man who was connected with the development of Ragtime when Garth insisted on paying less than his normal fee. Drabinsky says that he models his personality on the aggressive spirit which he admires in the State of Israel. His own father was not an entrepreneur and was not aggressive, according to Garth in his 1995 autobiography, Closer to the Sun:  "Life intimidated him and so did risks. Life could have been so much sweeter had he seen the future and how prices would multiply endlessly. The anxieties and pressures of operating his small business wore my father down. I love them [my parents] but I couldn't respond to their small view of life and I hated their caution. Polio had grabbed me and tried to smash me down. I wouldn't let it. I wouldn't let anything smash me down."
He's proud of the way he built Canada's Cineplex Odeon into "a  force in Hollywood." And he's resentful about how "corporate double dealing took my company away" in a 1989 stockholder fight. He says it was like his childhood when "that evil virus came and took away a part of my life. But I seized it back and never let go. So if I have anything to contribute, it is this: Never give up. Never yield."
Drabinsky still is resentful about how he was "stabbed in the back" by some of his former partners, such as Charles Bronfman. Years afterwards he still remembered how one of them "had the unmitigated gall to ask me if Cineplex Odeon [on the day it was taken away from Drabinsky] could rent my art collection which hung on the walls throughout the office. No, I said, the art goes with me. For Cineplex Odeon, culture stops on Friday."
"I never take tranquilizers nor do I ever take a drink, so I had no way to come down off the terrible humiliation of losing my company. All I had to do was climb again, back to the warmth, up into the heights…In Greek mythology, Icarus plunged into the sea when he flew to close to the sun. It's supposed to be a lesson in the sin of hubris. I think the bastard just gave up too soon. He should have gotten himself another set of wings and taken off again!"
Garth quickly rebounded by buying the relatively small live-entertainment division of Odeon Cineplex, renaming it Live Entertainment Corporation and, later, Livent. Drabinsky remodeled the Pantages Theatre in Toronto, raised tickets prices and, with Phantom of the Opera, turned it into the highest-grossing theater in the world. He produced touring companies of Phantom of the Opera, then developed the new show, Kiss of the Spider Woman, first in Toronto, then London and Broadway. Drabinsky pioneered a new way of producing musicals. The ideas for most shows come from writers and composers, who hold backers' auditions to find the people who will invest their money in the show. But Drabinsky works in reverse: He comes up with ideas for shows, supplies his company's money and then, lastly, hires the creative people.
After getting Doctorow's tentative approval for Ragtime, Drabinsky's next move was to commission playwright Terrence McNally to do a script based on the novel. In mid-1994 McNally submitted his 60-page version. McNally says:  "If Doctorow rejected my treatment, that would have been the end of it." But Doctorow loved what he read. He says it "honored my novel, and I liked the way he used so many of my words." McNally had found the heart of Doctorow's story of rebellion against the customs of genteel and gentile white society, and about the cultural revolution that was beginning to percolate from below.
Then Drabinsky had the chutzpa to send invitations to ten of the world's leading songwriters, asking them to submit audition tapes with songs based on McNally's script. Experienced composers were upset at being asked to audition. But, according to one non-winner, the project was so special that many of them swallowed their pride and submitted recordings.
One invitee refused, but he says it wasn't because of pride. Marvin Hamlisch, who had written A Chorus Line and the ragtime hit,  "The Entertainer" for the 1973 movie The Sting, told me:  "I never do anything twice. I like to quit while I'm ahead. I didn't want to do the show because it would have meant writing ragtime music again." Ragtime music clearly was what was required.
Hamlisch's memory was selective. In fact, he had composed another ragtime piece after "The Entertainer." It was the song "Young and American" for a show that he and Howard Ashman wrote in 1986 about beauty contests, Smile. That show ran only one month on Broadway and perhaps Hamlisch tried to push it out of his mind.
Drabinsky also had the foresight to invite, separately, the young composers Michael John LaChiusa and Adam Guettel, who were then unknown to the public but have since become respected. Among the songwriters who submitted audition tapes were the teams of John Kander & Fred Ebb and David Shire & Richard Maltby.
Lynn Ahrens and Stephen Flaherty were not very well-known and they jumped at the opportunity to compete for the job. The two of them met in a theater workshop in 1983 and became friends.
"First we wrote a European farce, Lucky Stiff, that failed in 1988," says Ahrens,  "and then we tried a Caribbean fairytale, Once On This Island, in 1990." Flaherty thinks it succeeded because the show contained a lot of feeling and emotion. They received a disappointing reception for My Favorite Year in 1992.
The team wrote four songs for Ragtime and recorded them on an audition tape which they sent to Drabinsky. It started with a 12-minute opening number that took words directly from the first page of Doctorow's book:
"In 1902 Father built a house at the crest of the Broadview Avenue hill in New Rochelle, New York, and it seemed for some years thereafter that the family's days would be warm and fair."
After that opening sentence, to a ragtime beat, they added Ahrens' new words:
"The skies were blue and hazy. /
Rarely a storm. Barely a chill…/
And there was distant music, /
Simple and somehow divine, /
Giving the nation /
A new syncopation. /
People called it Ragtime!
It was the music /
Of something beginning. /
An era exploding, /
A century spinning /
In riches and rags…"
That said it all. The essence of the book was lyricized in those twelve lines. Doctorow loved the songwriters's work and Drabinsky awarded them the job.
Ahrens, Flaherty and McNally began meeting to develop the script and songs. Ahrens is a morning person, Flaherty and McNally night people, so they compromised and got together in the afternoons, usually at Ahrens' loft apartment in Lower Manhattan. They tried to balance the three main groups of characters —  white Anglo-Saxon Protestants, a Jewish family and a black family. Three secondary characters also were essential: escape artist Harry Houdini, who personalizes the Jews' efforts to break out of poverty; Emma Goldman, the anarchist who champions the causes of Jews and blacks; and Henry Ford, who personifies industrialization as well as prejudice against minorities. Ahrens jokingly says "our challenge was to keep it under nine hours."
On Father's Day, June 18, 1995, I was fortunate to be in a select audience at Manhattan's 92d Street Y to hear Ragtime music for the first time, with the composer at the piano. Brian Stokes Mitchell, the charismatic lead actor from Kiss of the Spider Woman and La Chanze, a young singer who had starred in Once On This Island, sang a ballad that Ahrens and Flaherty just completed for the black couple, Coalhouse and Sarah. Called  "Wheels of a Dream," it's based on the infatuation that Coalhouse has for a shiny new Model T. For him, the car represents the future of America and it is his family's vehicle to freedom.
The original, unpublished opening words of the song spoke of polishing the wheels of the car:
"That car is a promise, /
That car is the whole damn country, /
Shined up, /
Tuned up, /
Waiting…"
But Flaherty and Ahrens later decided that the song should be directed to Coalhouse's son and the words should be about him, not about the car. Therefore they changed the opening lines to this:
"I see his face /
I hear his heartbeat… /
Well, when he is old enough /
I will show him America /
And he will ride /
On the wheels of a dream."
Everyone in theater hopes for one hit song that will epitomize their show and attract customers, like "Memory" from Cats. "Wheels of a Dream" is that kind of a knock-em-dead song. After its big finish, the emcee that afternoon at the Y, Luci Arnaz, gushed:  "I didn't expect such an emotional experience!"  Director Hal Prince says the perfect romantic ballad was Rodgers & Hammerstein's "Some Enchanted Evening" from South Pacific.  "Wheels of a Dream" comes close to that ideal. It is dramatic and romantic and, like "Some Enchanted Evening," the melody is carried by a deep male voice.
Ahrens and Flaherty next turned their attention to music for Tateh, and they decided he had to have a lighter, higher voice, for contrast. Ahrens contributed melodic ideas from her Jewish upbringing. Surprisingly, the non-Jewish Flaherty contributed greatly to the show's Jewish flavor. One of Flaherty's friends and classmates is a synagogue cantor. And Flaherty's brother is a student of klezmer music and gave Stephen many of his ideas for Jewish content. (Tateh's music starts out European, minor key, plaintive, then quickly becomes Americanized — just like the character.)
Drabinsky says that creative people need nurturing, "and I refuse to put them under a microscope. That's why we work in Toronto, away from the phones and the fancy restaurants and their agents." There, in August of 1995, a cast was assembled for a first reading, with books in hand. Joel Gray sang the role of Tateh. Ted Sperling, a respected musician who sings, conducts and plays the violin, was at the piano, rehearsing the cast for two weeks before leading a performance for Garth and his staff.
Almost everyone was emotionally moved at the end of the run-through. Drabinsky cried with joy. Mitchell announced that he felt a new phase of his life was beginning and said he'd like to signify that by having friends start calling him by his middle name —  his mother's maiden name, Stokes.
A second reading was held, then a semi-staged workshop in Toronto in May of 1996. New actors were tried: Stephen Bogardus as Father, Marin Mazzie as Mother, Tovah Feldshuh as Emma Goldman, Peter Friedman as Tateh. Friedman was known as a non-singing television actor in "Brooklyn Bridge" and also had starred in Donald Margulies's play, The Loman Family Picnic, which contains a miniature musical comedy (with a score by David Shire) in the second act.
According to Drabinsky, Tateh's role is the most interesting because the character changes so much, from poor man to filmmaker. It's the history of a generation of Jews. Friedman says that Tateh's success after years of effort is similar to what all performers dream of. Michael Rupert, who will play Tateh in the national company, says that Ragtime is the continuation of Fiddler On the Roof; "it shows what could have happened to Tevye's family after it came to America."
Edgar Doctorow and his wife, Helen, attended the second reading. At a dinner afterwards at a Chinese restaurant, Doctorow told everyone he was happy with the show. Ahrens, Flaherty and McNally continued work in New York, sometimes joined by Doctorow who reminded them not to cut his sub-plots:  "They're all part of a tapestry. If you pull out one thread, it unravels."
Each of the creators had special affection for a different character. While Drabinsky loved Tateh, McNally identified with the rebellious Younger Brother and Flaherty bonded emotionally with Coalhouse. Ahrens loved Mother, a compliant wife who grows into a new type of woman. And Ahrens insisted in writing an important song for her. It was inspired by one line in Doctorow's book. When the father is leaving and going back to New York he says that the family will be happy again, as they were before. And mother says to him:  "No. We can never go back to before."
"Life was a road /
So certain and straight and unbending… /
Back in the days /
When I let you make all of my choices. /
We can never go back to before."
When the show went into preview performances, that big "eleven o'clock number" at first did not work. Marin Mazzie had a dark dress and a storm-tossed wig and she sang the song with anger and passion, and there was no applause. Then costumer Santo Loquasto changed her from a green to a white dress. The wig became less wind-tossed and more beautiful. Instead of a dark sky, the background became a sunrise. And director Frank Galati told Mazzie to sing it with joy and not with anger. From that moment on, it stopped the show with ovations, although the song itself never changed.
Ahrens felt an affinity, also, for the character of Sarah. "In the novel, Sarah is mute. We had to write something for the singer who played her. And as a woman, I had to know why she left her baby and buried her, so I began to think a lot about that. And I wrote "Your daddy's son."
Flaherty matched Ahrens' passion with his compelling melodies. Ahrens's lyrics throughout the show are possibly the best on Broadway since Oscar Hammerstein II. She finds strength in simplicity. Rarely is there a word of more than two syllables. When there is a longer word, it's a key one, necessary to the plot, like immigrant, tenements or syncopation.
Later additions to the project were Judy Kaye as Emma Goldman, Mark Jacoby as Father, Frank Galati as director and Graciella Daniele as choreographer. Pruning the show, the creative team was ready to eliminate a scene where Tateh and his daughter are beaten by police for striking against mill owners. Drabinsky insisted on keeping it in. This millionaire mogul needs to remind people how workers in those days were exploited.
Drabinsky moved his office desk to the room where Ragtime rehearsals were held. Managing five touring productions and two construction projects, he conducted business on his cell phone right in front of the cast, which some cast members felt was obnoxious. Sometimes Drabinsky would interrupt to call out suggestions to the director. When a scene failed to impress him he'd shout:  "Where's the heat?"
In July of 1996 Ted Sperling conducted an RCA recording and video of Ragtime highlights. The show opened in Toronto in December, 1996, then Los Angeles, New York and Washington, D.C. and was rapturously received by audiences.
Ragtime won 1998 Tony Awards for best music, lyrics and book, though it missed the prize as best musical, losing to The Lion King. Presenters are instructed to never say that anyone is a "winner." Instead, they have to say, "The award goes to…" But Drabinsky is a man who likes to win in every endeavor, and he clearly felt that his show had lost. No mincing words; it lost. That award had been an important goal for him. In the lobby of Radio City Music Hall at 7:30 p.m., I saw Garth glad-handing folks like a politician. At the cast party afterwards, he was somber. All of his associates and employees were depressed. A doorman outside the theater said that he felt bad for Drabinsky.
When he accepted his award as best composer of the year, Stephen Flaherty said: "It's hard to find a producer as passionate and gutsy as Garth." Despite the lack of the Best-Musical Tony, Ragtime performances are sold out through the end of 1998. An additional two-CD recording was made of the complete show.
As for Drabinsky's real estate investments, his company owns the new Ford Center that houses the musical just off Times Square. Appropriately, the auto company paid to have its name put on the building, considering the importance of Coalhouse's Model T to the story and how the original opening words of "Wheels of a Dream" spoke of the automobile's influence on America.
Looking to the future, Drabinsky says:  "I can never go back to a sung-through musical, like the Lloyd Webber shows I produced earlier, because they can't in any way engage in a debate of issues. And I want to explore issues."
Below: Garth Drabinsky at one of his theaters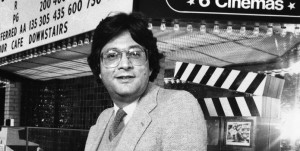 For more about other creators of Broadway shows, click here.