Tannhauser: obsolescent?
by Steve Cohen
The Cultural Critic
Tannhäuser. Metropolitan Opera, 2015
They don't write 'em like this anymore. Nor stage them like this.
In fact, even Wagner stopped writing operas like it, and switched to music dramas of a revolutionary nature.
Tannhäuser was an old-fashioned grand opera with arias, numerous brass fanfares and extensive choruses, and heavily influenced by the French compositions of Meyerbeer.
Wagner's opera about this minstrel who turns away from Venus and embraces God is less performed in our time than it was in earlier generations. Until this season, the Metropolitan had not revived it in more than a decade. What's more, the company is retiring Otto Schenk's classic production at the end of this run. It's too old-fashioned, and too specifically placed in its time period, some people say; the public supposedly prefers more modern, high-tech stagings.
So this is its swan song, to use a phrase co-opted from that other Wagner opera, Lohengrin — its sad farewell.
I eagerly took advantage of the opportunity and attended a performance in the house, heard two more on Sirius/XM radio, and saw the live transmission to cinemas on Saturday, October 31.
The revival had more overwhelming lushness than's been heard lately in any theater, largely because of the conducting of James Levine, making one of his rare appearances on the podium. (He did much of his work leaning decidedly to his right in his wheelchair). This opera relies heavily on choral singing — there are important chorus passages in every scene — and Donald Palumbo's troupe of 50 men and 38 women was magnificent.
The solo singing was big and grand, too. Tenor Johan Botha sang the title role with a combination of lyric beauty and clarion tones, nice breath control and phrasing. He didn't seem to tire during this nearly five hour production and his voice in Act III had just as much luster as in Act I. During his lament about being denied clemency, Botha's expressive face showed real passion and his cry of "Elisabeth" was heart-rending.
He was nicely matched by Michelle DeYoung as the love goddess Venus. Her sensuous tones and tall, voluptuous figure were perfect for that role. We can't understand why the Met does not use her talents more frequently. (Nothing is planned for her next season.)
Peter Mattei spun his lovely, honeyed baritone voice suavely as Wolfram, and his O Evening Star was a highlight. Bass Günther Groissböck sang with dignity and sonority as Hermann the Landgrave (a feudal nobleman with a rank just below duke and above count) who presides at the Act II song contest. He nicely finessed the fact that his lowest notes are not his best.
The one problem was the singing of Eva-Maria Westbroek as the innocent Elisabeth. In the three earlier performances which I saw and heard, her voice had too broad a vibrato. Fortunately on the October 31 matinee she sounded better.
Vibrato is an essential tool for indicating emotion, yet when it's persistent gives the impression of advanced age and declining vocal resources. As with violinists, vibrato must be applied with taste and selectivity. This problem made listening to Westbroek harrowing.  Let's hope this fine actress and musician now has the problem under control.
The valley near Wartburg and the hall of the castle looked gorgeous. The ballet in Venus's lair, though, was insipid. Surely a choreographer could have added something to this tame flouncing.
But when the on-stage trumpets sounded their fanfare and the orchestra swelled for the Entrance of the Guests in Act II, this Tannhäuser was a treasure to see and hear.
The HD telecast was enhanced by wonderful close-up shots of orchestral soloists, especially the woodwind players, during the extended orchestral passages. Director Barbara Willis Sweete deserves credit for this addition.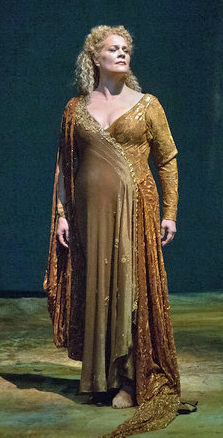 Read other reviews in The Cultural Critic