The Sound of Music back on stage
by Steve Cohen
The Cultural Critic
The Sound of Music. Music by Richard Rodgers, lyrics by Oscar Hammerstein II, book by Howard Lindsay and Russell Crouse. Jack O'Brien directs a new national tour.
*
The final collaboration of Richard Rodgers and Oscar Hammerstein II, The Sound of Music, has not appeared on Broadway since 1999. Its movie version, with Julie Andrews, is a lovely confection, emphasizing beautiful scenery, charm and sentimentality. It is a much different opus than the stage show, however.
This new national tour production puts more emphasis on the reality of the Nazis taking over Austria in 1938. Georg von Trapp, who was a decorated Austrian naval officer in World War I, opposed the Nazis. He resisted the collaboration and accommodation of many of his countrymen, including his agent, fiancee and butler, took his family and fled their homeland after performing at the Salzburg Music Festival that summer.
The true story is blended with the romance between the widowed Georg and his childrens' governess, the young Maria, after he ends his engagement to a woman who was willing to accept the Nazi occupation. Director Jack O'Brien has found new levels of drama involving the grief of losing one's wife, then learning to love again.
The revelatory production is bolstered by superb casting. Ben Davis is the most sympathetic Captain von Trapp since the role's originator, Theodore Bikel, whom I saw in 1960. Actors since then have portrayed him as a severe martinet. Davis's character here emerged more as a grieving widower who tried to find strength by returning to customs from his naval days, such as using a whistle to call his staff and his children. Davis capped his performance of "Edelweis" with a beautiful soft high E as he bade farewell, metaphorically and actually, to his homeland.
Newcomer Kerstin Anderson, plucked from the campus of Pace University where she was a sophomore, is an endearing Maria. She is less sunny than Julie Andrews, more confused about her role in life and about her feelings towards her employer. When she sings that she escapes to the hills "when my heart is lonely" she truly seems troubled, making sense of the lyric.
One of the high spots of the production is Anderson and Davis dancing the Ländler at a party in the von Trapp villa, and tentatively discover that they feel mutual attraction. This reminds us of similar chemistry during "Shall We Dance" in Rodgers & Hammerstein's The King and I.
Paige Silvester is fetching as the 16-year-old Liesl. She is resistant, at first, to Maria when she arrives to tutor the children, but gradually melts during the staging of "Do Re Mi." Silvester is a standout with her singing, dancing and youthful appearance.
Melody Betts sings sensationally as the Mother Abbess, belting the inspirational "Climb Ev'ry Mountain" and joining Maria in "My Favorite Things." Merwin Foard as Max Detweiler, the cynical and self-centered promoter, is the best-ever in this role, vocally and in his comic acting. Teri Hansen is fine as the wealthy Elsa Schraeder who was engaged to von Trapp. The six other children are adorable without being cloying.
The original R&H score is heard (some of which was omitted in the movie) plus "Something Good" for which Rodgers wrote words and music after the death of his partner.
I do not demean the movie, which I love; this is just different. And I have enjoyed visiting the sites where the movie was set. I recommend it—click here
Reality check: Born in 1880, Georg became a naval hero in World War I. Don't laugh, the Austrian-Hungarian Empire then had seaports. He was 58 when fleeing Austria while Maria was 33. The Trapp family left Austria by train to Italy and traveled on to the United States where they had a contract to sing. To make the story more dramatic, the playwrights showed them leaving on foot, over the mountains to Switzerland. The nearest Swiss city (Zurich) actually is 200 miles away. If they walked from Salzburg to the closest border they'd be in Germany, near Hitler's summer home at Berchtesgaden.
But the breathtaking alpine vistas by scenery designer Douglas W. Schmidt look spectacular!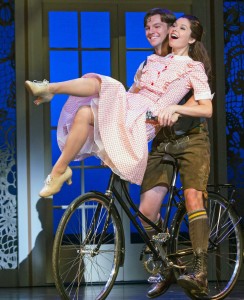 Paige Silvester & Dan Tracy pictured to the right, photo by Matthew Murphy.
See this short video. click here
Please share your thoughts and your opinions with us. Address to editor@theculturalcritic.com
Read other reviews on The Cultural Critic