Tuck Everlasting, and a tough choice
by Steve Cohen
The Cultural Critic
Tuck Everlasting. Music by Chris Miller, lyrics by Nathan Tysen, book by Claudia Shear and Tim Federle. Broadhurst Theatre, New York.
If you could choose to live forever, would you?
That's the question explored in this intriguing musical. Tuck Everlasting appeals with its sweet and romantic exploration of a subject that, especially to older viewers, can be troubling. It is a provocative Broadway offering that's not getting the appreciation it deserves from award committees and at the box office.
Tuck Everlasting presents an astonishing revelation of the talents of director/choreographer Casey Nicholaw. He was responsible for The Book of Mormon, Aladdin and Something Rotten! — three radically different expressions of style. They were flashy; Tuck Everlasting is homespun.
Nicholaw's concluding ballet sums up the plot in the way Agnes de Mille did for Oklahoma!, Carousel, Bloomer Girl and more. His earnest and classy contribution was needed to keep this adaptation of a children's book from becoming saccharine. In the script, one character says "Don't be afraid of death, Winnie. Be afraid of not being truly alive. You don't need to live forever, you just need to live."  That could seem clawing, but under Nicholaw's direction, the story emerged with emotional impact.
Any lover of the American ballets by de Mille and Jerome Robbins will be impressed, and all proponents of American music theater tradition should appreciate this production.
A charming girl in early-20th-century New Hampshire named Winnie runs away from home and comes upon, in the nearby woods, an unusual family named Tuck. It turns out that a hundred years earlier the Tucks discovered a magical spring. They drank its water and, ever since, have not aged.
A con artist in a yellow suit tries to steal the Tucks' secret for his own profit, while the constable searches for Winnie to return her to her lonely widowed mother. Eventually, the huckster is disposed of and Winnie is about to go home, while the Tucks prepare to move to a different locale. But Winnie has come to love the Tuck family, and the 17-year-old Tuck boy wants a long-term relationship with her, perhaps a marriage. He gives her a bottle of the magical water and begs her to wait six years until she matures, then drink the water and join him in eternal youthfulness.
Here's her quandary: Is she willing to abandon the natural order of aging? How could she handle giving birth to children and seeing them age and die while she remains young?
No one discusses the possibility of setting aside enough magic water to keep her children permanently at any particular age, but this is a fantasy, not a lesson in logic. As in Brigadoon, one just has to accept the premise. And if you do, you're not likely to have a dry eye at the end of Tuck Everlasting.
The final ballet sequence illustrates the aftermath of Winnie's decision (which I won't reveal) and imaginatively shows characters changing their ages, and some of them dying. It leaves you smiling through your tears.
The show has many standout individual performances. Sarah Charles Lewis, an 11-year-old playing the part of the 11-year-old Winnie, is adorable and she's on stage virtually the whole time; Andrew Keenan-Bolger is eager as the 17-year-old who wants to stay with her eternally; the impressive baritone Terrence Mann (Javert in Les Miz, the beast in Beauty and the Beast) performs a hilarious tour d'force as the man in the yellow suit; Carolee Carmello warms us with her rich voice while Michael Park is charming as the Tuck father.
Impressive comic relief comes from Fred Applegate as the town constable, and Michael Waretella as his bumbling assistant. They put across a vaudeville-like duet, "You Can't Trust a Man."
The songs by Chris Miller and Nathan Tysen sounded fine enough for me to want to hear them again, in the theater or on record.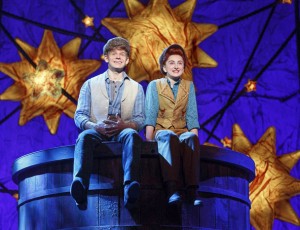 Watch a video clip by clicking  here.
Please share your thoughts with us. Address to editor@theculturalcritic.com
Read other reviews on The Cultural Critic