Vienna: a disturbing festival
by Steve Cohen
The Cultural Critic
Vienna was a hotbed of musical evolution, says Philadelphia Orchestra music director Yannick Nézet-Séguin.  The city is associated with Haydn, Mozart, Gluck, Beethoven, Schubert, Brahms, Mahler, Strauss, Schoenberg and many other composers and performers.
Some of them came from outlying places, such as Salzburg, Bonn, Hamburg, Rohrau (on the Hungarian border) and Erasbach (in Bavaria) and they chose to make their homes in Vienna. Even the French composer Jules Massenet chose Vienna for the world premiere of his Werther.
On its surface, Vienna seemed to be the epitome of romance and good times. Underneath lay a troubling past, which was recognized by Nézet-Séguin in a multi-faceted festival which had performances in Philadelphia and New York during January of 2016.
The eminence of great music in Vienna was, in large part, due to the influx of cultures from outlying regions of the Austro-Hungarian Empire. Yet that same influx aroused prejudice against outsiders, and Vienna's leaders were hostile to Bohemians, Magyars, Bosnians, Hungarians and Jews.
Unlike the USA today, where some politicians complain about immigrants from other lands, Viennese protested against ethnic groups who were part of their same monarchy. "Why can't these people learn our German language?" Viennese asked about out-of-town countrymen, and Ferenc Liszt and Imre Kalman had to change their Hungarian first names to Franz and Emmerich in order  to gain acceptance.
Kaiser Franz Josef bore the title "Emperor of Austria and King of Hungary" and those two coexisted as equal partners in the Dual Monarchy. Yet the mayor of Vienna contemptuously called Hungary's capital city Jude-pest. And Viennese perennially disparaged the culture of Budapest. (Even today there's some of that. click here .)
Karl Lueger was elected mayor of Vienna on anti-Semitic platforms from 1896 until his death in 1910. (Probably he picked on Jews because there were more Jews than any other minority in Vienna, and because many of them were prominent in the business world.) Also, Lueger transformed Vienna into an industrial-age metropolis, building electric and gas works and introducing streetcars. Some Viennese became uneasy about the changes that were visible all around them. In such a situation, it's natural that some looked for someone to blame for taking their old city away from them. Lueger led a movement to, figuratively, make Vienna great again.
Lueger exploited fears by blaming Jews and barring them from city jobs. He restricted the immigration of Russian Jews when they were fleeing pogroms in their home country.  Brahms, after moving to Vienna from Hamburg, was so disturbed by the anti-Semitism he witnessed that he told a friend he'd like to have himself circumcised to show his sympathy for Jews.
Hitler praised Lueger as a role model, and an uncomfortably large number of Viennese welcomed Hitler back as an occupier in 1938. When the Nazis marched into Vienna they encountered no resistance and citizens stood by while Jews were forced to kneel and scrub city sidewalks. In fact, Vienna had more bigotry than Berlin. It is an unpleasant history that today's Viennese acknowledge as they work to correct it.
The long-ago residents of Vienna may have retreated into a defensive posture because they recognized that their land-locked nation was relatively powerless. It never was dominant in Europe, nor did it amass foreign colonies. Compared to Spain, France and Germany, the empire of the Hapsburg family was a puffed up concoction. Its citizens chose to dream about glories that really never existed.
The violinist Yehudi Menuhin described the peculiar Viennese character as a love of pleasure "because one had to accept what one couldn't change." That attitude of accommodation— at the time when Hitler annexed Austria— was criticized by Rodgers & Hammerstein in their musical The Sound of Music.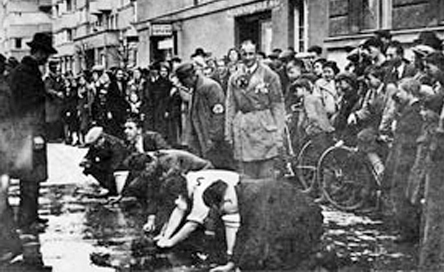 On the right, Vienna's Jews forced to clean pavements in 1938.
Any concert series that wants to celebrate Viennese music should illustrate the complex history of Viennese music and the city's troubled past. The pieces Yannick Nézet-Séguin chose for the Philadelphia Orchestra's 2016 festival did so.
A prime illustration was provided by Charivari, a dissonant parody of a Strauss polka and a rebuke to Vienna's historic mask of seeking comfort during bad times. It rips away the mask of gemütlichkeit which seems to say: "Why think about trouble? There's no cause for alarm as long as we can pour champagne and dance the polka and the waltz." Irving Berlin said basically the same thing during the Depression when he wrote "There may be trouble ahead; let's face the music and dance."
Some of the music considered to be tributes to Vienna's beauty actually were regretful looks backwards. The heyday of the waltz was early in the 1800s, and Johann Strauss composed his immensely popular waltzes in the latter part of the century as nostalgia for that earlier time when life in Vienna was more innocent. When he wrote The Beautiful Blue Danube, industrialization was causing that river to turn brown.
The Viennese violinist Fritz Kreisler demonstrated that retrograde outlook when he composed solos like Liebesleid (Love's sorrow) and Liebesfreud (Love's joy) that were sentimental and nostalgic.
Gustav Mahler had to renounce his Judaism and convert to Catholicism in order to serve as conductor of the Vienna Philharmonic. Even after that, newspaper columnists denounced him for being Jewish. Critics attacked Mahler when he arranged Beethoven's String Quartet No. 11 for orchestra in 1899. They called it a desecration; Yannick included it prominently in this festival.
Nézet-Séguin chose a wide variety of music for the three-week festival, touching on varied parts of the city's musical history. He included Beethoven's Piano Concerto No. 4 because that was the composer's final appearance as a concerto soloist, in 1808; his increasing deafness prevented solo performances during the remaining 19 years of his life. The festival ranged from Haydn's Drumroll Symphony from 1795 to Webern's Im Sommerwind (In the Summer Wind), a romantic tone poem that received its world premiere by the Philadelphia Orchestra in 1962.
A major piece in the festival's second week was Bruckner's Fourth Symphony which evokes the mountain scenes and peasant surroundings of the composer's Austrian countryside, just outside the Vienna city limits. The last weekend included the familiar Schumann Piano Concerto and the Symphony No. 2 by Brahms. This is his most serene and cheery symphony, providing a contrast to the troubling issues raised earlier.
Clearly, this was a festival that caused us to think as well as bask in lovely sounds.
Vienna today is a pleasure to visit, and is welcoming to ethnic minorities. Monuments commemorate the victims of the Holocaust and celebrate the resistance of some brave Viennese. But occasionally we've seen traces of the city's past insularity. Austria's Freedom Party erected billboards referring to the Strauss waltz Wiener Blut (Vienna Blood). The signs said "Mehr Mut für Wiener Blut" (More Courage for Viennese Blood). Too many foreigners does no one any good" and a web post claimed that the group was not bigoted, but clearly was xenophobic: "Wiener Blut is a global trademark of beautiful Vienna and the culture of living of Vienna's citizens. We do not speak badly of everything foreign. We do say that it's bad when we become a minority in our motherland."
This fear of foreign culture is no more pronounced than what we've seen in other nations recently. Thoughtful Viennese are revolted by such racism, especially because they are aware of their city's history.
Below, view of Vienna courtesy of Wien Tourism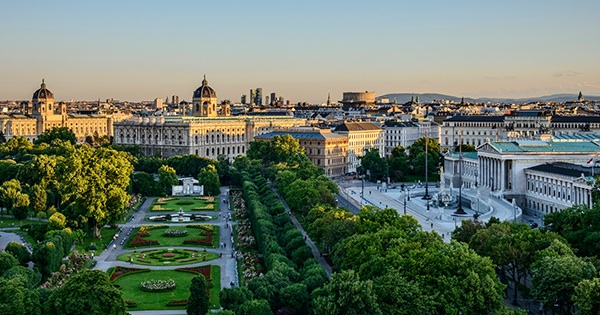 An earlier draft on this topic was published in Broad Street Review.
Please share your thoughts and your opinions with us. Address to editor@theculturalcritic.com
Read other reviews on The Cultural Critic