War of the Roses: less nasty this time
by Steve Cohen
The Cultural Critic
The War of the Roses, by Warren Adler. American stage premiere directed by Bud Martin. Delaware Theatre Company.
This production improves on the successful 1989 movie of the same name, which starred Michael Douglas and Kathleen Turner.
The stage offering has been crafted by Warren Adler, the author of the original novel. As directed here by Bud Martin, The War of the Roses is less dark than the film and puts more emphasis on comedy as it satirizes conspicuous consumption with an evil smile.
In the movie, the lawyer (Danny DeVito) was a bad guy, an instigator, while in this play the lawyers are commentators. Instead of having one barrister egging on the dueling couple, this production has two attornies. Goldstein is a rumpled, philosophical Talmudic scholar (Lenny Wolpe) and Thurmont is a suave, self-centered WASP (Cameron Folmar). Goldstein's office is messy and disorganized. Thurmont's office is spotless, patrician, and contains polo, tennis and golfing outfits into which he changes. The two of them observe the war with detachment and put it into humorous perspective.
The divorcing couple of Jonathan and Barbara Rose (Jack Noseworthy and Christina DeCicco) are more romantic and more relatable than the film stars — not quite as vicious in their hostility towards each other.
Yet Martin does not neglect the destructive extremes to which these people descend. They vengefully destroy each other's possessions and wreck their "perfect" home with spiteful relish. And keep your eyes on the extravagant chandelier!
The set by by Paul Tate de Poo III is sensationally detailed. Adam Altman, Eric Kramer, Brian McCann, Kerry Kristine McElrone and Karen Peakes populate a wacky dinner party at the Rose home and add humor to the story.
One flaw remains: We never see or hear what caused Jonathan to change from the idealistic young man of his early scenes into the mercenary corporate attorney who prizes his expensive car and other ostentation. Barbara's change is better motivated; we understand how Jonathan's dismissive behavior caused her to feel neglected.
For some odd reason, this stage adaptation has played overseas, but this is its American premiere and it looks like a good bet to succeed on Broadway.
Below, Jack Noseworthy and Christina DeCicco: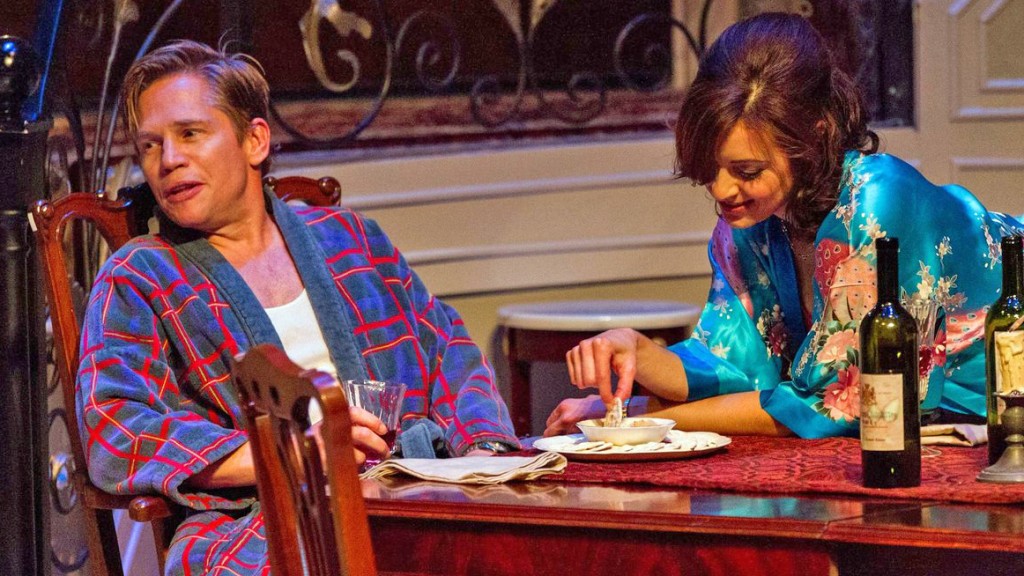 Please share your thoughts with us. Address to editor@theculturalcritic.com
Read other reviews on The Cultural Critic