Maine & Nova Scotia on a luxury cruise
by Corey Cohen & Melissa Reinbold
for The Cultural Critic
When you think about cruise ships, you may imagine sailing to tropical islands to lay out on long beaches with clear water. Well, think again. In summer months where temperatures frequent the mid-90's, consider passing up the Caribbean heat and instead traveling north, to New England and Canada.
We decided to escape the heat and take a cruise to a region most people don't envision when they picture summer, although they should.
Cruise lines such as Royal Caribbean sail to the New England and Canada region; we sailed on the Anthem of the Seas, one of the newest and largest ships in the world. It's packed with a fitness center, SeaPlex entertainment facility, rock wall, FlowRider wave simulator, escape room, theater, casino, and so much more. Features such as the spa and arcade are available for an additional fee.
Our stateroom, an interior with a virtual balcony, exceeded our expectations. Royal Caribbean made excellent use of space in the room; we never had issues moving around or storing our luggage. The virtual balcony updated in real time, adding some light to the room and making it feel like an exterior stateroom.
The staff on the ship was efficient and friendly. Fernanda at Guest Services was available to answer any and all questions with a smile while Helene and Jacob of the entertainment staff made typically generic games like Bingo and 'Finish That Lyric' a ton of fun.
One of the biggest selling points for a cruise is the dining, with virtually unlimited options and at no additional cost, the removal of worrying about what to order based on price. On Anthem of the Seas, you can dine at the buffet or in one of the four main dining rooms, where every meal in the dining room comes with an appetizer, entree, and dessert. It's a joy to be able to not worry about price when considering whether or not to splurge for that decadent dessert. Head Waiter Valentin manages the restaurant while Romeo and Anderson were two phenomenal servers who'd routinely inquire how your day ashore was. The dining rooms are the way to go for the best food, featuring delicious options such as a lobster tail, roasted duck breast, and braised beef tips.
On our last night we had the opportunity to dine at Chops, one of the specialty restaurants available for an added fee. The food at this steakhouse was fantastic; notable dishes included the black pepper bacon, sea scallops, and 9 oz. filet mignon. Our steaks were cooked to perfection and could be cut like a knife through butter, making for one of the most tender steaks I've ever eaten. Unlike in the main dining rooms, there was only one server per table, and he seemed spread thin unfortunately. And while it costs around an additional $50 to eat at Chops, things like a second entree aren't included, so be prepared for a lighter wallet if you book.
What makes this cruise different from most others is the unique destination, getting to visit Bar Harbor, Maine and Halifax, Nova Scotia.
Bar Harbor
Large ships like Anthem of the Seas can't dock in Bar Harbor, which unfortunately meant that we had to board small tender boats that leave every 15 minutes to get ashore. It took approximately two hours after we got our tender tickets to be able to actually leave the ship.
Our first stop in this charming town was to Geddy's, a restaurant that sits right off the main port, less than a two-minute walk. The restaurant was incredibly charming and featured the best New England meal you could imagine. We started off with lobster bisque (featuring large chunks of meat) and clam chowder, followed by the biggest lobster we've ever had, about two pounds, and the freshness simply can't be replicated; this is the place to go for succulent Maine lobster. For dessert, we had a phenomenal slice of blueberry pie, highlighted by the perfect crust. Great service with fresh Maine delicacies makes this a can't-miss food stop.
After lunch, we took an Oli's Trolley tour to the top of Cadillac Mountain in Acadia National Park. Our hour-long tour was fully narrated. Once atop the peak, we were allotted 15 minutes for sightseeing and taking photos of the gorgeous views before returning to the town of Bar Harbor to check out the many local gift shops and lobster roll shacks. You quickly learn in Bar Harbor that you're never more than a few yards from either a lobster-themed souvenir or actual lobster meat.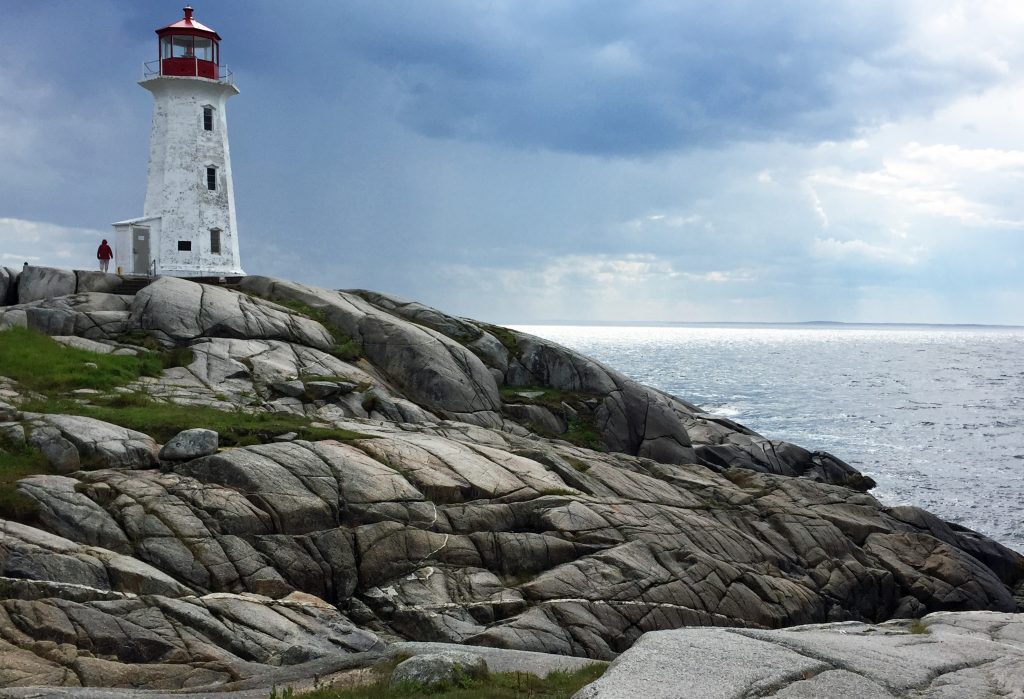 Halifax, Nova Scotia
With the help of Destination Halifax, we booked a private tour through Halifax Tour Guys so we could capture as much of this major Canadian city as possible in a day. This turned out to be the best decision we could've possibly made. Lem, our tour guide and the company's owner, was waiting for us in the parking lot when we stepped off the ship. He gave us a comprehensive tour of Halifax, showing us some of Nova Scotia's best sights including the Halifax Citadel, Fairview Cemetery (the gravesite of over one hundred Titanic victims), and the visually stunning Peggy's Cove.
Lem was a spectacular tour guide. He gave us as much time as we wanted at each stop during the tour and provided a wealth of knowledge about the history of Halifax and Canada's culture. For instance, did you know there's an unbreakable bond between the cities of Halifax and Boston that results in most locals rooting for the Boston Bruins (over Ottawa or Montreal)? Or maybe hear personal stories about the city's reaction on 9/11 when planes were forced to land in Canada (as is told by the hit Broadway musical Come From Away)? Lem provides a deep wisdom of the area to make you more familiar with Nova Scotia than anyone else could in a day.
For lunch, Lem gave us ample time to enjoy a nice meal at Bluenose II, a family-owned restaurant in the heart of downtown Halifax. Then while at Fairview Cemetery, Lem walked though the Titanic grave markers with us, telling us detailed stories about many of the Titanic victims. We stopped at Acadian Maple Products to sample some authentic Canadian maple syrups on our way to Peggy's Cove. This picturesque edge of the Atlantic offers an unbelievable sight, that must be seen to be believed. We can't imagine a better way to capture an entire city in a day than we did on our seven-hour tour with Lem and Halifax Tour Guys.
If you want the perfect combination of escaping the summer heat and immersing yourself in a truly interesting culture (as opposed to nothing but beaches), then a cruise to Bar Harbor and Halifax is for you.