Santa Fe, the City Different
by Steve Cohen
The Cultural Critic
Santa Fe is a unique mecca for tourists. It's known as "The City Different."
I found that the most unique feature is its intimacy. Surprisingly, this tourist destination retains a small-town feel. When you go strolling in the morning, townspeople smile and greet you. There's a laid-back quality that is enchanting.
With its worldwide acclaim, you might fear that Santa Fe has grown rapidly and lost its former charm. True, it has become more commercial, but the chain stores are out on the highways and not in the center of town. The appearance of the central plaza and its surrounding neighborhood is much the same as in the past. Adobe, which catches and holds the desert light, is still used for all buildings.
Santa Fe is the oldest state capital in the USA. Here also is the terminus of the Santa Fe Trail, famed in story, song and motion pictures, which linked this city with America's Middle West in 1822.
Santa Fe was an extension of Spanish civilization along the Camino Real, the "royal way" that stretched north from Mexico City. And Spain in the 16th century was known for its art, music and literature. New Mexico's capital was named for the town of Santa Fe established near Granada by King Ferdinand and Queen Isabella. The Spanish governor of New Mexico, Don Pedro de Peralta, built the Palace of the Governors in 1612, still standing along the plaza, to house visitors.
So today, when adobe hotels welcome guests, and art galleries hold cocktail receptions, and shops display turquoise jewelry, and chamber music recitals vie with opera productions, this is a continuation of Santa Fe's earliest aspirations.
We stayed at La Fonda On the Plaza, closely connected to the city's history. Built in 1922, the hotel was purchased by the Atchison, Topeka & Santa Fe Railroad and operated as one of the famed Harvey Houses. The historic inn's pueblo-style architecture features thick wood beams and carved pillars. Chandeliers of tin and copper provide character and charm, while hand-carved and hand-painted furniture, colorful tiles, and displays by local artists add to the ambiance.
La Fonda has beautiful breakfast service in a picturesque central court. The hotel has attractively-decorated bedrooms and an outdoor pool. A rooftop bar has great views of the city. Half-a-block away is the most prominent building in the town is Saint Francis Cathedral, built by Archbishop Jean Baptiste Lamy between 1869 and 1886 on the site of an older adobe church.
The La Fonda courtyard: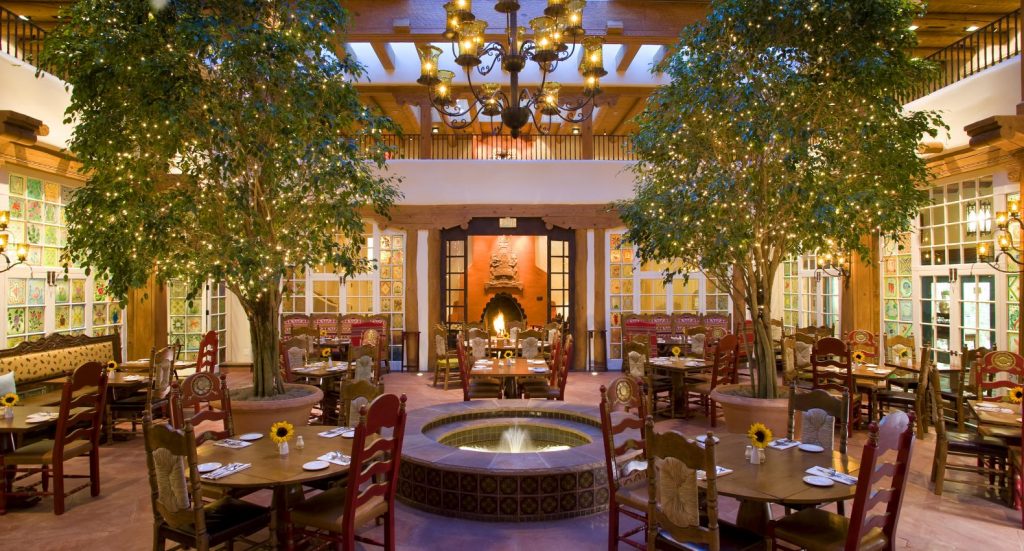 Inspired, perhaps, by the meaning of the city's name – Holy Faith – visitors often seek spiritual and physical healing here. Religious cults set up camp in the hills around Santa Fe but they are non-intrusive; invisible unless you seek them out. Spas are a major lure, and I was lucky to discover Absolute Nirvana, near the plaza, where my wife and I received excellent massages followed by a soak amidst rose petals in a granite tub. The staff serves Javanese ginger tea and fruits, then leaves you in privacy to luxuriate in your bath.
After such a treatment, a leisurely dinner is in order. We had one of the best imaginable at La Posada de Santa Fe, a Tribute Portfolio Resort & Spa. La Posada (which means "resting place") has elegant dining in Julia, named for the 19th century socialite Julia Staab; plus the coziest bar in Santa Fe in the Staab's historic mansion adjoining the hotel. Julia Staab was a member of my wife's family a century-and-a-half ago.
La Posada has the gorgeous Spa Sage, fronting on an oasis of greenery. We enjoyed massages and herbal treatments. This spa specializes in Altitude Adjustment therapy to help travelers who may feel lightheaded or listless because of their ascent to Santa Fe's 7200-foot height.
Another cure for altitude dizziness is chocolate. Conveniently, Santa Fe is home to an artisanal shop, Kakawa Chocolate House, which specializes in authentic historic drinking chocolate elixirs. We were pleased to sample Pre-Columbian, Mayan and Aztec, and Colonial American and Colonial Mexican drinking chocolate elixirs, presented as drinks, in ice cream, baked goods and chocolate bars. Kakawa is one of the town's most popular gathering spots.
Fine food is one of Santa Fe's attractions. It is the primary destination for creative chefs, because the community is small so each can learn from the others. One of my favorite restaurants is Geronimo, amidst the art galleries on Canyon Road, where I had Peppery Elk Tenderloin with Applewood smoked bacon and creamy brandied mushrooms. Another good spot is La Casa Sena, which serves trout that is cooked in a clay shell.
Art galleries abound, both on the streets around the plaza and along Canyon Road a mile away. They feature originals by local artists, some specializing in Indian subjects and others in colorful hills and sunsets. A museum devoted to the paintings of Georgia O'Keeffe also is worth seeing.
An Indian Market is held each August, but dozens of Native Americans line the plaza year-round, offering jewelry and accessories for sale. There are three Indian Arts museums in town, plus museums of Folk Art, Fine Arts and Spanish Colonial Art.
The opera is seven miles north of downtown Santa Fe, on the road leading up into the mountains on the way to Taos. The views from the opera site are breathtaking. Many visitors make a point of arriving early for performances so they can enjoy the vista as sunset nears. Some serve tailgate dinners, or at least bring small tables and red-and-white checkered tablecloths on which they serve wine and snacks.
The company was founded in 1957 by John Crosby, an Easterner who had been sent to private school in New Mexico and fell in love with it. The present grounds of the opera were once a ranch. Crosby started a company with resident artists, specializing in Mozart and Richard Strauss. It was an amalgam of England's Glyndebourne and Austria's Salzburg festivals. Because of the high altitude, evenings can get chilly, even in August. Many patrons bring blankets to drape over their legs after intermission.
For further exploration of this topic, see my reviews elsewhere on this website, and also in TheOperaCritic.com.